Quick Posts have been part of SND Dashboard since nearly the very beginning, but it's still one of our clients' favorite features. Creating templates for certain post types can be a huge time saver and make sure your newsroom is posting with a consistent voice. We've seen some great examples of Quick Posts – here are some of our favorites.
Breaking News
Creating a breaking news quick post can save precious seconds when there's a big story happening. Add accounts you typically post to during a breaking news event, the hashtag your newsroom uses (#Breaking, #Now, etc.) and a breaking news image so you're not having to search your computer while the scanners are going off.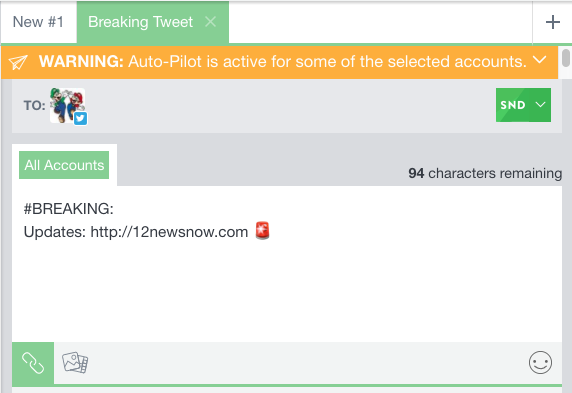 Sports Scores
Many local stations and newspapers cover high school sports even more closely than pro sports. If your newsroom makes it a priority to live tweet Friday night football or the big game on Sunday, set up a simple Quick Post including your Twitter account, hashtag and score template. That way, anyone from the intern to the sports director can create a tweet quickly and make sure your coverage is consistent until the final buzzer.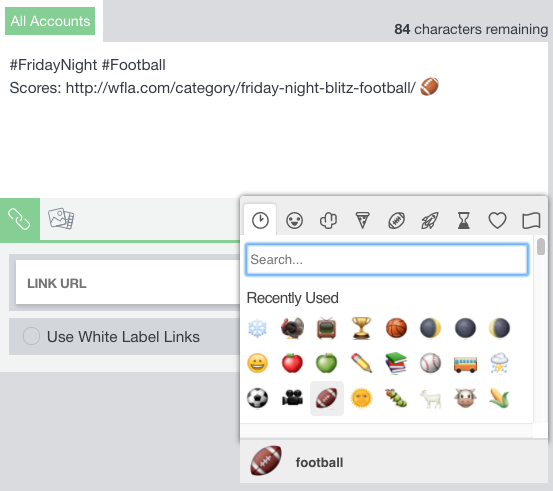 Political Coverage
Taking a few minutes to identify the Twitter handles of all the players in a political debate or election night showdown can save your fingers from getting a copy-paste cramp on a busy night. We've seen several stations create separate Quick Posts with each candidate's Twitter handle and the hashtag for the debate or election coverage. With just a click, you're ready to drop in a quote or an update and send in seconds.
Branded Content
Quick Posts allow you to save your Branded Content sponsors as part of the template. If your newsroom has a sponsor for all weather posts, for instance, you can pre-load the sponsor and even the SND Campaign tag. Creating a new post is streamlined for the newsroom, and the sales department loves that all the posts feed into one simple report.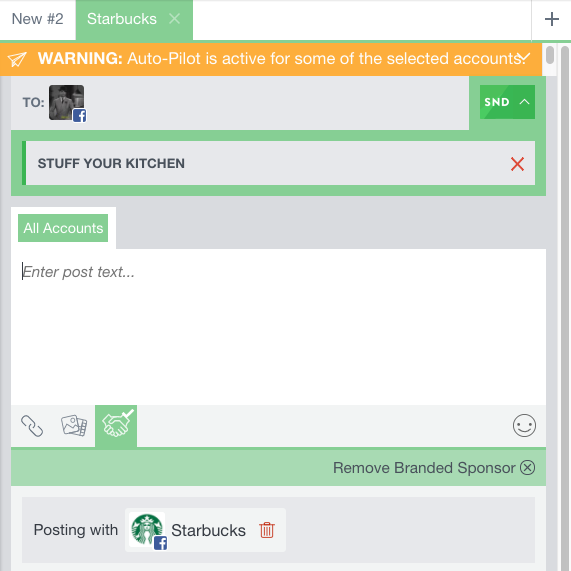 Live Tweeting
Got an event that only lasts a few hours, but you'll be live tweeting the whole thing? Set up a Quick Post in advance with the account and hashtag pre-loaded and save your clipboard for links and quotes.
Emoji Forecasts
This can be a fun way to put together a weather forecast that's got a social media twist. Build a few Quick Posts in advance for sunny, cloudy, rainy or snowy days.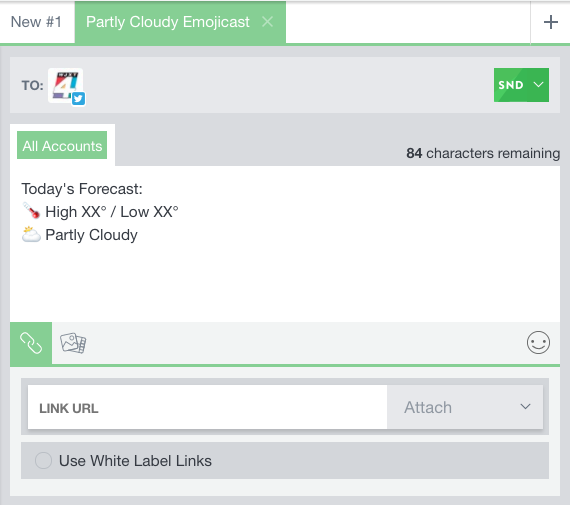 School Closings
Any morning show producer knows that searching for the school closing page over and over again on a busy morning is a recipe for disaster. Create a Quick Post with your closings page saved in advance while the weather's still nice. You'll thank yourself later.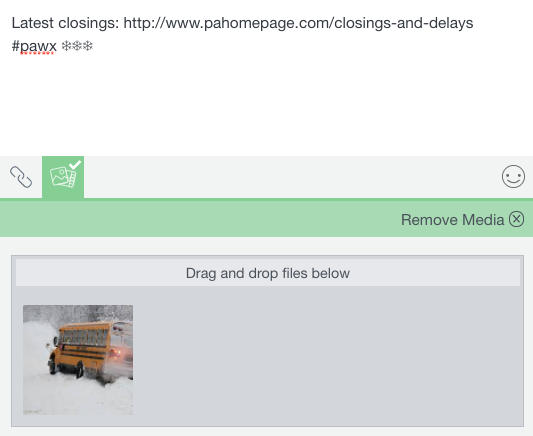 Live Stream Links
If your station uses a consistent link for live streaming your newscasts, build a live stream template with the link pre-loaded. Then fill in the details about the show later, and schedule your post to go up ahead of the newscast.
How Do I Get Started?
Creating a quick post is, well, quick! Here's how to do it in two minutes:
With so many ways to use this simple feature, we hope you can use the time you save to craft attention-getting social content throughout the day. And if you have a great way that you use Quick Posts, let us know!