As the frenzy surrounding the Mega-Billion Jackpot Powerball Bonus Multiplier Money-Maker Extravaganza engulfs the nation, some news stations are tapping into the buzz and offering up "Share The Jackpot" type contests. While these contests are a great idea for quick, easy engagement and page boost, there are a few billion problems that could come along with any contest, so here's your cheat sheet on doing lottery contests the right way:
The Fine Print
First and foremost, make sure you are well versed on Facebook's terms and conditions for Pages. For specific terms regarding promotions and giveaways check out section three. The key is to avoid telling people that they must "Share" or "Tag their Friends" in order to enter. Facebook forbids the use of "Friend connections" to administer promotions. That means you can't say things like "share on your Timeline to enter" or "share on your friend's Timeline to get additional entries", or "tag your friends in this post to enter."
The Losing Ticket
Here is a clear example of what NOT to do. The post actually says you must "Like and Share" the post in order to be qualified to win. This is a clear violation of Facebook's Terms and Conditions.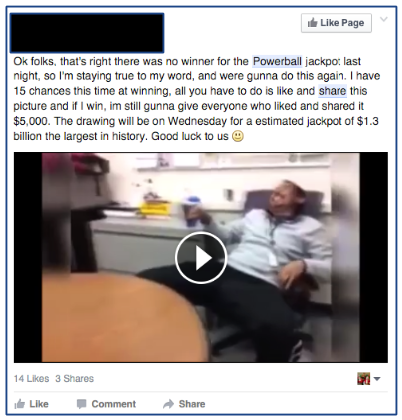 The Winning Ticket
But don't worry. You CAN do a "share the jackpot" contest without breaking any of Facebook's Rules. Here's a great example from WCMH-TV's Facebook page. While they are using what Facebook would consider "overly-promotional" calls-to-action such as "LIKE" and "SHARE," the post is still performing very well and not technically breaking any Facebook Rules.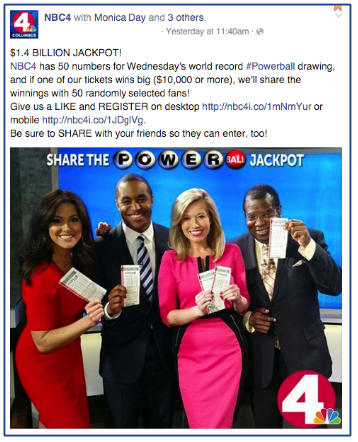 Plus, the station is covering itself legally by driving traffic to the SND-powered contest engine to accept the entries, and display the official rules.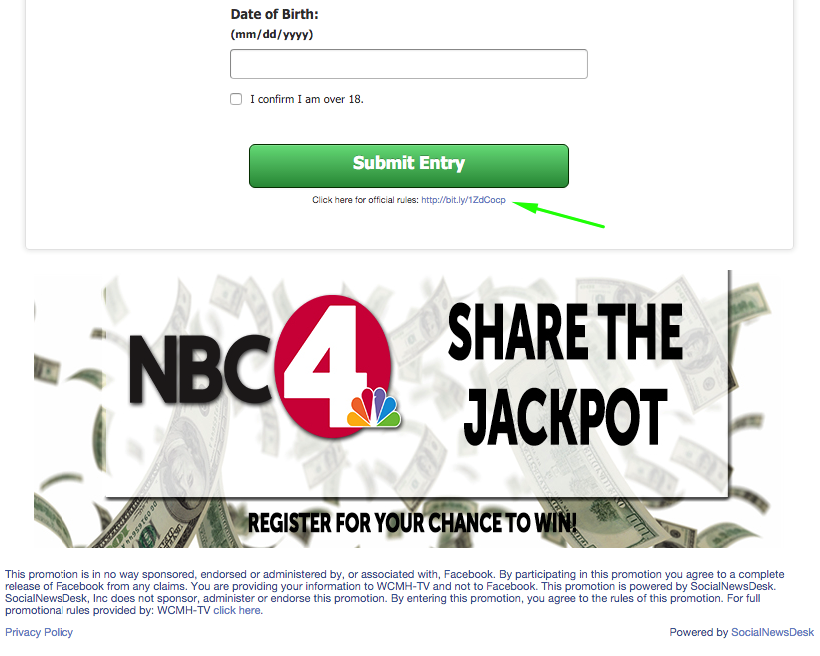 Last week, when the jackpot was at $90 million, we saw a station who asked people to Like and Share their post to enter their "share the jackpot" contest. If the station's ticket won the jackpot, they'd "pick one person" who had Liked and Shared the post with whom to split the winnings. There were no rules posted and no way to actually confirm the winner's eligibility. Needless to say, someone got a look at that post and deleted it before we could grab a screencapture. Probably the luckiest thing that happened to them all week.
When in doubt, seek out your legal team! We're not lawyers, so check with your legal counsel to make sure you're following all the laws and rules. It's always better to be safe than sorry.
Oh, and be sure to Share this blog post for a chance to win… ah, nevermind.