A few months ago Facebook rolled out their Facebook Mentions app. A mobile application geared towards public figures who have verified Facebook pages. Within this app came a new feature called Facebook Live. Not long after the popularity of Facebook Live was apparent, Facebook slowly rolled out the feature to everyone from profiles to pages.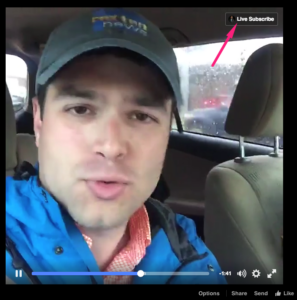 News organizations around the world have jumped at the opportunity to live stream on Facebook and initially it came with some serious drawbacks. At SND, we received a number of questions and complaints about losing large number of likes on their pages. Looking at the data we were getting in it was easy to see the spike in Unlikes correlated with the implementation of Live video. What was the problem? Answer… Notifications. KXLY 4 News in Spokane took to their page to address the issue head on with great results. But days after they posted their video, Facebook responded to the outpouring of complaints regarding the notification spam connected to Facebook Live.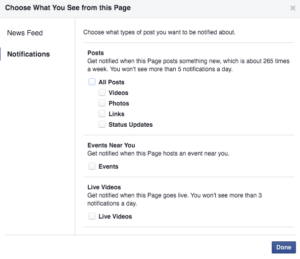 Their solution is to no longer default your preference for receiving notifications to "on". Users will now need to "opt-in" to receive notifications for different things your page posts. Now included in the upper-right of Live videos is a "Live Subscribe" button allowing users to opt-in directly from the video. The other way is found on the actual Facebook page. If you go to a Facebook page you like, and hover your mouse over the "Like" button, you'll notice a section titled "Notifications". In order for a user to receive notifications for when you go live, they'll have to complete some steps to enable the notification. To do this, users will need to click the Pencil icon next to "Notifications" and then choose what items they'd like to receive notifications about. It may deserve another well-produced explanation video for you fans, but it could be worth it!
Algorithm Impact
Facebook released an update to their News Feed at the beginning of March to address the growing popularity of Live Videos. Here's a section of their March 1, 2016 release:
"Now that more and more people are watching Live videos, we are considering Live Videos as a new content type – different from normal videos – and learning how to rank them for people in News Feed. As a first step, we are making a small update to News Feed so that Facebook Live videos are more likely to appear higher in News Feed when those videos are actually live, compared to after they are no longer live. People spend more than 3x more time watching a Facebook Live video on average compared to a video that's no longer live. This is because Facebook Live videos are more interesting in the moment than after the fact."
The last line of that paragraph is a great segue into how you should plan for and treat Facebook Live Video. The value of Facebook Live lies in the "in the moment" relevancy and impact of the content of the video. Viewer retention is important in TV ratings, just as much as it is on Facebook. So I want to encourage local media to use this new feature and focus more on quality of content rather than quantity.
Consistent, engaging and interesting content that is live streamed on Facebook tends to perform the best. Engagement… Something we talk about a lot in Social Media, right? It's what puts the "social" in Social Media. And Live Videos are no different. The following are some examples of some great uses of Facebook Live to give you some ideas going forward.
I'm sure there are many ideas and examples out there. Do you have an idea that you've seen work? Send it our way, we'd love to see it!