Facebook Director of Product Daniel Danker manages many video related features on The Social Network, including the video tab, the Connected TV app, and Facebook Live. He did a short interview with Facebook's new Head of News Partnerships, Campbell Brown, to talk about Facebook Live on Facebook Live. It was all very meta.
Anyway, they discussed all the things. But what I wanted to know – once and for all – what is Facebook's policy on using Live to conduct real-time polls using a graphic heavy interface where the reaction emojis are used for answers? Last month in Atlanta they told us they don't like it and asked us (local news publishers) to stop doing it.
So, yes that's what they said. But it still wasn't clear to me exactly what – if anything – Facebook was doing about it. So I asked Campbell to ask Daniel and she did. Here's exactly what he said, tap to see it on YouTube. Go ahead, it's cool, I'll wait.
…Okay, so what did you hear him say? I heard him say that these polls aren't particularly engaging after that initial moment when people vote. And you know, that makes perfect sense and is totally true. The next time you see one of these polls, notice that the concurrent viewer count is never very high, not unless people are sticking around and discussing the merits of the question itself.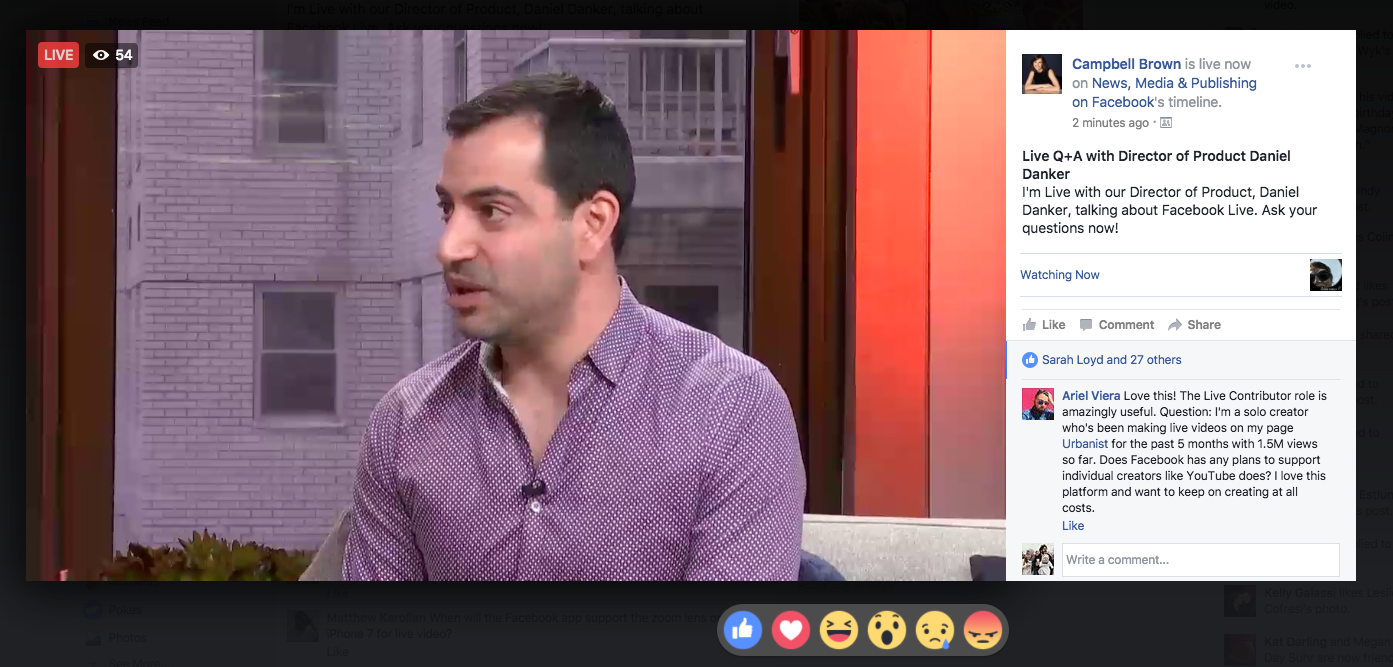 What didn't you hear him say? Danker didn't say anything about the News Feed bots automatically penalizing the organic reach of these types of events nor the hosting page. Where last month it seemed the advice was, "we don't like it, don't do it please," here Danker appears to be saying that it's in our best interests not to do it because it isn't engaging. It isn't what the tool was intended for and since releasing Live to the world in December of 2015 they were surprised that this is how publishers wanted to use the feature.
Does that mean that Facebook is looking to produce a new solution to fill that product need? We don't know; time will tell. But it seems to me that he's strongly suggesting that something new is coming. Maybe some kind of new instant poll solution? Maybe a poll that you can pin to the top of the discussion board of a Facebook Live event so you can carry on an engaging one-on-one Live experience while people vote their opinions on the topic? If you're reading this Daniel, uh, hinty mc-hint-hint.
Seems like that would be a good solution if you ask me. As Danker pointed out, he believes the best way for publishers to use Live is to have an unpolished, one-on-one, looking directly into the camera experience and asking questions, reading comments and interacting with the audience. Danker suggests there shouldn't be a feeling of polish or high production; that's not the spirit of the medium. So why not spend your time during the event asking your viewers to vote and then checking back in with the results every-so-often?
Okay, that's enough free product advice for Facebook. Here are some other highlights from Danker's interview:
Live 360 is already up and running for a lot of us. A universal release is coming, date TBA.
Danker touted the merits of scheduling your Live events so people have a chance to share the event well beforehand and increase viewership. Obviously this isn't possible in breaking news situations, but do your best to give folks as much heads-up as possible.
New features: comment pinning in the discussion board, adding live contributors and inviting other live streamers into your broadcast to contribute remotely.
Ad breaks in video are being tested with select publishers. This feature will be available to all content publishers eventually, date TBA.
Closed Captioning is already available for video on demand. Facebook has started testing live closed captioning for Live videos already. Look for news on that further down the line.
Facebook's Campbell Brown plans to conduct short Facebook Live interview events weekly. If you're a publisher, be sure to request access to the closed News, Media & Publishing Facebook group to catch the next one, or just pay attention to this blog and we'll keep you posted.