What has long been a gray area in Facebook's Terms and Conditions has become crystal clear, albeit complicated to comply with. The new Branded Content Policy is giving Pages the green light to promote 3rd party sponsors through posted content. But, as you would expect, there are rules which must be followed.
As a local media company, this is a huge opportunity to give your advertisers access to your Facebook audience – and charge them for it. Unlike traditional brands, local media companies are producing the very best content on Facebook. It's valuable and somewhat shielded from the next-to-nothing organic reach typical of most Pages on Facebook. Local media is doing something on Facebook which most brands can't dream of doing anymore… reaching your audience for free. And with Facebook's blessing, you can now offer that as an opportunity to your advertisers.
The Do's and Don'ts
While this policy does signal a loosening of the reigns, make no mistake – there are limits. For example, Pages are prohibited from adding pre, mid or post roll ads on videos and may not add a title card or graphic overlay (watermark) promoting a sponsor. Pages may not include any sort of banner ad on a photo and cannot include sponsors in Cover Photos or Profile Images. Additionally, if you're integrating the sponsor in video content you may not do so within the first three seconds of the video or for more than five consecutive seconds at any given time.
But the news is not all bad, there is now also a list of concrete – and authorized – ways you CAN include a paid, 3rd party sponsor in your content:
A. Promotions

B. Videos or photos featuring third party products, brands, or sponsors that differ from the Page

C. Endcards

D. Product placement

E. Sponsor's logos (Aside from ad elements and from any third-party logos which are displayed within video by virtue of having been recorded during the filming of the video subject matter (e.g. in stadium signage); or

F. Posts that clearly disclose the content is sponsored or provided by a third party.
But wait, there's more…
Moments after the announcement of Facebook's new Branded Content Policy, Page Admins began to receive warnings about compliance. Facebook tells Social News Desk that for now the warnings are just that, warnings. Not meant to punish or otherwise impact your Page or its Reach:
Right now, we are purely sending these FYIs in a positive light. There are no negative consequences to receiving a message like this, and we are not penalizing people in any way. The message is for educational purposes only. Right now, that message does not impact distribution, nor your ability to post on Facebook at all.
However, we know that doesn't make it any less scary to receive a message like this when you log into the source of 70% of your web traffic: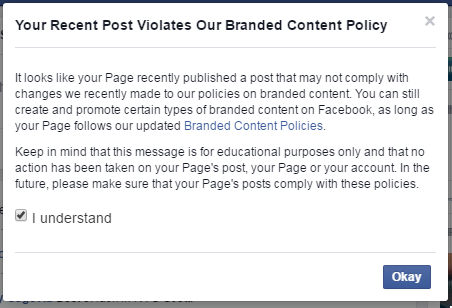 The warnings appear to be triggered based on the content of the post. Here are two examples of what we've seen trigger the message. It should be noted that in both cases, the post contained the word "sponsored" although there are likely to be more trigger words than just that one.

Following the Rules
At first glance you may wonder why these posts were flagged as breaking Facebook's new Branded Content Policy. After all, they're transparent and do include a sponsor's Page Tag. But, Facebook says that's not enough. As-is, these two posts still violate the policy. Here's why:
Branded Content is ONLY ALLOWED on Verified Pages!
Pages must use Facebook's new 'Branded Content Tool' in order to Tag Pages.
The Branded Content Tool allows the post byline to include essentially the author Page as well as a Tag of the sponsor and looks like this: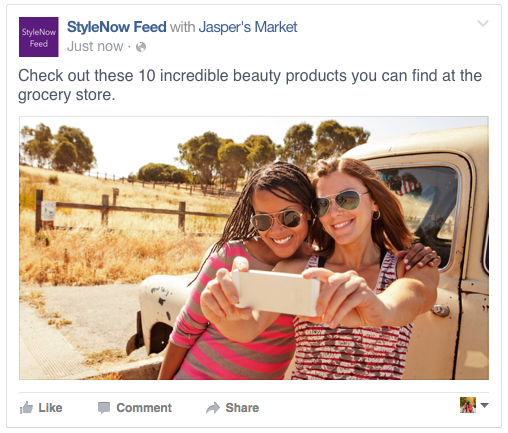 This is the tricky one because not all Pages have access to it yet and there is no API for it yet. Although Facebook's Media Partners team tells Social News Desk this is coming very soon:
We understand that you post through the Facebook Graph API (via Social News Desk) and cannot comply with the policy until Graph API support is enabled. We will have that support available soon, and we will not start our more stringent enforcement on your Pages until Graph API support is available.
For now, our advice is to start ramping up your internal plan around Branded Content. What price will you charge, how will you track, fulfill and report on branded content campaigns? And what tools will you need? For our part, Social News Desk is now offering SND Campaigns: a simple way to post branded content, tag it and then automatically generate a report on the success of the posts both on Facebook and Twitter. SND Campaigns also includes a simple enter-to-win contest builder as well as communication triggers to keep sales and editorial on the same page when rolling out a branded content campaign. Let us know if we can help you!