At SND, we understand connecting with your audience and providing quality content is key for your newsroom to win on Facebook, and that's why we created this FREE solution for SND Dashboard users.
"The future of social is private." – Mark Zuckerberg
First, you'll need to register your news Page(s) in the Facebook News Page Index. The News Page Index grants news publishers access to a number of exclusive features including 'subscription messaging.' You can submit your request via Facebook Business Manager, after you've completed domain verification. Once your Page(s) are verified in the News Page Index, you're ready to connect with your audience privately on Facebook Messenger, and send them daily digests and push alerts!

I. Create a New Messenger Experience
Select the SND Messenger Experience icon in the left tool bar
Click the "Create New Experience" button
Select a Facebook Page
Click "Save"
You should land on the "Settings" tab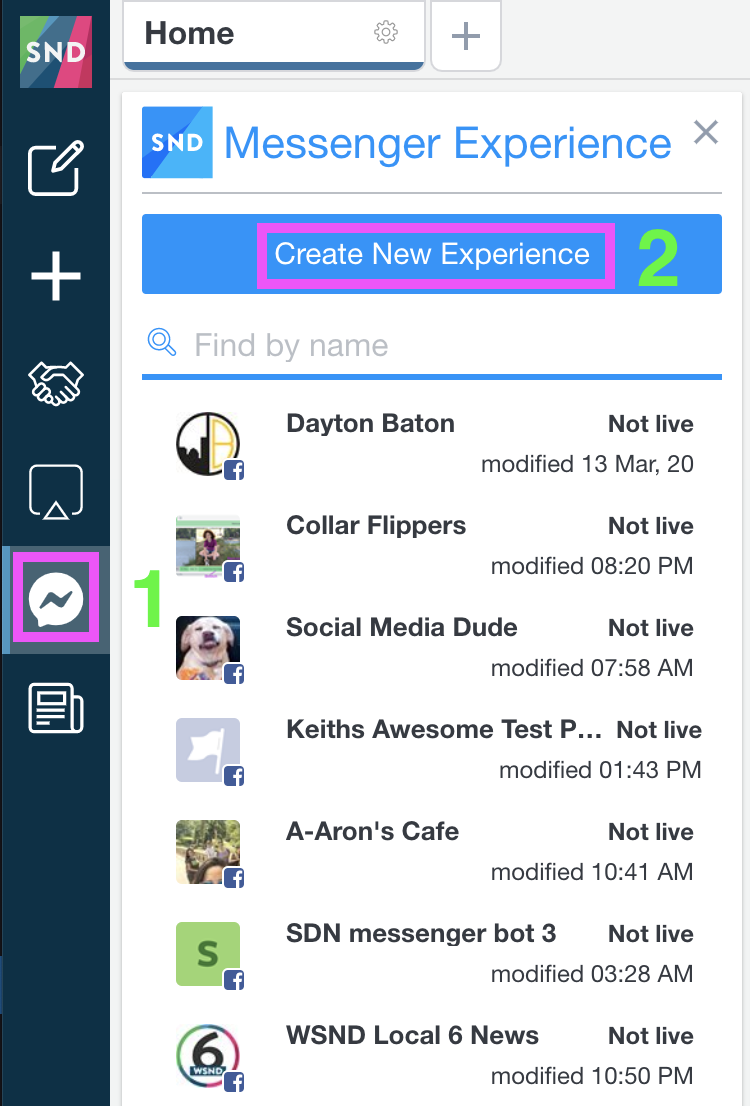 II. Customize your Intro Message
On the "Settings" tab, you can customize the introduction message your potential subscribers will see when they send a message to your Facebook page. Users are getting this response on their mobile device, so be sure to keep it short! We suggest including information in your introduction about typing "help" to access the menu. This allows users to easily manage their alerts after subscribing. Be sure your Facebook Auto Response is turned off and that any info you were sharing there, is included in your introduction. But again, keep it as short as possible.
III. Set Up Topics (Digests)
Once your Experience is created, it's time to create your topics!
Click the "New Topic" button
Name the topic (i.e. "Top Stories"; "Sports"; "Weather"; etc.)
Set the time you want the digest to go out for your topic. (Users may subscribe to multiple topics, so we recommend you schedule topics at a minimum of 5 minutes apart.)
Set the maximum age of the content you want to send out (in hours). (If there is no content under this age available, no digest will send)
Enter the RSS feed from which your digest will populate content.
Click "Add". This will validate the RSS feed.
Click SAVE (This step is really important!)
Verify your topics are working by clicking on the "Content" tab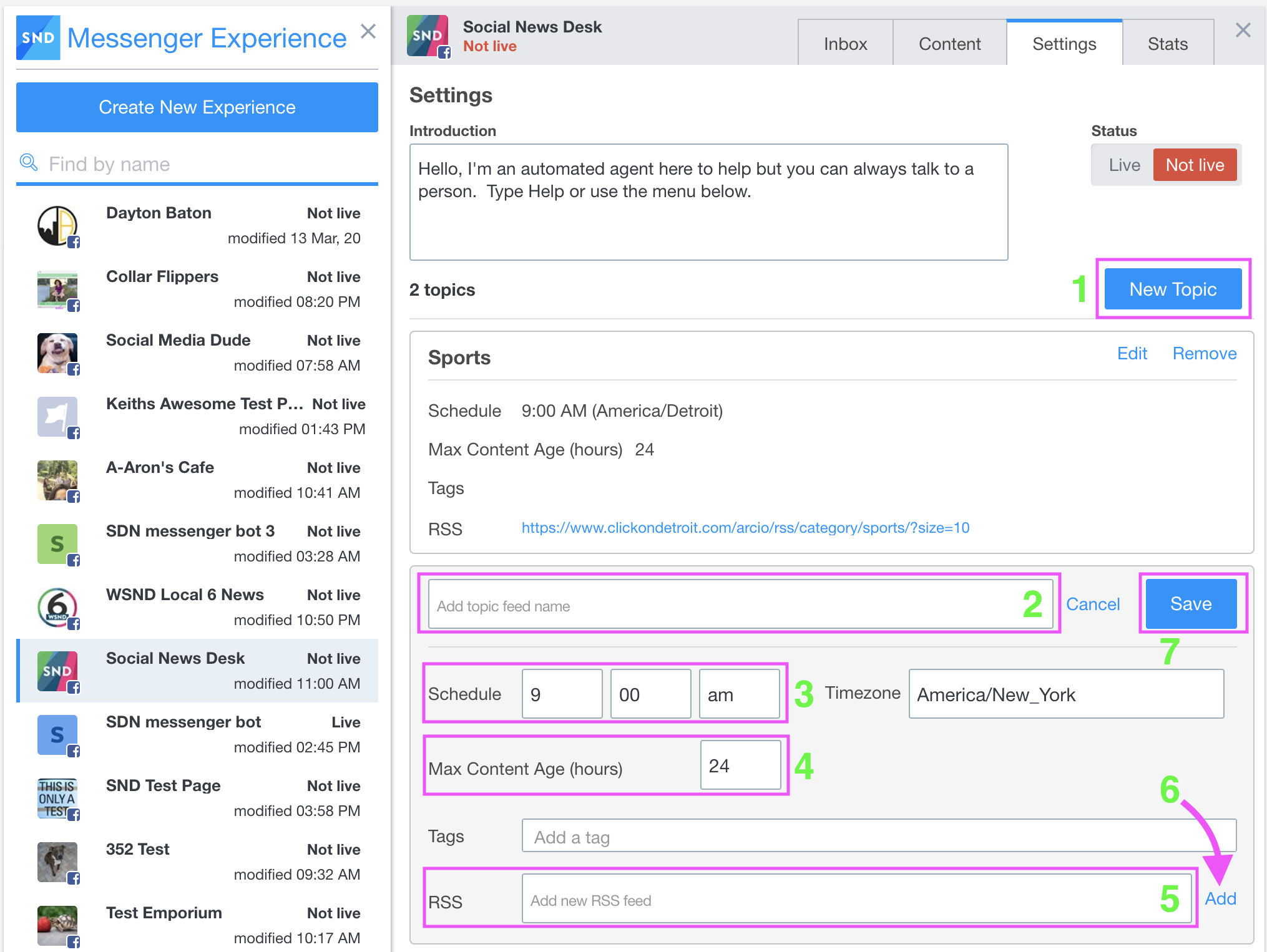 IV. Go Live!
Switch the "Status" button to Live. (Note: If your Messenger Experience will not go live, be sure your Page is registered in the News Page Index.)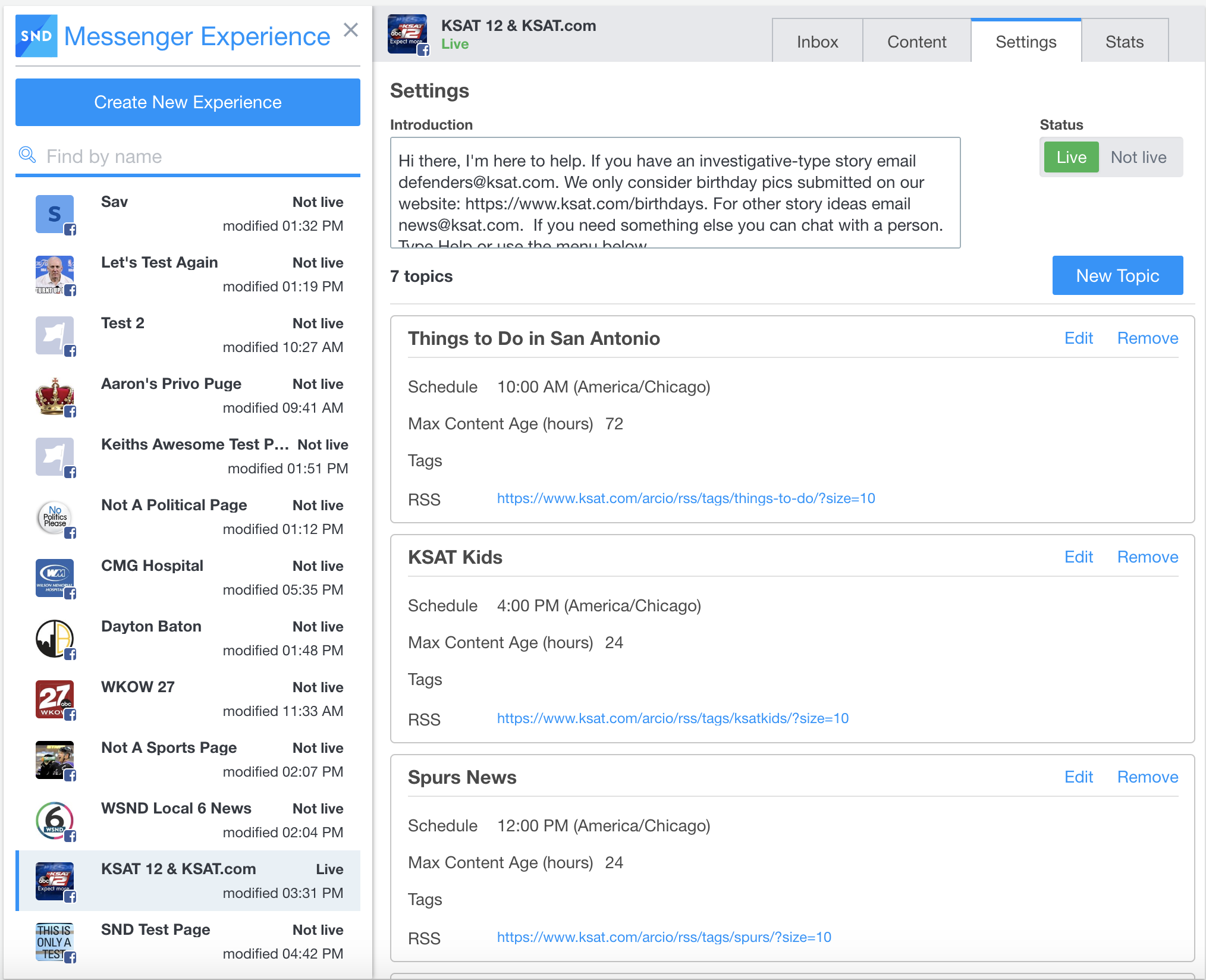 Once live, users can connect via Facebook Messenger to receive daily digests AND push alerts. Check out a walkthrough of what your users will experience once subscribed to a topic below.
Messenger Contacts are your new Facebook likes. Promote the Messenger experience just as you have promoted your Facebook Page and try to rack up as many Messenger Contacts as you can. Check out KSAT-TV's promo below.
>> How your newsroom can send push alerts via Facebook Messenger
After the initial setup process you can set it and forget it OR manage topics from the Content tab.

This feature is NOW available to all users of SND Dashboard! If you have any questions or need help with setup, reach out to us at support@socialnewsdesk.com.