It's pretty common for newspapers to use Lead Gen ads on social to capture email addresses and newsletter subscribers. But the Record-Journal, a daily newspaper in Connecticut, is taking the campaigns one step further.
The paper has been trying to connect with the Latinx community in Meriden, CT with their Latino News Now initiative. There's a newsletter tied with that project, but there is also an SMS effort – and they want to grow their contact list. So, the Record-Journal turned to the same technology they're using for email sign ups: SND's Dynamic News Ads (DNA).
Using SND's DNA ads technology, the Record-Journal was able to automatically curate content that is resonating with its target audience, and then turn that content into ads that convert in real time.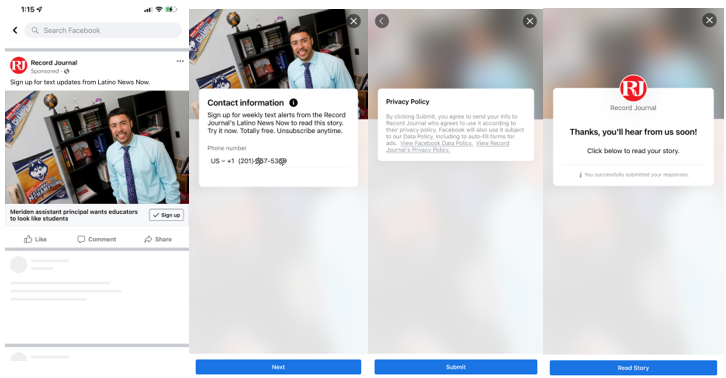 It's simple and easy for the end user to understand. They just click to read a story – Facebook autofills their cell number and they agree to the terms. Then, the user is automatically redirected to read the story.
The Connecticut newspaper has been able to get new SMS subscribers for its text initiative at an average of just $1.80 per lead.
There weren't any specific goals for this campaign because it was the first of its kind for the Record-Journal, but the initial results were exciting, nonetheless. There's a big difference between getting an email sent to your inbox and getting a text alert on your phone, and it was exciting to see how willing the audience is to receive those messages.
SMS is having something of a revival as well. Last year, during the freeze in Texas, the Austin American-Statesman launched an SMS campaign to be able to reach more readers, and more recently, following Hurricane Ida, the Category 4 storm that slammed into the Gulf Coast, NOLA.com also launched an SMS effort to be able to reach readers who might have trouble getting strong cell service or an internet connection.
Interested in finding out how your team could use SND's Dynamic News Ads technology to get more leads? Send us a note.