Don't get me wrong, people. Being a part of #TeamSND is awesome. The people I work with, my clients; they're all great. I thoroughly enjoy my career.
But the problem is that the SND Dashboard is really cool!
Yes, that counts as a problem.
I've spent the bulk of my career in newsrooms, and the better part of that working with my stations' websites and monitoring social media. Just before joining #TeamSND I worked in the corporate team of one of my (now) clients. Even then, the SND Dashboard was an indispensable tool that would have made my job at that time impossible without. But now, over the past two years, there are so many great new features that I still, somewhere inside of me, wish I could be a client.
And if I were a client, this is how I'd set up my SND Dashboard. Someone out there, please make this a thing so I can live vicariously through you.

Home Tab
Ah, home. The place where I start. My Home tab has the streams that show me what's happening on my social accounts, of course, but it also has one tricky little feature… See that first column there?

In that first column I'm using the advanced search option for Twitter that allows me to see whenever someone uses the hashtag "#breaking" on any of my competitors' accounts. So whenever someone in my market thinks something is "breaking news," I get a heads-up just in case I missed it. That column is everything.
RSS Feeds
I'm a busy content publisher. Or at least I was. Were I such a specimen again, I'd want to keep a tab open that has RSS feeds coming in from all of my website's main category pages and any of my publisher partners' RSS feeds. That way I can publish directly from my SND Dashboard without hopping all over the place to round-up my content.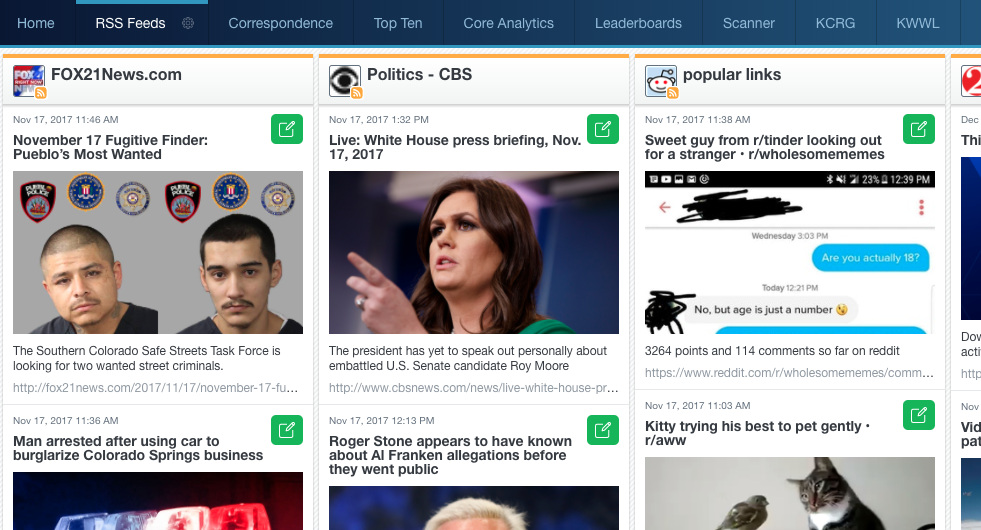 Correspondence Tab
Under this tab I keep feeds of direct messages from all of my Facebook and Twitter accounts. I can come here to touch base with my audience. I also keep a "Posts to Page" feed open for Facebook in case someone posts a question to my Facebook page; this way I can't miss it. I also keep a Twitter @Mentions column open for good measure, in case anyone is shouting at me there.

Top Ten Tab
This is a tab to make Rob Gordon proud. (If you get that reference, tweet me @rmorrisSND because we're probably best friends for life.)
Top Ten widgets aren't just for you to compare engagement with your direct competitors. No sir. Top Tens are useful for monitoring national news and the news being shared by your partner sites. Don't you want to know what content is really popular at your sister stations so you can "borrow" it for your own page? Or your own broadcasts even?

Core Analytics
Nothing too shocking or revolutionary about this tab. This is the essential metrics tab. One little tweak here, though: I added two Facebook Engagement Over Time widgets so I could see my number of posts over engagement for both a weekly and monthly view at the same time. You could also duplicate these widgets to keep your eye on multiple pages at the same time.
Leaderboard Tab
I like to keep my Facebook and Twitter leaderboards on their own tab. And why not? It's my ideal SND Dashboard, remember? You can put yours anywhere you like. That's the beauty of the system, it's totally customizable. And did you know that you can exclude certain users from your Leaderboard widgets? You can level the playing field. Check it out.
Scanner Tab
So you have that annoying squawk-box sitting at the assignment desk with all of your local agencies calling out stuff all the time. What a headache. Did you know that most agencies also tweet that stuff out? Save a series of public Twitter searches to this tab and keep an eye on your fire, law enforcement, weather services, and much more!

Competitor Tabs
Let's break it down. I created a tab for each of my market peers that consists of an SND Score widget, Social Volume widgets for Facebook and Twitter, and then "big three" monitoring tabs for that newsroom's Facebook, Twitter, and Instagram feeds.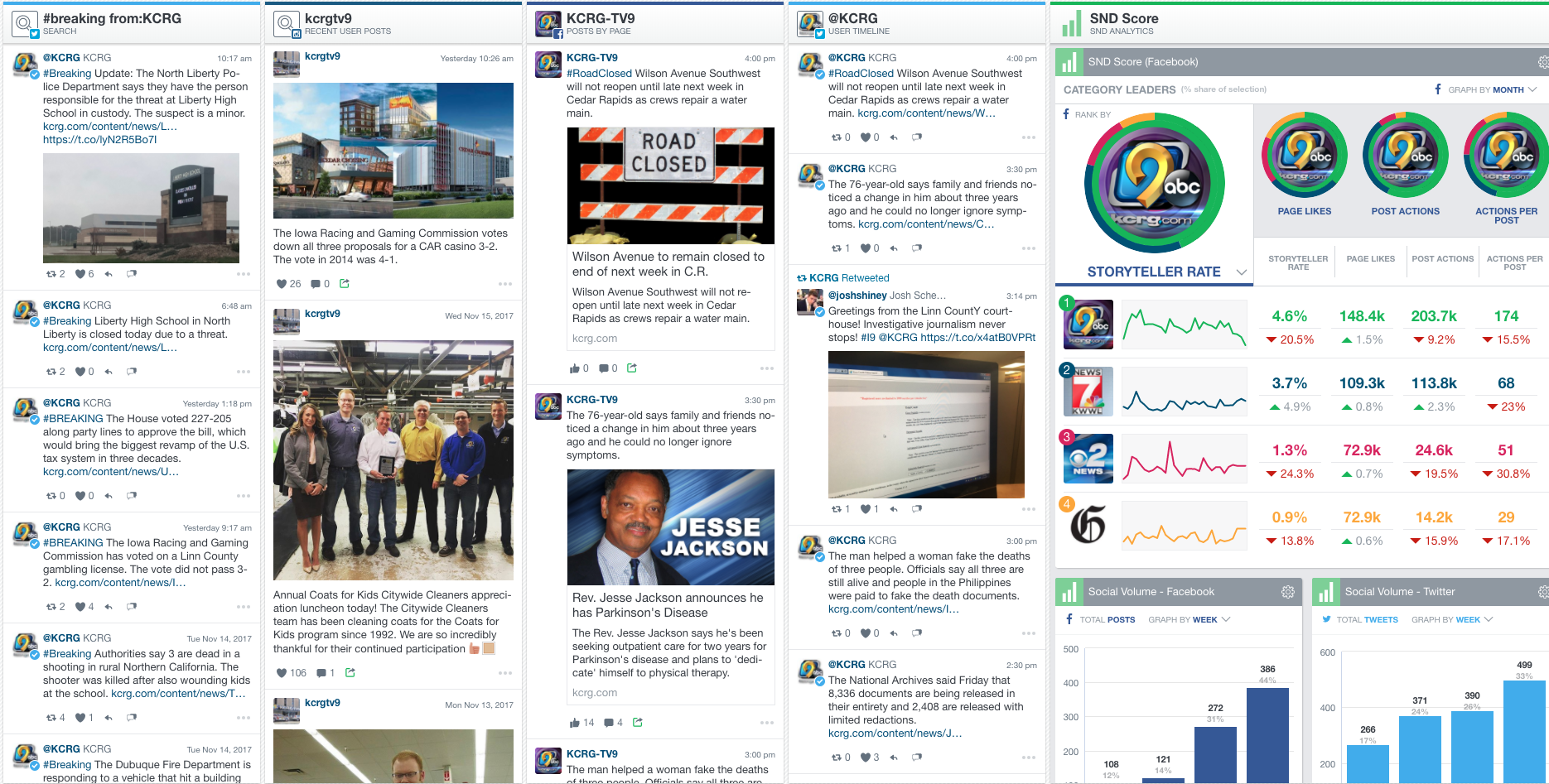 Yes, the SND Score and Social Volume widgets are redundant for each tab. I did that so I could see that display no matter which tab I'm watching. To start, I built those three widgets in one tab and then copied the tab to myself three more times. I then renamed each tab to match the appropriate competitor and added the targeted streams. To top it all off, I added a brand specific Twitter search for "#breaking" on that competitor's account.
So there it is, everyone. My ideal SND Dashboard setup. A guy can dream, can't he?
Need help building your ideal SND Dashboard? Contact us at support@socialnewsdesk.com!