Live video, all the major social networks have it, and audiences want it. According to a Livestream and New York Magazine survey, breaking news makes up 56% of the most-watched live content online. That's a large chunk of the ever-growing audience on social media.
So how does it fit into your social strategy?
Compelling Content
This should go without saying, but alas here goes. Content is always king when it comes to social media. Live video is no different. When you consider content, you also have to consider your audience. Audiences are very different on the three major social networks both in age demographics and content consumption. Insights on your different social accounts will tell you specifically what your audience is comprised of, but understanding what your audience is interested in on the different networks is more important than knowing how old they are, their gender, etc.
In the following sections, I'll break down the audience make up and type of content they're typically engaged with the most. What you should consider when deciding on which network to go live.
Facebook Live
For the moment, Facebook is the big dog in terms of total audience. There's really no competition. According to the Pew Research Center (see above), 81% of U.S. adults ages 18-29, and 78% of U.S. adults ages 30-49 are on Facebook. That's a big chunk of the population. You know Facebook is king just by looking at the number of people who like your Facebook Page(s) compared to your Twitter account(s).
With Facebook being your biggest audience, you need to be going live on Facebook with the biggest stories you have. The number 1 piece of content you should consider streaming to Facebook is breaking news. Breaking news gets passed around quickly on Facebook with live video content. Facebook's News Feed is designed to deliver that to a lot of people, quickly. Facebook has made it pretty easy to get content to your page and most web-stream providers have tools to be able to pipe feeds to Facebook with a couple clicks. Reach out to your web-streaming provider to see if they have this available.
Timing is important as well. Facebook traffic really picks up in the mornings (before the work day begins, and a few hours into the work day usually trickling off around 10am), picks up around lunchtime (12-1pm) and then really hits the roof around primetime TV time (6pm-10pm). If you have big news during those times, get on Facebook as quickly as possible. Stay live there as long as you can. Breaking weather… Live on Facebook as long as possible. Power goes out during weather events faster than cell-towers go down. The vast majority of Facebook users consume video on mobile devices. So when the WiFi goes down during a storm, they can turn to their cell network to continue getting your continuing coverage.
Sometimes, weather can impact your ability to broadcast over the air. Much like some of our friends in the Florida panhandle who were knocked off the air by Hurricane Michael. WJHG and WMBB both turned to Facebook to air live coverage and keep the community informed while the storm came through and in the days following.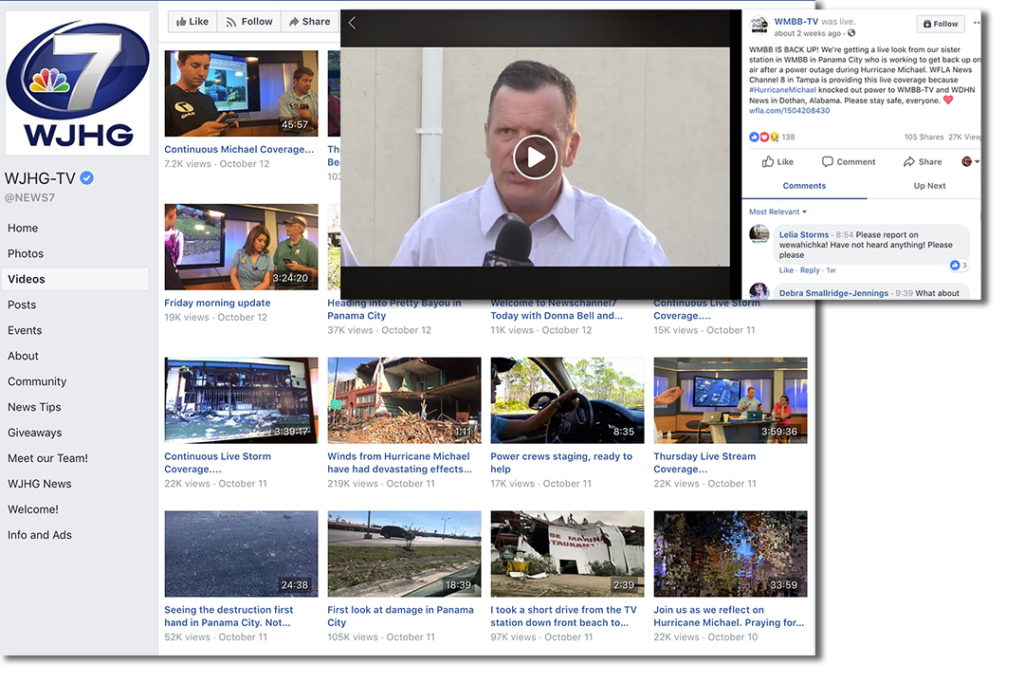 Big news goes to the big dog. But don't forget, Facebook's News Feed will determine who gets to see what and when. So keep the conversation going in the comment section, have your talent regularly address the Facebook audience and let people know — who may be passing a TV and seeing the breaking coverage — they can also follow on Facebook.
Twitter Live Video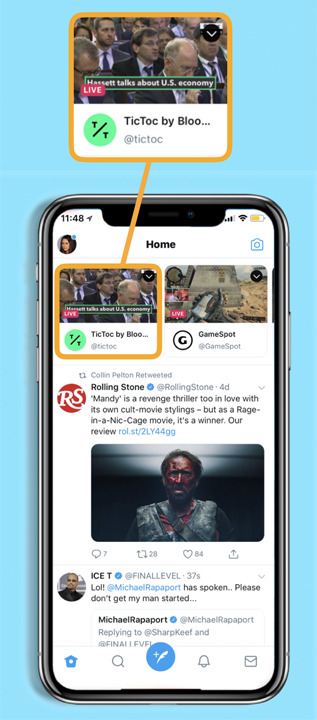 Your audience on Twitter is smaller than Facebook (more than likely). Does that mean you should ignore going live on Twitter? Absolutely not. In fact, Twitter recently announced some new initiatives to boost live video on their platform. If there's one thing you take away from this blog post, it should be this. Live video is now promoted at the top of the Twitter feed. This is prime real estate. If there's breaking news going on, most Twitter users flock to Twitter to get the latest. Both from news organizations and from people who are on the ground where the news is happening.
In order for you to be promoted at the top of the feed, according to Twitter, you'll need to make sure you're broadcasting via the Twitter Media Studio, Periscope or the live camera within the Twitter app, your broadcast must have a title and you need to Tweet out the live broadcast. So long as they're following you, haven't muted you and they don't have 3 other accounts they follow also going live, they'll see you at the top of their feed.
Since your content has a better chance of being seen with Twitter's new emphasis on live, it's time to rethink where we go live with breaking news. Or you could simply simulcast to multiple social networks to reach the biggest audience possible. If you have a reporter going to a scene (or even multiple reporters), you can take the main coverage from air live on Facebook, but have your reporters live on Twitter. Retweet them, quote tweet them, and push live viewers to Twitter for the latest.
As mentioned before, your web-stream provider probably has capabilities to stream to Twitter just like Facebook, but you'll need to have access to the Twitter Media Studio (previously Periscope Producer). If you don't have access, reach out to your Social News Desk Success Manager and we can connect you to the right people.
Other things can work great on Twitter live as well. Live events, sports-related content, location-specific things, or content relating to already-trending topics. You can go live just to chat, or to cover the news. It's really up to you. This is all pretty new to the Twitterverse, so get creative!
Instagram Live
Instagram is likely one of your smaller audiences in the social sphere. The key demographic on Instagram is also much different than Facebook and Twitter, with the average age of users falling under the age of 30. Traditional news consumption on Instagram hasn't really caught on much. With the addition of IGTV (Instagram TV) there are more avenues to test the waters for the scope of content that will resonate with an audience. However, this is very new to many news organizations and what works on Facebook and Twitter doesn't seem to work on Instagram.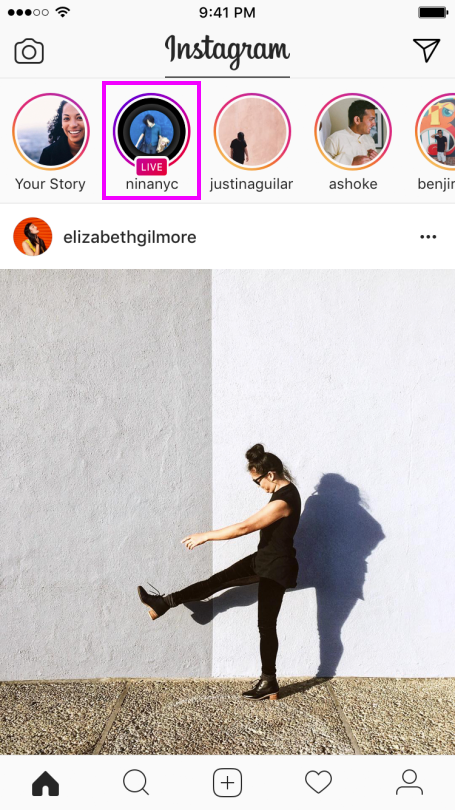 So, what content should you put on Instagram Live? The stuff that connects your talent to the audience. Instagram is more personal. The "selfie style" of video is preferred and users are there to connect with a person through content. Do you have a new reporter or anchor? Set them up with an AMA or an Instagram takeover and get to know your audience on Instagram. If you have a talent who has an idea for something to do live on Instagram, encourage them to try it and to be consistent with it. Who knows, it may just be the next big thing!
Ultimately, on Instagram, lean more towards the content that is focused on a younger audience. Minimum wage going up? Job fair coming to town? Local schools cracking down on Fortnite Mobile gaming during school hours… If the subject audience is younger, then the consuming audience likely will be as well. Local sports, entertainment, food and arts all play really well on Instagram Live. It may not be the best venue for breaking news, though. Instagram Live videos disappear unless you save a copy to your Story. And even that will disappear after 24 hours, unless you save it as a highlight, which will be pinned at the top of your account.
Conclusion
When considering where to go live, and when you have to consider your audience and how you're distributing the information. Don't be afraid to promote your other social outlets for "continuing coverage". Facebook and Twitter are different, but they are both used by a large percentage of users to consume news. Don't neglect one audience over the other! Be active on both. As for Instagram, that's where you really get to connect with your audience, especially the younger audience. The younger generation seems to not be consuming as much news as the older generations, but that doesn't mean we shouldn't try to get more news content to them!
Finally, remember that your lives on Facebook and Twitter live on as VODs (videos on demand). Make sure to connect with that audience as well. And once those lives are regular posts on your page, be sure to go back in the Post Manager in the SND Dashboard and add those important meta-tags!