This app is about to become your daily obsession… and we can't blame you. It's a running tally of every local news reporter and anchor – showing who has the most Facebook Page Engagement at any given time throughout the day. Plus, it shows a leaderboard of the main brand pages in every DMA too. If you haven't installed this FREE APP on your phone yet, here's the link: www.getsocialrankings.com.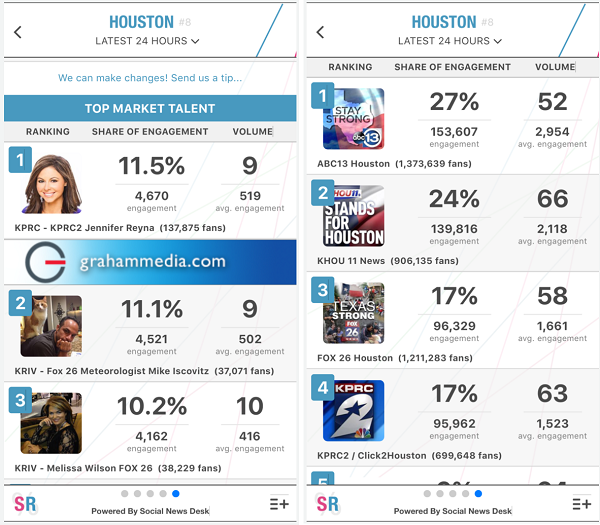 One of the coolest things about the Social Rankings app is that you can check out ANY market in the country. So I gave this new version a test run to check out how talent pages are performing in Houston in the wake of Hurricane Harvey. It looks like KPRC's Jennifer Reyna is leading with 11.5% share of engagement. As of this writing, she's averaging 519 engagement hits per post in the last 24-hours. Reyna is KPRC's traffic anchor. It's no surprise that her reporting on flooded road conditions in the city have played an important role in the everyday lives of her viewers. I see a lot of regular updates on her page, as well as several Facebook Live hits, which are a strong way to increase Reach.
In an extremely close second comes Fox 26 Meteorologist Mike Iscovitz, followed by a long list of super engaged meteorologists, anchors and reporters in the market. Right now, the Houston market has more action than any other in the country – not surprisingly, the talent here is doing an amazing job on social media.
Check out your market now by installing the Social Rankings App and keep checking…the stats update every hour! Questions? Contact us at support@socialnewsdesk.com.