You may have seen a message like the one below, flagging a piece of content in your Facebook News Feed as 'false information.' What does this mean? And what if content from YOUR newsroom's Facebook Page has been flagged as false?
Facebook has said repeatedly that it is committed to fighting the spread of false news. And if you check out the Help Center, Facebook goes into detail about how it uses both technology and human review to remove fake news, promote news literacy and more. So what if something your newsroom posts gets flagged as false? Here's what you need to know:
My post was flagged. What does that mean?
You can learn more about why your content has been flagged in the "Page Quality" section of your Facebook Page. Here, you will see which posts are considered a violation, why they have been flagged, and who posted the content to your Facebook page.
Facebook will also provide alternate sources which back up their conclusion that what you posted is "false information." This is usually another news site, but can also be an official website or other resource.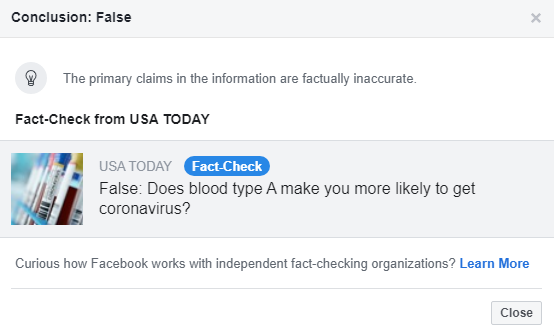 Distribution of your flagged post will be immediately reduced. It will appear lower in News Feed, and will appear with a warning (pictured above.) Pages and domains that repeatedly share or publish content which is rated as "false" will see their distribution further reduced as the number of offenses increases. Your page may also be removed from the Facebook News Page Index. Here's the exact wording from Facebook:

What do I do next?
Do not delete the post. Deleting the post containing the 'false information' WILL NOT affect the outcome. In fact, deleting the post will make it impossible for a fact-checker to process any correction.
You may reach out directly to Facebook's third-party fact-checking organization if you have corrected the "false" content, or if you believe the fact-checker's rating is inaccurate. This must be done within one week of receiving the 'false' rating. To issue a correction, you must correct the false content and clearly state that a correction was made. You must do so directly on the story. To dispute a rating, you must clearly indicate why the original rating was inaccurate. If a rating is successfully corrected or disputed, the content will no longer see minimized distribution and the strike against your Page or domain will be removed.
Facebook recommends using these templates for issuing a correction or dispute.
If one of your posts is flagged on Facebook or Instagram and you need help, please reach out to your Client Success Manager or support@socialnewsdesk.com.