File this under: "Ask and you shall receive!" Lots of SND Dashboard users have been asking us to tweak the way Facebook Link Clicks are reported… so we did! Facebook Link Clicks are now a separate metric in the SND Dashboard Post Manager!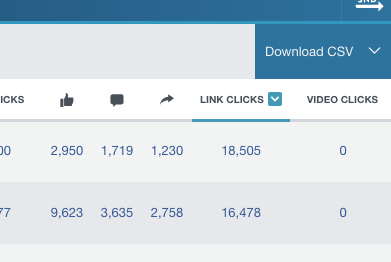 This isn't quite as straightforward as it might seem, so let me break it down for you:
Link Clicks tracks whenever a URL is activated from a post. This includes clicking a URL in a "link post", but also includes clicks on URLs inside the captions of photo and video posts.
Links Clicks is not the same as Post Clicks
Link Clicks are included in the Post Clicks metric (same as native Facebook), but Post Clicks also includes clicks ANYWHERE on the post such as the profile image, page name, photo etc.
Is the Post Manager part if your regular metrics and progress routine? It should be! Get caught up on how powerful it is right here. Filter, sort, and download for Facebook at Twitter metrics.
Want to know more? Drop us a line at support@socialnewsdesk.com.