Local news people are a fiercely-competitive bunch. I can say that because I was one – and in many respects still am one. Which is probably why I can't put down our new app. And I doubt you'll be able to either.
It's called Social Rankings and it's available now in the Apple App Store and on Google Play. Think of it as a daily social scoreboard for newsrooms …which you can carry in your pocket! It's backed by a giant database indexing more than 10,000 social data points per second. And best of all – it's FREE!
The Social Rankings app contains a list of every DMA in the US. From New York (1) to Glendive (210) and literally every market in between. Using the Social Rankings app, you can select to view any of those markets. See who's leading. See who's losing. And see how you stack up.
Go ahead, download it. I'll wait.
Ok, so you're in now. Just click to add markets to your market list. Add as many as you want! The Social Rankings app keeps track of the markets you care about, and shows you how each TV station in each market is performing on Facebook. Here's a screenshot of the Lexington, KY market (#63):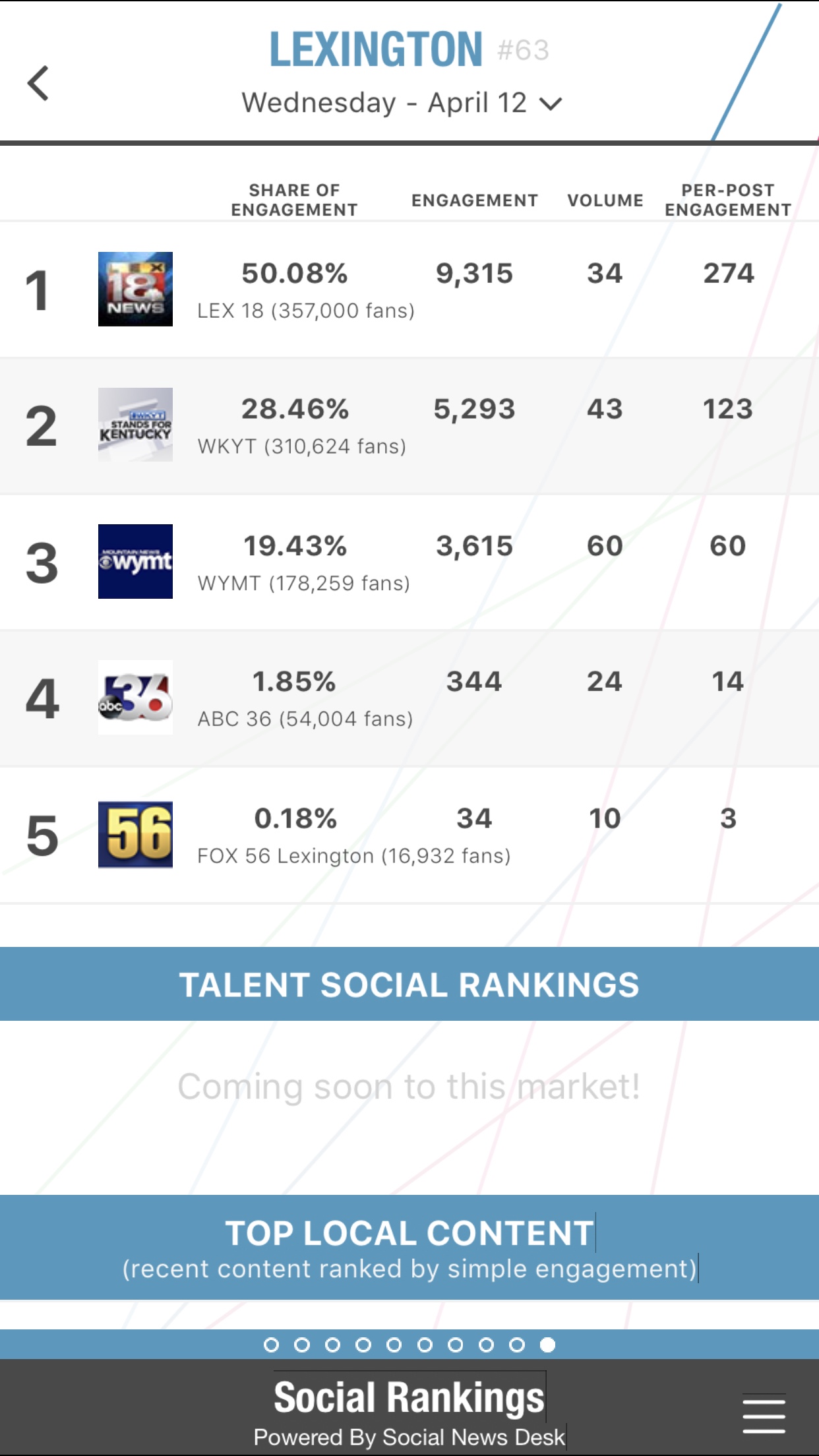 It shows three KEY Facebook metrics for each TV station in the market for the prior 24 hour period:
Engagement: The total number of Comments, Likes and Shares on that station's Facebook posts.
Volume: The total number of times that station posted to Facebook.
Per-post Engagement: The average number of Comments, Likes and Shares that station got per post.
And yes, the stations are ranked (get it? Social Rankings… clever, we know). So for each market, the stations are ranked in order from most to least Share of Engagement – that is, their percentage-share of the total Engagement received by ALL stations in that market in for the prior 24 hour period. It gives you the best sense of who is leading the pack with the most valuable Facebook audience in each market, each day!
PRO TIP: The Social Rankings app will default to the current data. Click the date up top to look back in time.
Want to know why your competitor is #1 and you aren't? Simple. Scroll down to the TOP LOCAL CONTENT list inside the Social Rankings app. This lists the top Facebook posts in the market from most to least Engagement. That is, it shows posts which have gotten the most Likes, Comments and Shares.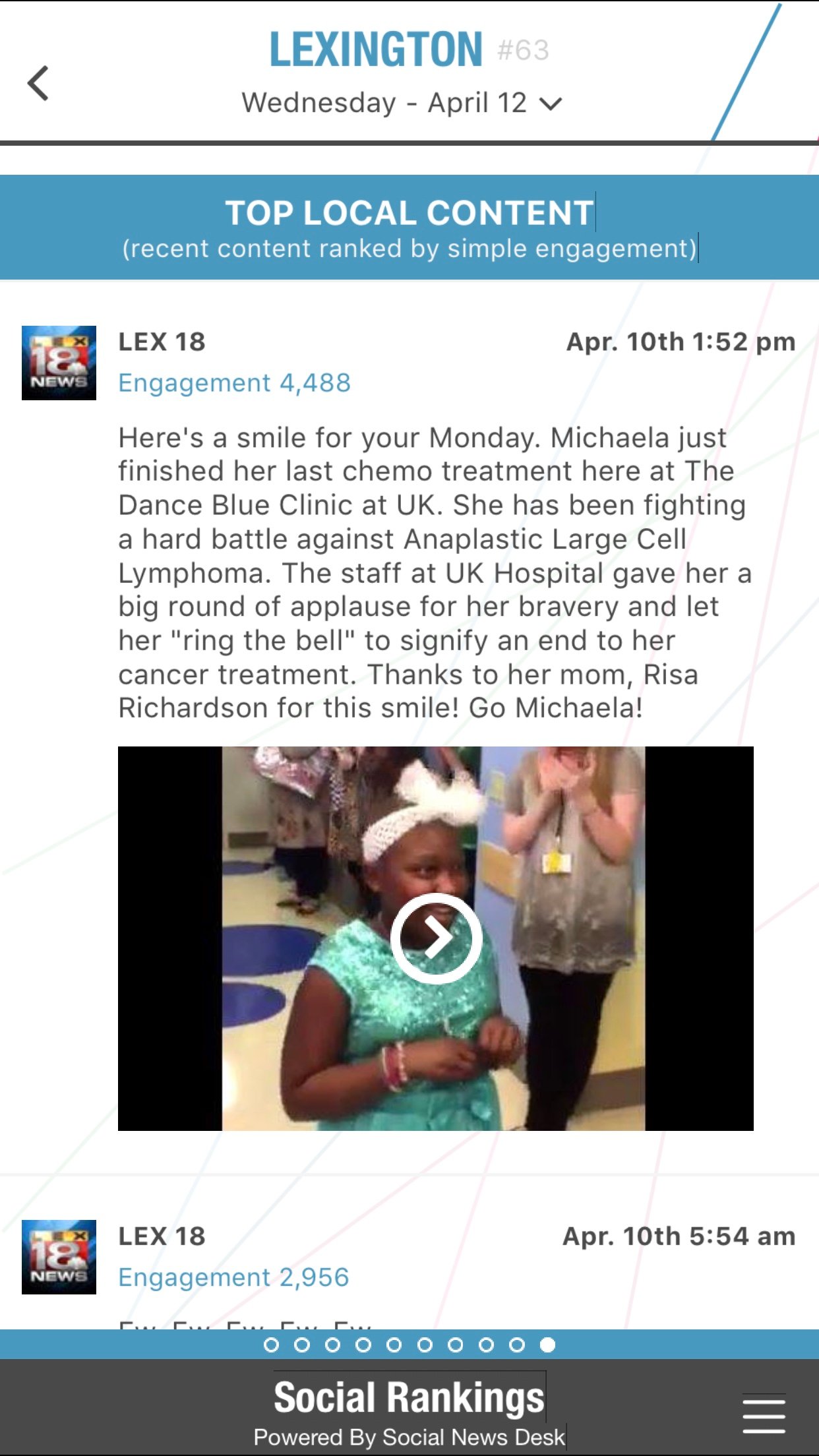 Use the TOP LOCAL CONTENT list to identify what Facebook posts are doing best in your market. If your competitor's posts are scoring higher than yours, read them and compare your approach. Make changes and login tomorrow to see if you've improved your rank in the Social Rankings app!
Chances are, Facebook is the leading driver of traffic to your website. Plus, Branded Content and Instant Articles mean there are more and more ways to directly monetize your Facebook audience. So this is a race you want to WIN! And with the Social Rankings app, you'll never wonder if your station is leading or following the pack. So download it now!
Watch out! We're just getting started! LOCAL TALENT SOCIAL RANKINGS are coming soon as well as TOP NATIONAL CONTENT. Keep an eye out for App Updates and new features like emailed reports.