Out with the old, in with the new. NEW SND is about to refresh and amplify your SND experience! There are lots of small enhancements but the brand new post composer is the most noticeable change.

Before we jump into the visual changes, it's worth mentioning our developers have made some pretty impressive upgrades on the backend. You will notice the following performance boosts behind the new post composer.
Quicker response time
Improved load time (love posting videos?)
Smoother tagging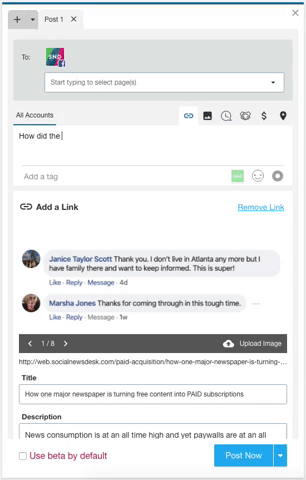 Let's tour the new and improved post composer. Click the Create a Post button and you'll be presented with a sleeker, less busy interface that flaunts an updated look packed with those classic SND features you already love.
I. Social Accounts, Favorites, & Groups
Your social accounts, Favorites, and Groups have moved from the left hand side into a dropdown at the top. This allows for less Dashboard space to be consumed by the post composer and creates a simplified top-down workflow.

You still have your filters and keyword search, and the capability to organize your social accounts into Favorites and Groups folders—we added a count total to each filter and folder. Want to select all of your Favorites or a Group of accounts? Check the box to the left without having to open the folder first.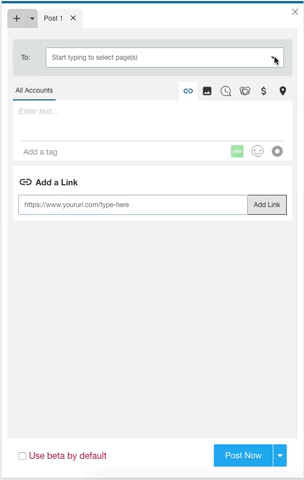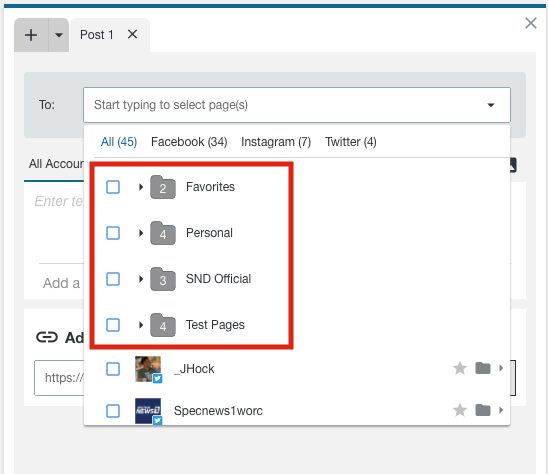 II. Tabs
Your tabs—Link, Add Photos or Video, Scheduled Actions, etc.— have been moved up and grouped with the post text box. All tabs are present and dynamically change depending on the type of accounts (Facebook, Twitter, Instagram) selected.

Wondering what that $ icon is about? We're working on simplifying another aspect of social for you. More details to come…

Your 'Post Now' button is now in the bottom right and you can schedule later or save as a Quick Post from the drop down.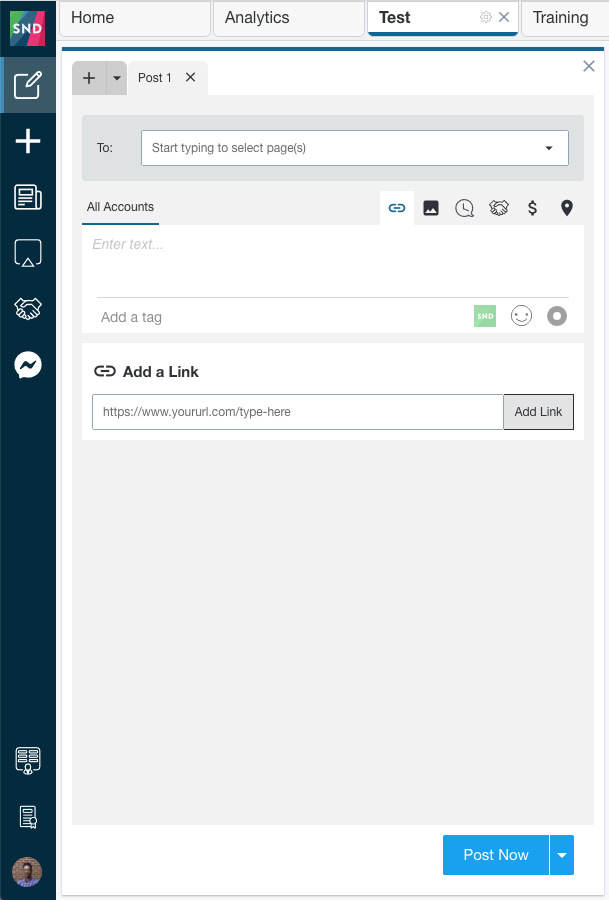 III. Quick Posts
Quick Posts in Classic SND were in the left section of the post composer with the list of social accounts. The feature is still accessed in the top left but now the view has expanded and has filters and keyword search capability. Creating a Quick Post has the same workflow except that the button is located in the dropdown next to the Post Now button (see Scheduler section below).

Import from Classic SND: We're giving you a complete fresh experience with the new Post Composer meaning your Quick Posts will be a clean slate. If you need your classics, just click the blue "Import from Classic SND" button and voila! they're in New SND for you to use.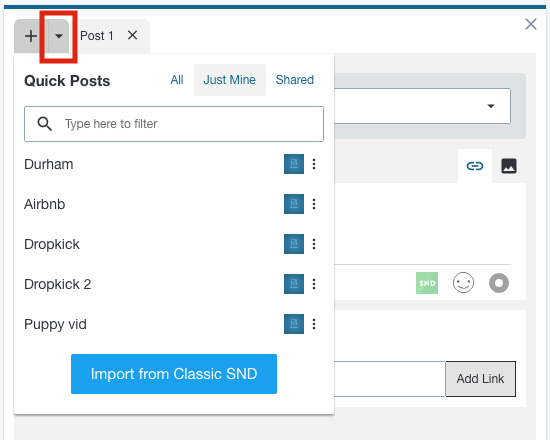 IV. Facebook CTA
The New SND post composer provides the option to select a CTA for organic Facebook posts. There are 10 CTAs available including 'Watch Video' and 'Learn More.' We highly recommend testing these CTAs in your link posts!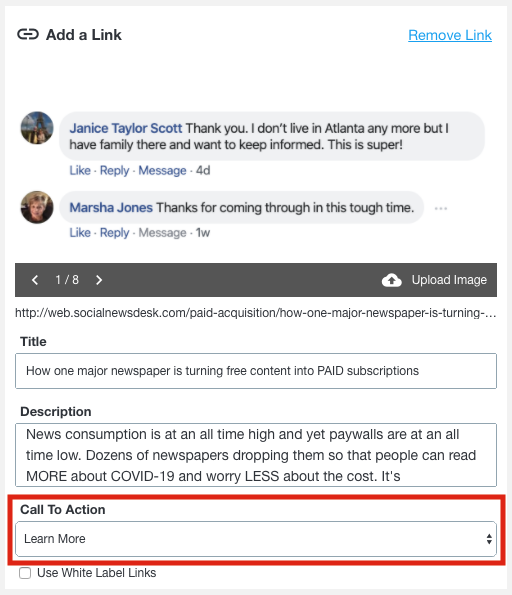 V. Bitly
Bitly has also moved and found a new home in New SND. The "Use Bitly Link Shortening" option no longer shares a dropdown with an Attach button and appears only after you add a link. Once it appears, check the box on the left then select your Bitly account from the dropdown on the right.

If you're posting solely to Twitter, just paste your link into the post text area to trigger the Bitly feature.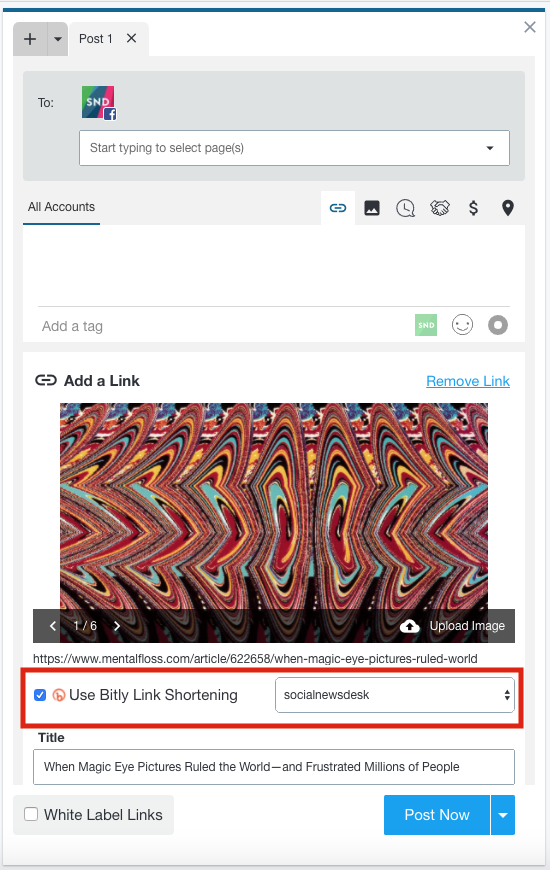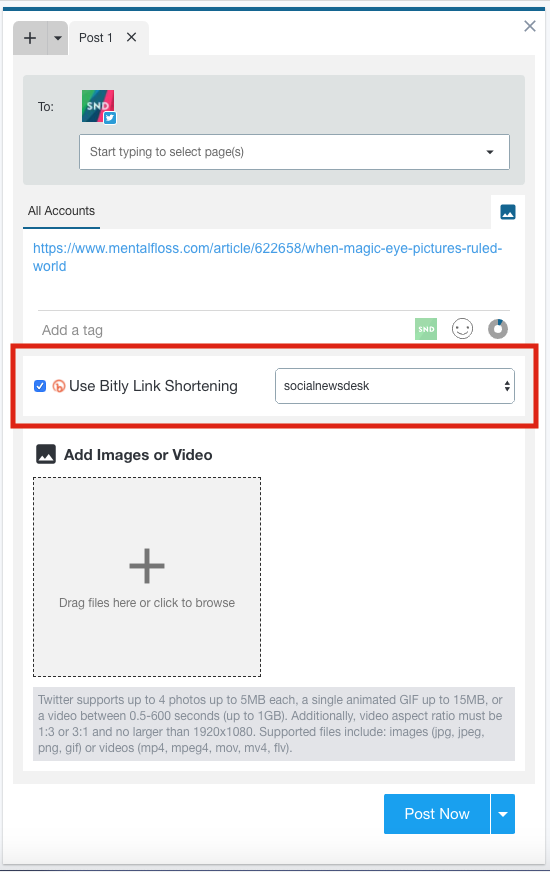 Not only can you expect to see a faster and smoother experience with the new SND post composer, it's more cohesive and has a more holistic approach with your workflow in mind. We can't wait to share it with you!
Have questions about new SND or the Post Composer? Reach out to your Client Success Manager or email us at support@socialnewsdesk.com.