The second presidential debate of 2016 is in the books, for better or worse. Are you keeping up with the weirdest presidential election year yet? Are you prepared for the last debate and election night? It's time to call in your reinforcements wherever you can find them; from other departments or from your friends at corporate.
I already wrote about how the SND Dashboard and SND Analytics library can help a local web team build a master display for monitoring election buzz. Now, let's talk about some time-saving tricks for publishing updates on election night. These tips are great for any social team including the folks at corporate who are lending a hand by publishing content for affiliates.
Be everywhere at once
When results start coming in across your state (which may represent three or four different DMAs) or the nation, one person can post results everywhere at once. Organize your social media accounts by regions to make the workflow fly. This feature keeps you from scrolling through a list of dozens of social media accounts and cherry-picking the desired targets. The "select all" feature does it for you. Or if you make a mistake, "deselect all."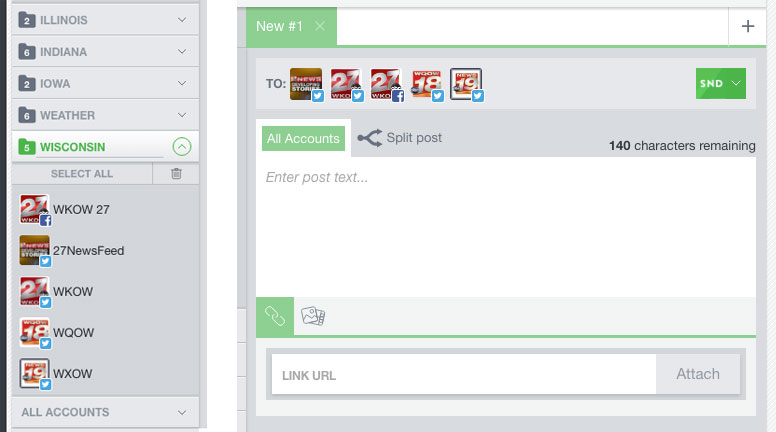 Quick posts
You know there will be certain kinds of posts that you'll be making on election night: district this-and-that with something-percent reporting, for example. You can save the standard format notices as templates, or Quick Posts, in your SND Dashboard and share them with all of your publishers. This can be done weeks in advance – right now, in fact! Prepare your Quick Post templates alongside your other election night preparations, the same way you prepare your lower-third crawl and your website's results pages.
To use your Quick Post, select it from the list of saved posts on the left and you're almost there. With a little preparation you can now select the appropriate social media accounts, post link URL and support media in one click, saving loads of time on a busy night.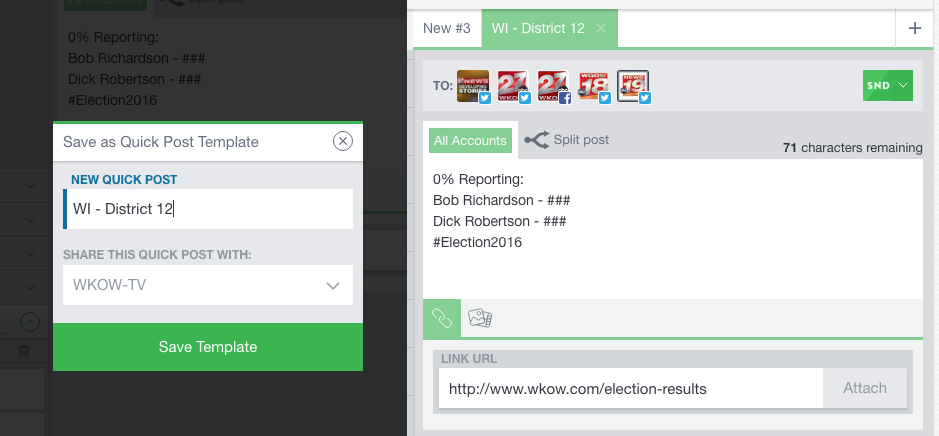 White label publishing
Your election night posts and tweets should always include links back to your election results pages. But if you're posting to multiple properties at once, how do you choose which site will get the love? Now, you don't have to! In the SND Dashboard you can enable white label publishing, which automatically replaces the root of the URL with the pre-programmed root URL for that account. If you set up identical vanity URLs for all of your results pages (www.website.com/election-results) the white labeling will automatically direct your users to the desired page. So, for example, your WKOW users will be directed to "www.wkow.com/election-results" and your WQOW users will be directed to "www.wqow.com/election-results" no matter which page's "election-results" URL you plug in! Is it magic? Yes, yes it is.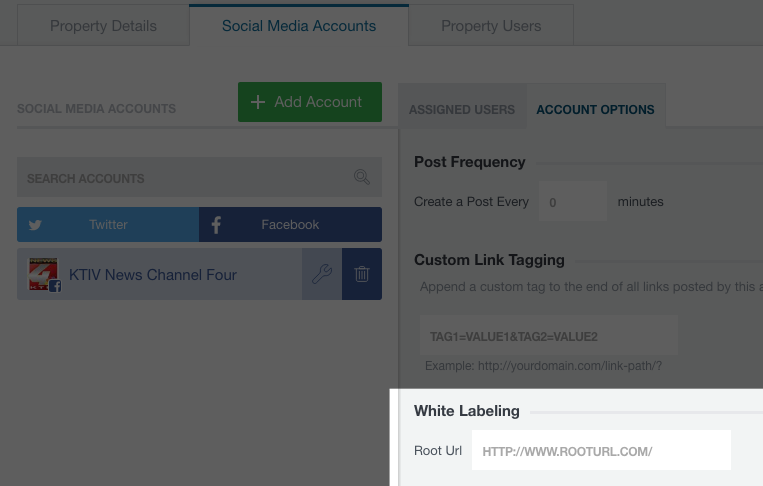 Be in control of your election coverage. Now you can wrangle it all, no matter how many accounts you have to manage. It's great for any support team tasked with managing all things political in a newsroom or group of newsrooms (perhaps you have a dual-brand newsroom), or on behalf of your smaller sister stations when the information starts rolling in fast. I encourage you to set it all up now while you can and test it out on the next presidential debate night. If you have questions or need help getting this going, please let us know at support@socialnewsdesk.com.