What we've heard from ads clients over and over again is that SND not only delivers a better ROI on acquisition marketing but that it also saves our newspaper partners SO much time because they don't have to be responsible for managing campaigns themselves.
The Columbian is one of those clients. The Vancouver, Washington newspaper started working with SND in late 2022 with the aimed goal of getting sign-ups for their daily newsletter and driving traffic back to their site.
Using SND's proprietary Dynamic News Ads technology, The Columbian was able to get almost 5,000 newsletter subscriber sign-up, at an average cost of $1.14 per lead (far better than industry average). SND was also able to drive almost 18,000 link clicks back to The Columbian's website.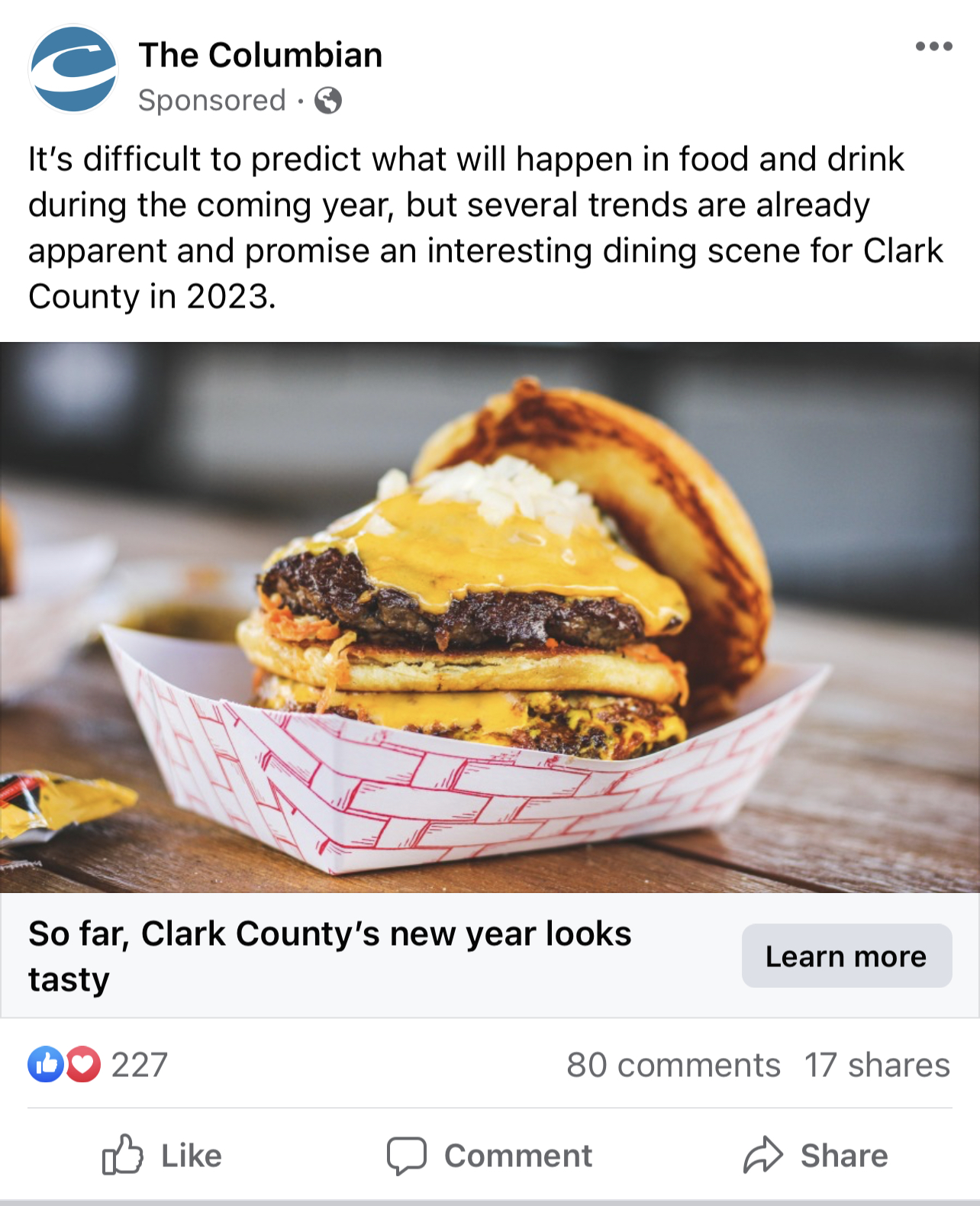 The success lies in the tech utilizing a publisher's best and most effective content and turning those articles into ads. Instead of seeing another static ad asking a reader to sign up for their newsletter, readers engage with content that makes them want to sign up for the newsletter, which not only brings in more eyeballs, but helps bring down costs as well.
Sierra Myers, the Marketing Manager with The Columbian had high praise for what SND has been able to accomplish for the publication, saying, "SND and their automated Ads platform has helped us not only save time in the effort it takes to run ads on socials, but has also helped us get more leads for our newsletters and more clicks to our website than we ever have before through any social media campaigns. This has expanded our reach and has provided some very interesting insight into what types of articles people respond to on these platforms, especially Facebook, which is always something we are looking to discover about our audiences. They have a background with other newspapers which is very important to us and are great at discussing with us about what's worked, what's not, and offered ideas on how we can move forward."
More and more, the digital space is becoming a privacy first world and being able to engage readers and collecting that first party data, helps warm up those leads with a publisher's great content, and convert the casual reader into a paying subscriber.
Are you ready to try out Social News Desk's Dynamic News Ads technology? You can try it for as little as a month with no commitment. Email us today to learn more and schedule a call.