Many newsrooms struggle to find time to craft that perfect social media post. Theres so much to do – yet so little time! Social News Desk offers a simple solution: Autopilot, our proprietary automation technology. It uses real-time data and AI to help newsrooms save time, increase engagement and publish smarter. Here's Editor Raymond Still's first-hand account of the Courier-Herald's experience with SND's automation technology, Autopilot.
GUEST BLOG: HOW AUTOPILOT LIFTED MY PAPER'S SOCIAL PRESENCE
By Raymond Still, Courier-Herald Editor
I'll be frank — I just don't like social media.
That might not be something you'd expect a newsman to say. Yes, there are times when posting a heart-wrenching story about an infant with cancer or a feel-good article about a successful fundraiser gives me some warm fuzzies when I see those "likes" and "shares" and little heart emoticons pile on each other, the comments brimming with support and love.
But more often, I see how social media can bring out the worst in us. My paper's business Facebook page is a member of several community groups, and more than a few are toxic with tribalism, misinformation, and bigotry.
So on a personal level, I stay away from it.
But as a newsman, social media has to be my best friend — and thankfully, Social News Desk is there to help manage this love/hate relationship.
Getting Started
I can't remember when we started using Social News Desk (we've switched up platforms several times), but I wanted to start using it seriously last January in order to push my paper's presence online.
Problem was, since I don't know social media, I had no idea what I was doing — but Social News Desk's Client Success Managers sure did, and they were able to guide me through every step I needed to take to start being, well, successful.
We started with automated posts, because I simply could not work up the energy to manually post my news articles every day. I didn't want to go overboard — just three posts a day, at the times deemed best for posting, seemed good enough for me.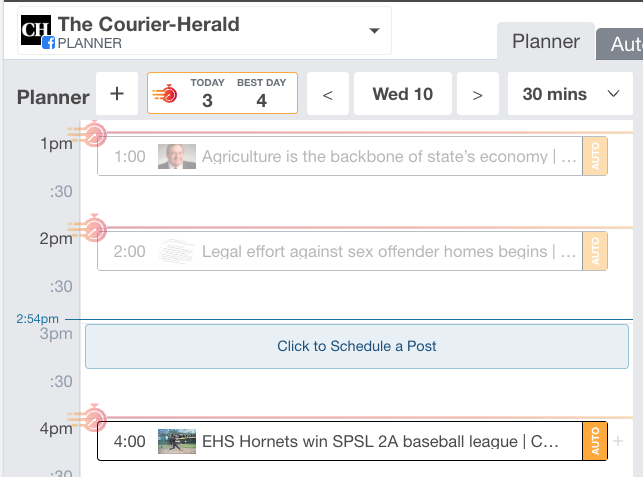 Small Lift, Big Results
It's amazing what even small things can do.
In just five months, my Facebook page reach has increased more than 1,167% over the same time period in the previous year. Visits to our page also increased nearly 352%.
Cumulatively, our page reach from January to May 2022 was just about 30,000.
These last five months, we reached nearly 370,000.
Even when website usage is generally down, we still see spikes of readers when a particularly good article is shared on Facebook. For example, we saw a more than 200% spike one day in early March when website views jumped to nearly 13,000 over the same date last year.
Keep It Going!
And all of this success is just for our Facebook page, since Meta doesn't track how well shares do on other pages and groups — and it's on these pages that our articles get the most reader interaction.
With these numbers in hand, it was a cinch to convince my editorial director to get auto posts going on my sister papers' Facebook pages; I expect their numbers will take off as well.
So now I'm here, sitting pretty and able to focus on my actual job — reporting the news — instead of struggling with social media. I couldn't be happier.
Well, OK, I'd like to not deal with some of the yahoos and their ridiculous comments, but I'll just file that under "increases in reader interaction" and call it a day.
This preceding post is a guest blog written by Raymond Still, Courier-Herald Editor. Since writing this, he's now working to expand Autopilot to other social platforms — because, why not? (Side note: SND Supports automation for Facebook, Twitter, Instagram, and LinkedIn!)
Want to get started with Autopilot? Email our Client Success team: support@socialnewsdesk.com. We'll get you up and running in no time!