Intelligent automation saves you time and helps you make better decisions when posting to social media. Sometimes it makes sense to automate more, sometimes less – and Social News Desk allows you to choose the level and type of automation that's best for your content and your audience. Here's how it works:
Publishing automation designed for newsrooms
The Social News Desk automation technology – SND Autopilot – will identify the best content you have (in your newsroom or across your group), and will make sure you get the most out of it. It's designed to increase traffic and engagement while decreasing the time you spend on mundane publishing tasks. Start by choosing how you want to pull content – from your website, from social or from a manually curated feed.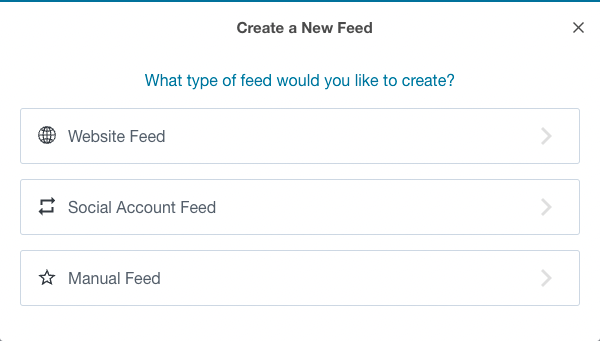 Post the best content from your website
Want to publish content directly from your website? You can easily create a content feed that prioritizes the highest-performing stories on your site by attaching your Google Analytics profile to SND Autopilot. SND will use page view data from Google Analytics to pull the best content (by page views) from your website and get it ready to go out to social.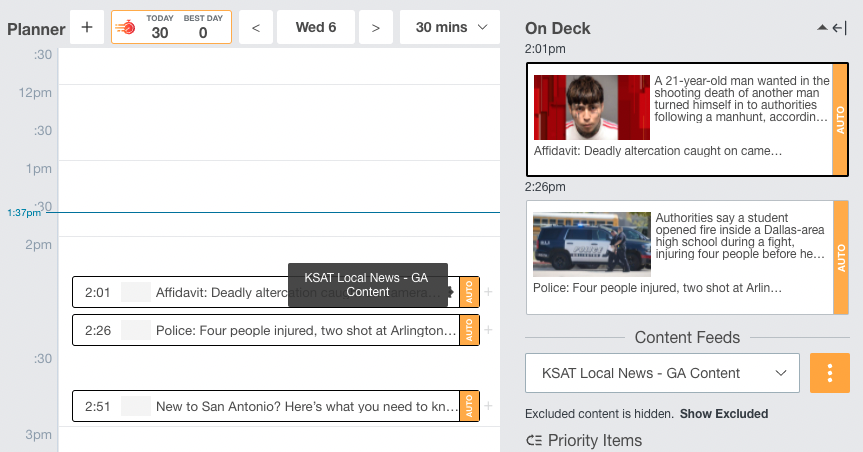 When setting up your Google Analytics feed, you can filter your content based on minimum and maximum content age, as well as keyword and URL filters. Next, use SND Autopilot to publish stories from that feed straight to your social account – OR – simply view those top web stories in a column on your SND Dashboard and publish them manually.
If you'd rather pull from RSS feeds, we've got you covered there too. Attach one or more RSS feeds, set priorities, content-age limits and keyword filters…then, you're ready to publish based on whatever order you choose: Oldest First, Newest First or "Highest Ranked by Google Analytics." If you choose Highest Ranked, you'll need to be sure you've attached your Google Analytics profile. SND will use page view data from Google Analytics to rank the items in the RSS feed.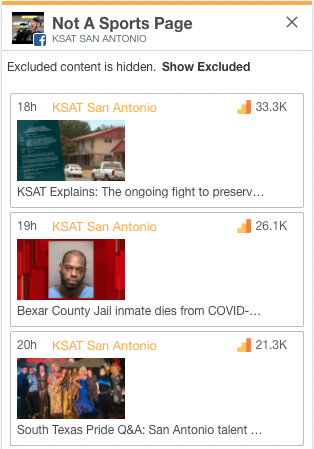 You'll know at a glance which stories are scoring highest, and can easily exclude and filter stories based on age and keywords to give you control over what makes the cut.
(Re-)Post the best content from your social accounts
Take advantage of your best social posts by automatically posting them again – SND makes it easy and gives you several ways to do it…
1. Repost Tagged Posts: Create a feed that automatically pulls in any social post you've made via SND Dashboard and TAGGED with a certain term or terms. For example, start tagging appropriate stories as "Evergreen" or "Weekend" and they'll get automatically pulled into corresponding feeds that you can use to publish content automatically using SND Autopilot.
2. Repost Overperforming Posts from ONE Social Account: Create a feed that includes all posts from a certain social account that have "overperformed." And you can define "overperforming" yourself when you set up the feed.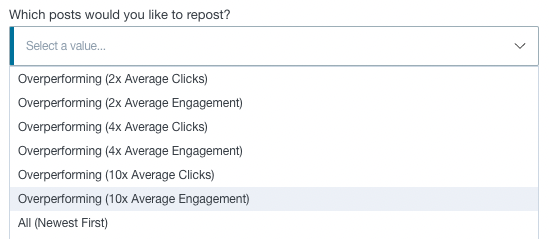 3. Repost Overperforming Posts from YOUR Group: Create a feed that includes all "overperforming" posts from all social accounts in your Group. As with the single account, you can define "overperforming" when you set up the feed. And if you have White-Label Links set up, SND will tumble the links for you before they go out. This makes it super simple to syndicate high performing stories across your entire group of properties using SND Autopilot.
Create your own feed
Rather than relying on AI to choose content, you could manually create your own feed and then use SND Autopilot to send out the posts over time. For example, you could write a series of posts in one sitting and put them all in a feed to publish later. Or drag and drop stories into a feed from an RSS stream on your SND Dashboard. Simply hook these feeds up to SND Autopilot and it will start sending the posts automatically – on your schedule.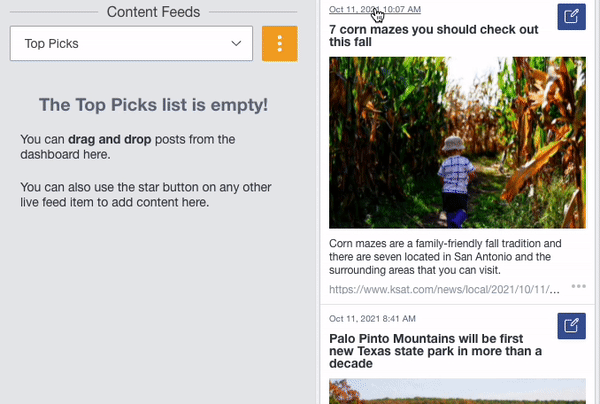 Have questions about how to set up these feeds? Check out our Knowledge Base or reach out to our Client Success team at support@socialnewsdesk.com.