WBTV is on a mission. They're looking to get more people in their market to download the WBTV News App.
And as it turns out – the best way to do that is to use the news content WBTV is already creating every day. And SND's Dynamic News Ads technology is making it simple by automatically identifying WBTV's best stories, turning those into a targeted Facebook Ad, and then sending viewers directly to the App Store to start the download.
Here's how it works: SND's proprietary technology identifies and curates content that is already performing well for WBTV online. We use that to automatically create a Facebook Ad and we include a Download button for users to get the App. As WBTV's content updates, we automatically update the ad – so it's always fresh and enticing for new users.
Here's what it looks like: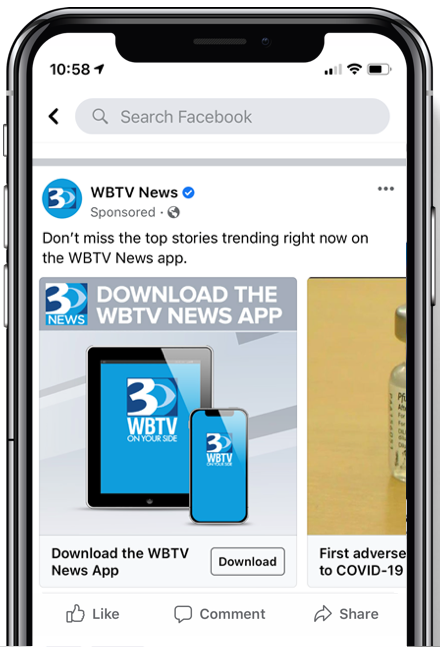 Some of WBTV's top performing stories:
NC Coast Guard crew searches for man who toppled off cargo ship into frigid Atlantic
Four charged with murder after body found in trunk in N.C.
Child films cops escorting angry man from Walmart in NC for refusing to wear a mask
The Results:
More than 12,000 clicks to the app
2.33% Click through Rate
68% Google Play
32% App Store
Ads ranked in the top percentile of those targeted in the market.
We know that marketing dollars are precious and we want to make sure you're getting the most out of them. Email us to figure out how to get great results with your budget using our hands-off Dynamic News Ads approach.