Village Media is pushing hard with its acquisition efforts and they're leaning on SND's Dynamic News Ads technology to make it happen.
SND's approach is simple but strategic – we build data-driven ads that leverage existing, high-performing news content to capture new audience and acquire subscriptions.
Our approach is unique because we use a sophisticated set of signals and an extensive database of content to automatically generate the best-performing ads.
It's working!
Village Media's campaign compels people to sign up for email newsletters.
Our Dynamic News Ad technology predicts which stories will resonate.
After that, the campaign for Village Media then goes one step further to create Facebook Lead Generation Ads which also automatically update.
Village Media told us, "SND's solution allowed us to create always-on and up-to-date ads at scale across all of our local sites. They leveraged Facebook's Lead Generation forms to capture users' names and emails from their Facebook information, dramatically increasing sign-ups."
They're excited about the results!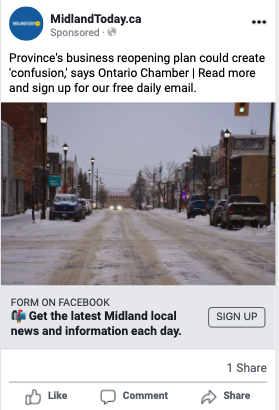 Since launching ads with SND's Dynamic News Ads in September 2020, Village Media has generated more than 52,400 new email sign-ups (as of January 31, 2021) at an average cost of $0.73 per sign-up.

"The results have been substantially better than any other sign-up methods we've tried in the past."


Village Media
The partnership continues and as Village Media noted, it's demonstrated the potential to significantly impact the entire business model in their ongoing effort to connect with a local audience.
Want to learn more about how Dynamic News Ads can work towards your goals? Reach out for a quick 15 minute conversation to figure out if it's a fit.