If you work in local news, you've most likely experienced the popular industry-trend of consolidation. Where independent newsrooms used to fight for reach, large mega-media companies now enjoy a massive social-media footprint. And while this type of scale can be extremely powerful when it comes to distributing news on social, it can also be extremely cumbersome and inefficient without the right set of tools. That's where we come in. Social News Desk has worked directly with large publishers to create a streamlined, custom set of social-media capabilities for syndication and publishing at scale. Here's how they work:
Centralize Access
Whether you choose a "one user, many accounts" or "one account, many users" approach – or a blend of the two – Social News Desk makes it simple to share access to accounts across your entire group without the need to share passwords.
Media companies large and small use SND to hub social publishing. By giving certain users custom access to a specific cross-section of social accounts beyond their local market, SND allows users to distribute social posts nationally or regionally. This can include things like great video content, consumer news, and of course breaking news.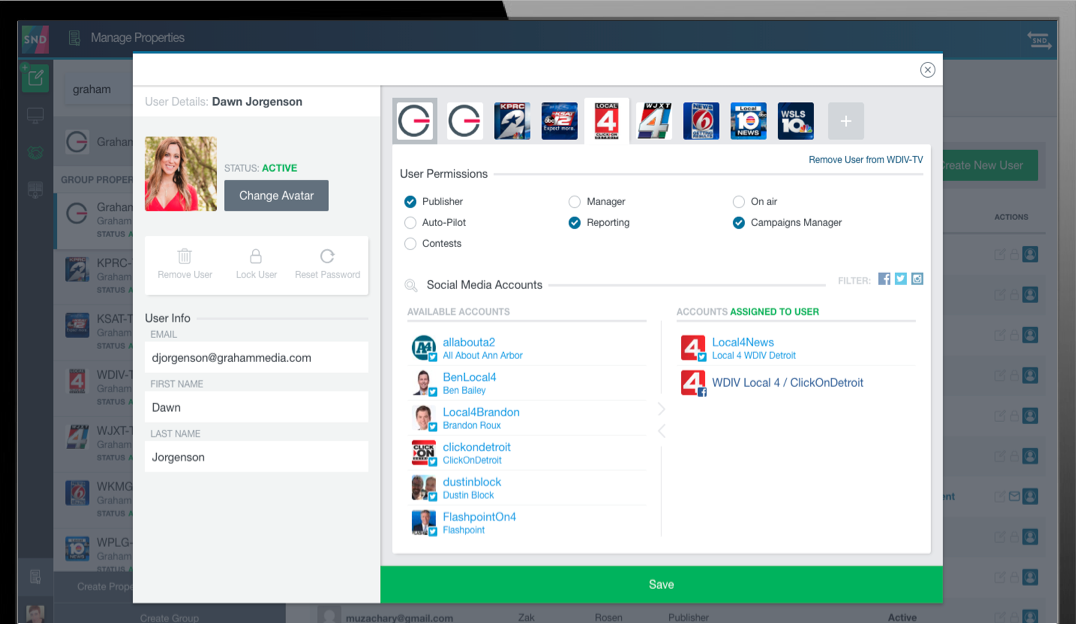 While one user can publish to multiple properties, you can also bring in many users from across your group to collaborate on larger news initiatives, like elections at a statewide level, topics of interest, or sports coverage.
Syndicate Content at Scale
Among the advantages of a consolidated news organization is combined audience. But as a local news org, you still want to deliver a personalized approach that feels authentic to your local market. This is why so many media companies have grown to rely on Social News Desk's White Label Linking feature. This capability allows SND Dashboard users to publish dozens (or even hundreds) of social posts at once to as many individual social accounts… all while delivering local web-traffic to each property's own website.
To use the tool, start by creating a single post with a single link to any one of your properties' Facebook Pages. Then select the "Use White Label Links" option to send to as many Facebook Pages as you want. When the post is published, each social account's post will include a link to their OWN website's version of the story. This works because SND automatically tumbles the root domain of each URL matching up each Facebook Page post with its localized version of that link.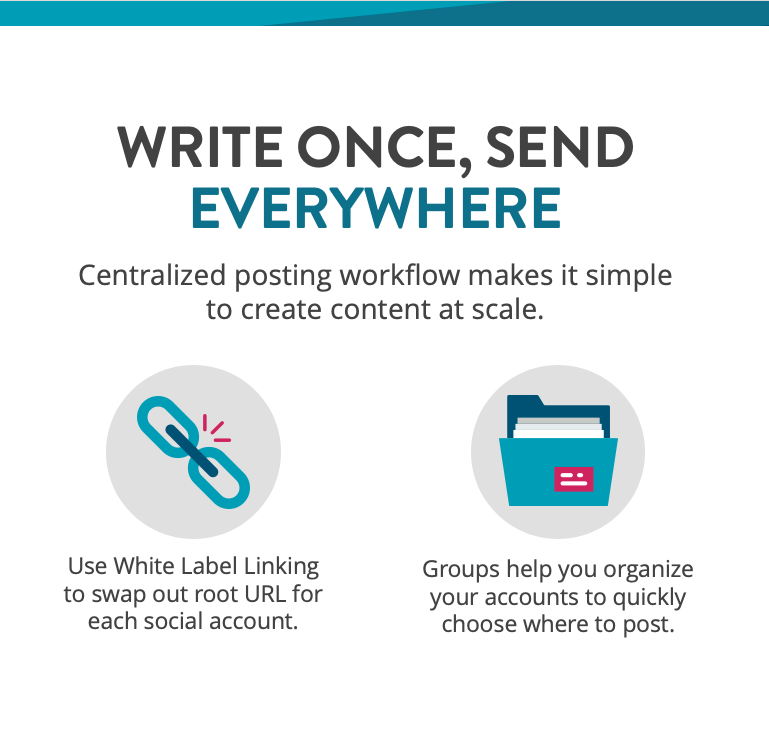 Keep in mind that your CMS will have to support the same URL structure across all pages after that root URL. If you have questions about getting this feature set up, shoot us an email at support@socialnewsdesk.com or get in touch with your Client Success Manager.
Organize Distribution
SND Dashboard "Groups" makes it easy to organize large groups of accounts by states, time zones, different verticals – whatever you want! Once accounts are grouped together into folders, you can quickly select multiple accounts to post to by selecting that group's folder.
If you want to check out a group's scheduled posts, simply click that folder inside the Scheduled Posts column of your SND Dashboard to view them all at once. You can also filter by Group/Folder inside the Post Manager if you want to see all posts and metrics for that group.
Set up is simple: just click the folder next to a social account icon in your All Accounts list in the Post Composer window of SND Dashboard.
Increase Efficiency with Automation
SND Auto Pilot delivers content to your social accounts automatically, on a cadence that you choose, in order to keep content flowing 24/7. It can be used alone or in conjunction with a manual/scheduled post strategy. The feature analyzes your RSS feeds along with signals such as the age of the content to create a queue from which posts are made. And coming soon, SND Auto Pilot will also be able to consider Page Views as a signal in its automation algorithm. This will allow SND to better identify high-performing content on your website and prioritize it automatically in the Auto Pilot queue.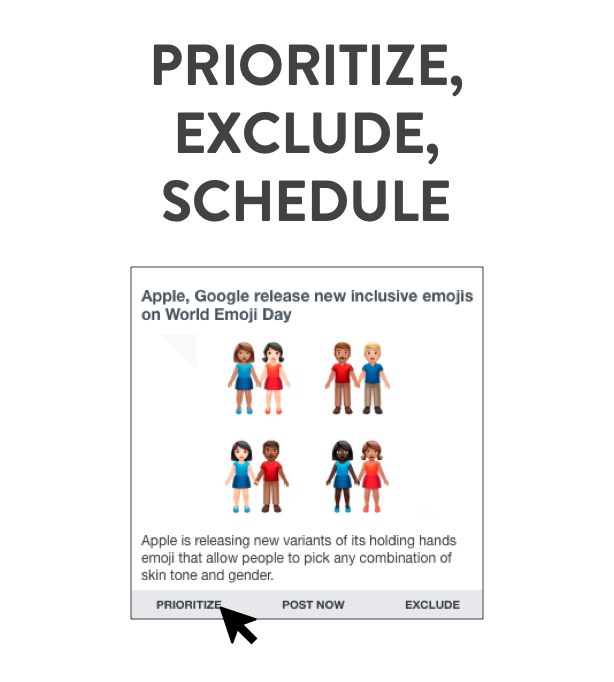 While you may be reluctant to let Auto Pilot completely take over your social media accounts, we've found that letting Auto Pilot sit in the co-pilot's seat works even better! Use the Prioritize button to load your Priorities queue with great content that you know will perform well – you can also adjust the order of these priorities. Auto Pilot also works around your Scheduled Posts so you can avoid posting too closely together, and avoid duplicating links you're posting manually.
Did you know you can also automate Comments and Shares? Social News Desk's unique Scheduled Interactions feature allows you to schedule a Facebook Comment, Share, or both for a certain interval after the post is published. You can schedule a post in advance, and schedule the share to another page after that post goes up. Scheduled comments also help keep the conversation going by asking questions of your audience or adding sidebar content to a post. This works great with video posts!
Reporting & Data at Scale
Looking for the big picture? Here you go: the Social News Desk Roll-up Report is fully configurable to display as many or few social accounts as you want to see. If you want, it can roll up all of the metrics across all of the accounts in your entire group, giving you a comprehensive look at your top performing content and overall results.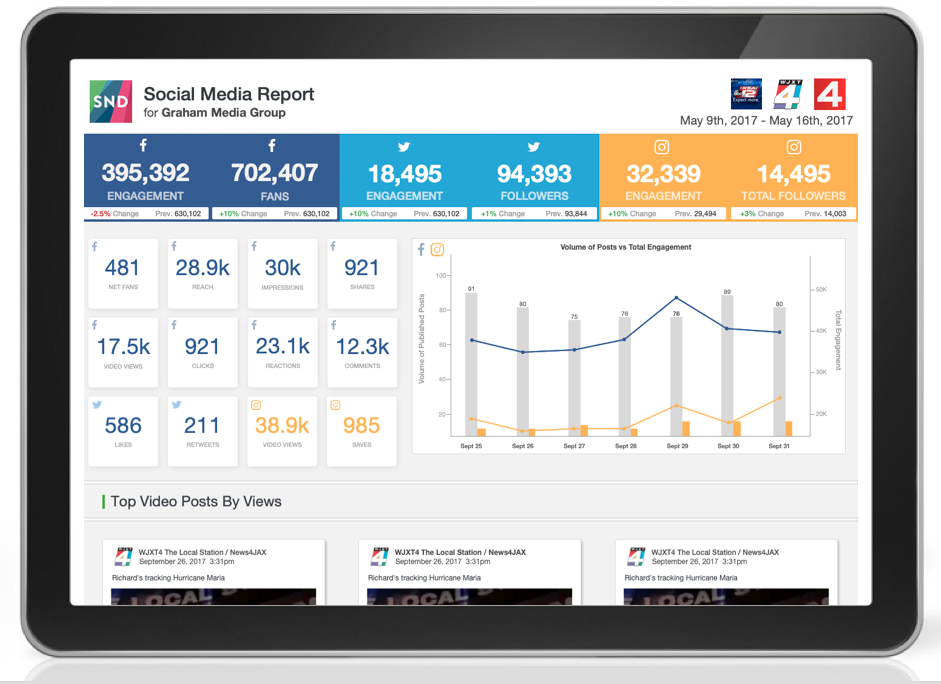 The SND Instagram Scorecard also allows you to compare Instagram account level results across all of your group's accounts; so you can set goals for individual accounts in your group. And of course, our Facebook Scorecard measures page-level analytics – making it easy to compare accounts across your group, talent accounts in your station, or even competitors in a market – you can pull in public accounts as well.
Discover Great Content at Scale
SND doesn't just have powerful publishing tools – we also offer ways to discover what's performing well across your entire group.
The Social News Desk Top 10 Posts widget allows you to quickly see what's performing well for select groups of accounts. Include main station accounts, talent accounts, even competitors or local law enforcement for big stories. Adjust the time period as well as the metric you'd like to focus on to deliver the results that are meaningful to you. Once you've found that great content, you can use the Repost feature of SND Dashboard to copy and paste the contents of original post into a New Post window. From there, make edits to the content, and send or schedule the post.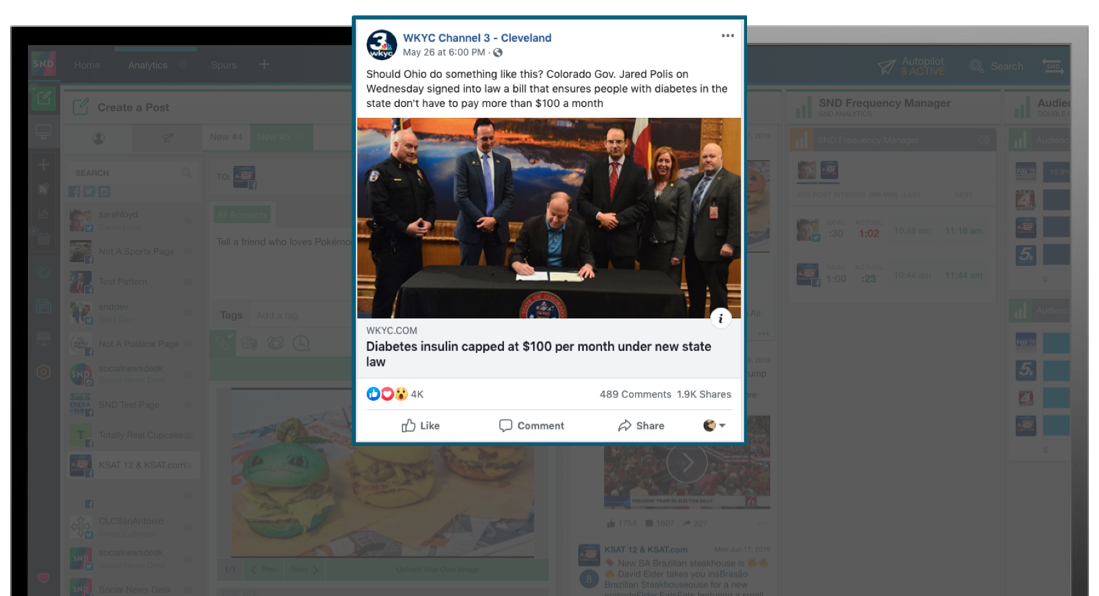 Want to dig a little deeper into detailed analytics? Use SND Post Manager for your pages to identify posts that are overperforming by comments, shares, video views, link clicks – you name it. If you find a great piece of content that you can reuse later, tag it with our metatagging tool. Later, you can search by tags and find content that you've marked as evergreen.
Still have questions? Reach out to us for a customized webinar on syndication and social management strategies for news groups.