SND Dashboard features Autopilot, which allows you to use an RSS feed to automatically send content to any Facebook or Twitter account. But what if one RSS feed source isn't enough? Well now you can add up to five separate RSS feeds to any account!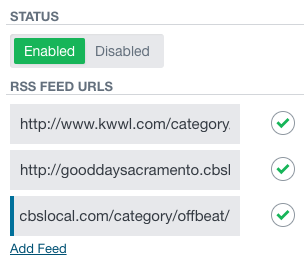 Just go into your Autopilot settings, edit your existing schedule, and you'll now see an "Add Feed" option. You can feed stories not just from your main news feed, but also from your local sports feed, weather feed, community news and offbeat feeds. It's up to you!
This feature was developed by request from our clients. We love feedback and great ideas! Shoot your ideas to support@socialnewsdesk.com.