The weather office is a busy place. There's the website, the app, Facebook, Twitter, Instagram – not to mention the live broadcast – all with insatiable appetites for live, accurate weather information… 24/7! It's easy to understand how today's Meteorologist could start to feel 'under the weather'… But don't worry, here are 5 SIMPLE IDEAS to help clear things up when it comes to weather content and what's working on social media:
1 – Make Appointments With Your Fans
Whether it's a daily Facebook Live or a weekly preview of the weekend forecast, give your fans a reason to check in with you on a predictable schedule so they can interact on a regular basis.
In Orlando, Eric Burris at WESH-TV has a daily (and we mean daily – that's weekends too!) appointment with his fans in his "Coffee Talk" Facebook Live segments, where he delivers a detailed forecast in a friendly way and responds live to viewer comments. Even outside of "Coffee Talk," Burris is very comfortable on Facebook Live, often jumping on to deliver hurricane updates or simply to share a live walk on the beach with fans.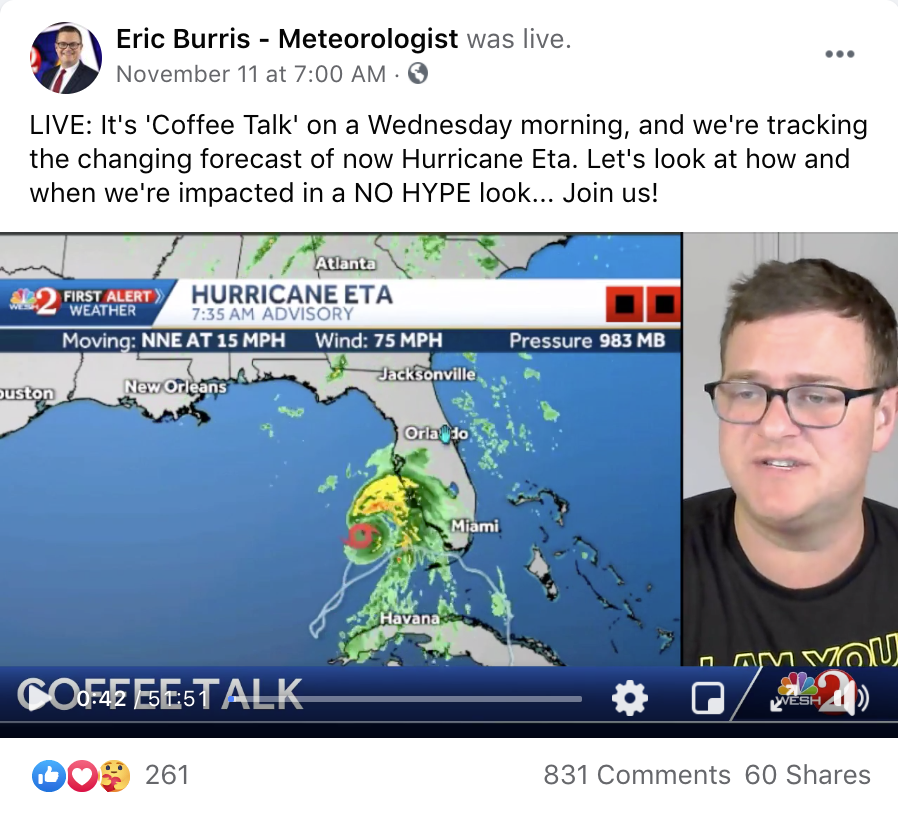 At KSAT-TV in San Antonio, Kaiti Blake takes to the skies to deliver Rooftop Weather, a weekly segment on Fridays to look at the weekend forecast. In the weekly videos, Blake gets out of the confines of the studio to show what's really happening outside. It's also a fun way to start the weekend, with GIFs and a few upcoming events included in the mix.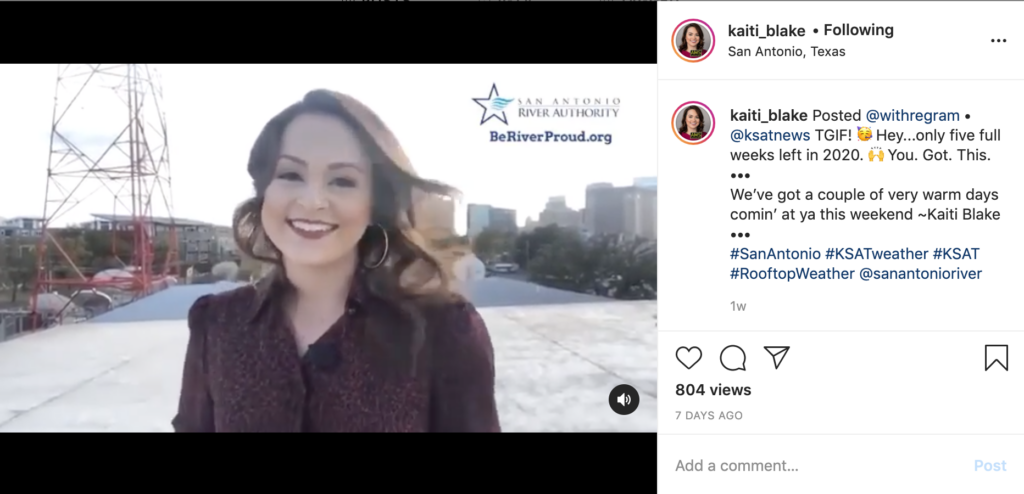 Kristin Clark at KOMO-TV in Seattle also takes fans into the elements for her daily forecasts, starting on the balcony near the studio to give an unfiltered look at what's going on in the city around her. Clark then takes the forecast back into the studio, giving an up-close, behind-the-scenes look at the weather makers of the day. She's polished without being stuffy, and keeps her fans well-informed.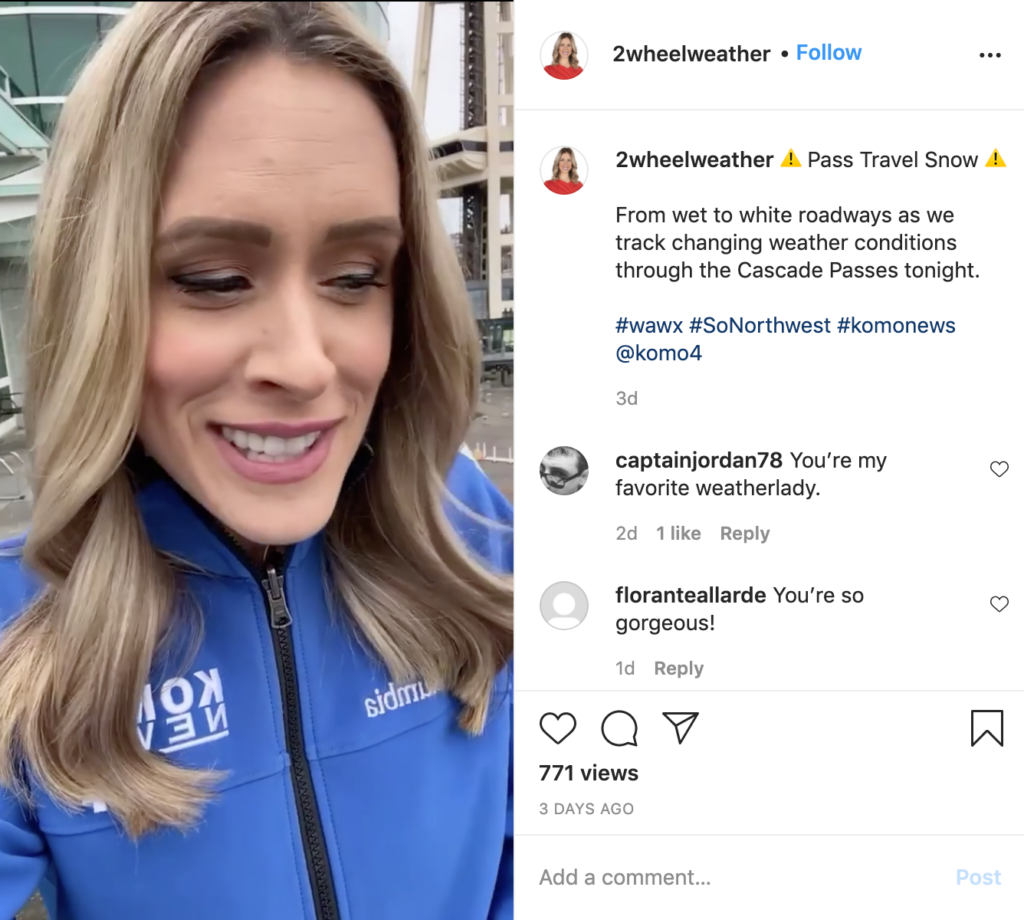 2 – Broaden Your Coverage Area
While the vast majority of working broadcast meteorologists are in local markets, that doesn't mean you have to just stick to your DMA's borders. Some of the most successful mets on social media share forecasts, severe weather events, and beautiful weather photos and videos from around the world while still covering what's happening in their own backyard.
How does a meteorologist in a city of just over 200,000 people end up with nearly 700,000 followers on Facebook? We'd be remiss if we didn't give a shoutout to James Spann from ABC 33/40, whose coverage of severe weather in Birmingham, AL has spanned (pun very much intended) more than four decades. He's had the same no-nonsense profile picture since 2012, and is incredibly active on social media. With a prolific mix of daily detailed forecasts, notable weather events happening around the country, weather-related fan photos and a peek into his behind-the-scenes life, Spann sets a high bar for meteorologists on Facebook and is great for some inspo when you need it!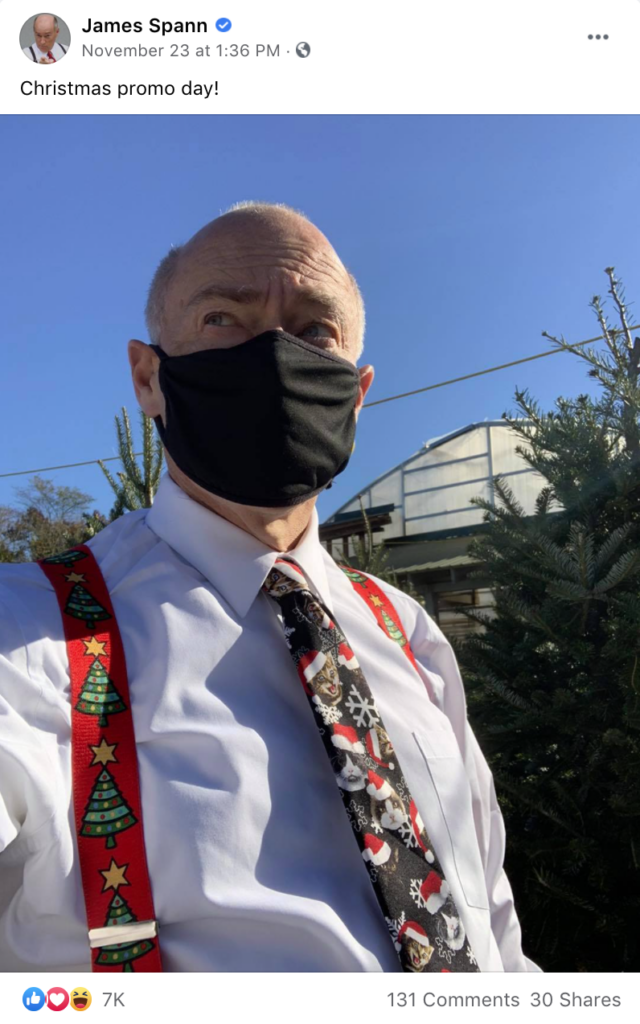 But wait! Great meteorology isn't limited to TV! The Capital Weather Gang at The Washington Post offers a curated look at DC-area weather, as well as top weather stories around the country. The team has more than a million Twitter followers, and shares stunning fan photos, frequently updated daily forecasts, and weather and climate science news that gets people talking.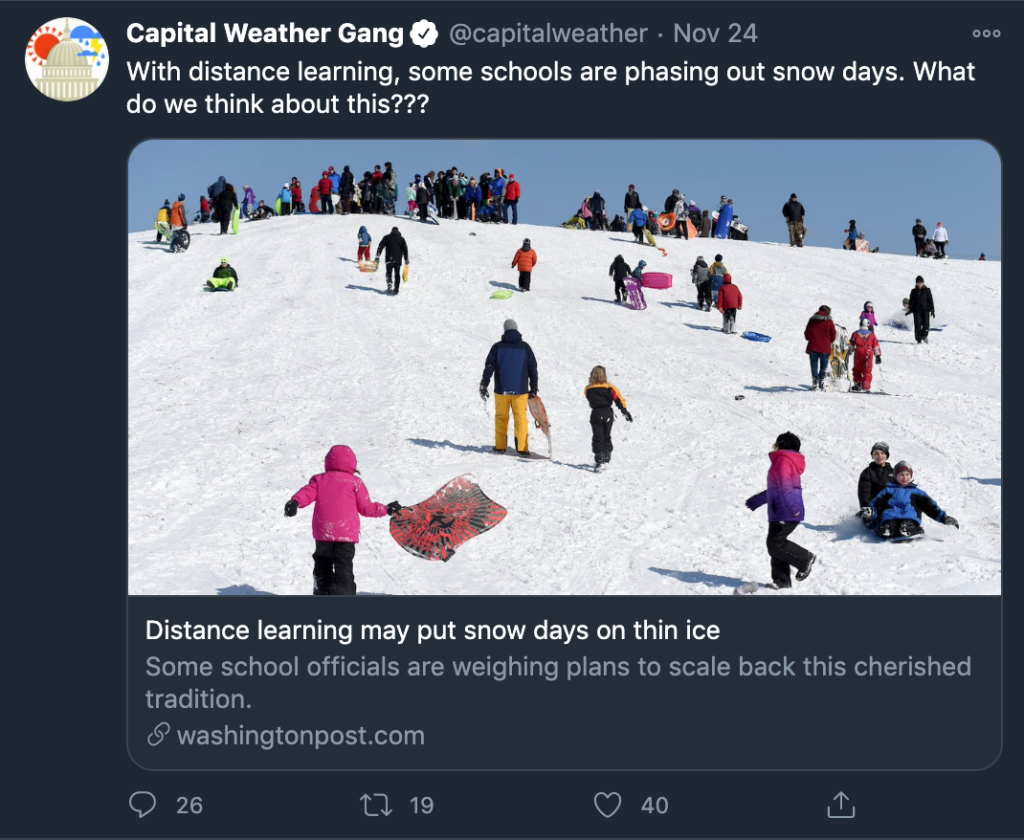 3 – Let's Get Visual
Emily Sutton at KFOR-TV in Oklahoma City is a CBM and storm chaser, which is crucial in Tornado Alley. But during fairer weather, Sutton shares gorgeous viewer photos and daily forecasts, letting her personality shine through with emojis and a conversational style. We also love her Halloween costume, which she used as a jumping off point to teach fans a little something about meteorology!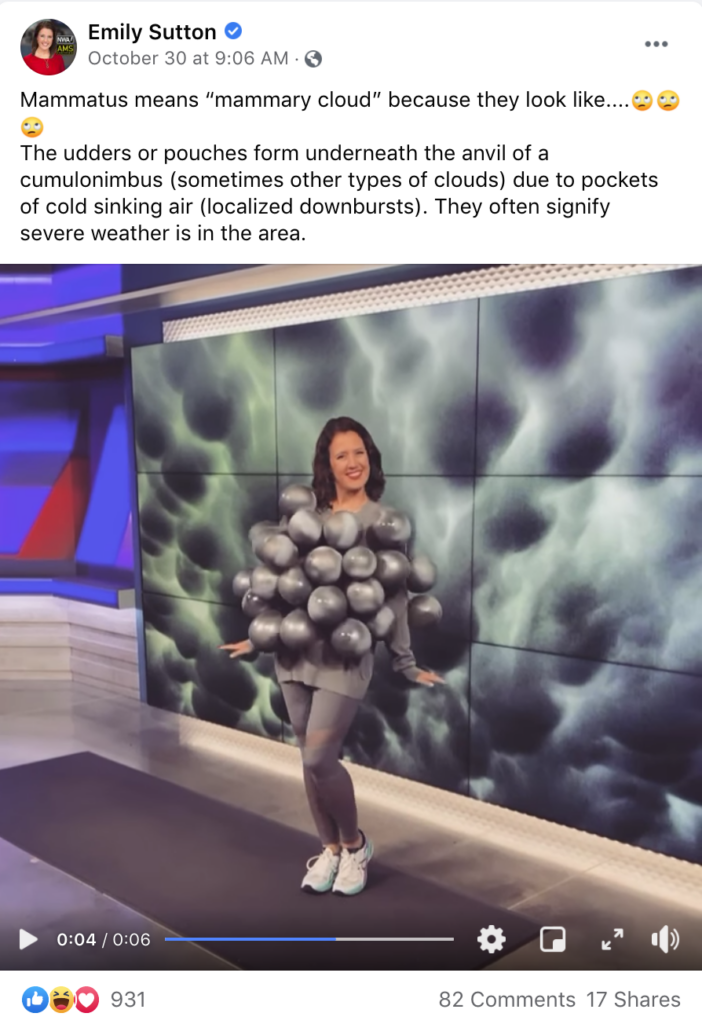 4 – Forecast: High Chances of Conversation
Samantha Roberts at Cleveland's WOIO-TV injects her weather forecasting with a stream of funny observations, well-placed GIFs, and plenty of emojis. She takes the time to interact with lots of fans, and retweets viewer weather reports from around the area.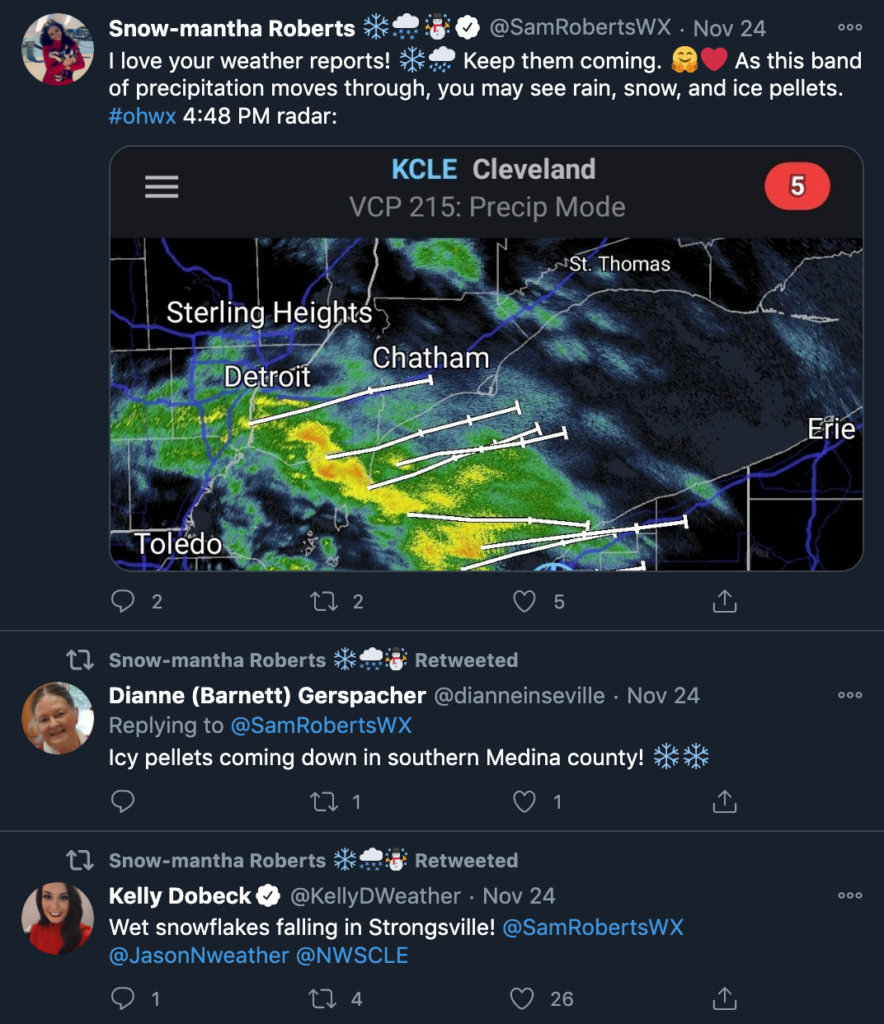 5 – Don't Just #SticktoWeather
While many fans come for the forecast, they stay for the personality. Whether your social media presence is infused with a daily dash of geekdom or becomes a weather-adjacent pop culture celebration is up to you!
With more than 1.7 million followers, Nick Kosir at FOX 46 in Charlotte, NC is killing it on Instagram. Known fondly by some as "the dancing meteorologist," Kosir's feed is a must-follow for his sendup of celebrity outfits, dance challenges, and weather-related song parodies.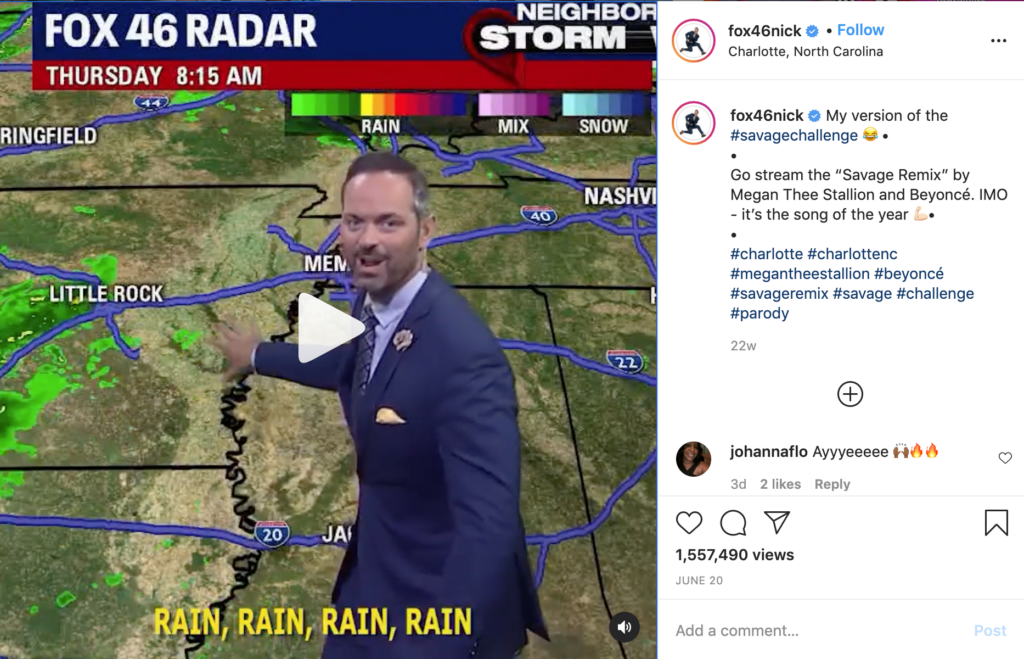 In Sioux City, Katie Nickolaou at KMEG-TV lets her geek flag fly, and fans love it! She's the creator of #FandomForecast and is a meteorologist whose love of Star Trek led to her love of science and weather. In addition to carving out a niche for herself, Nickolaou shares the science to back it up, and is great at interacting with fans on Twitter.
Have you spotted more meteorologists that are doing a great job on social, or want to have our client success team work with your weather squad? Drop us a line at support@socialnewsdesk.com.