Facebook's made another change to News Feed that could have a major impact on news outlets – particularly when it comes to video. As part of their continuing effort to promote "original content" (meaning new video YOU created and didn't borrow or re-purpose from another source), Facebook announced changes on May 6th that will promote videos based on three factors. Let's unpack what those changes mean for your newsroom.
Loyalty and Intent
Facebook has long considered "intent" as an important factor in the News Feed, and it looks like this will be more important for videos. Specifically, videos that users seek out and return to week after week (think series) will be promoted higher in the News Feed.
So what can you do? Consider establishing or re-working franchise pieces that have a regular cadence to establish viewing habits that cause viewers to return again and again. For example, KSAT's "Elder Eats" segment reviews local restaurants and takes viewers inside the secrets that make the food so good. This series regularly sees hundreds of thousands of views and great engagement.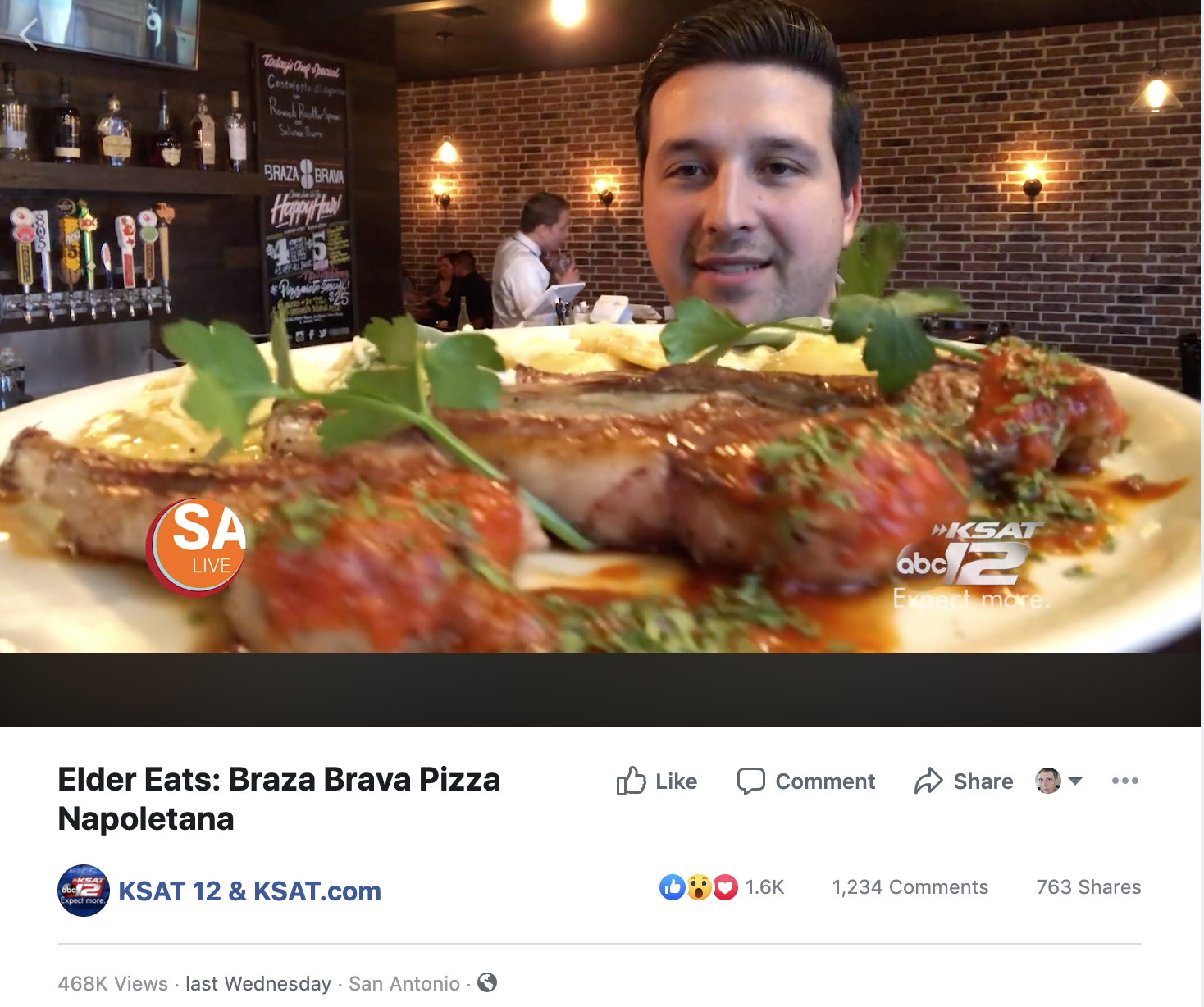 Video and Viewing Duration
Facebook will weight videos more heavily when they have a greater number of views for one minute or longer – especially if the video is longer than three minutes overall. Newsrooms should seek out longer pieces of content and describe what's happening in the video so viewers can seek out the big moments that make these videos interesting.
WMBB showed viewers the final moments of their broadcast before being knocked off the air by Hurricane Michael. They commented in real time so viewers could get a play-by-play of what happened during each moment, making for a compelling, longer-duration viewing experience.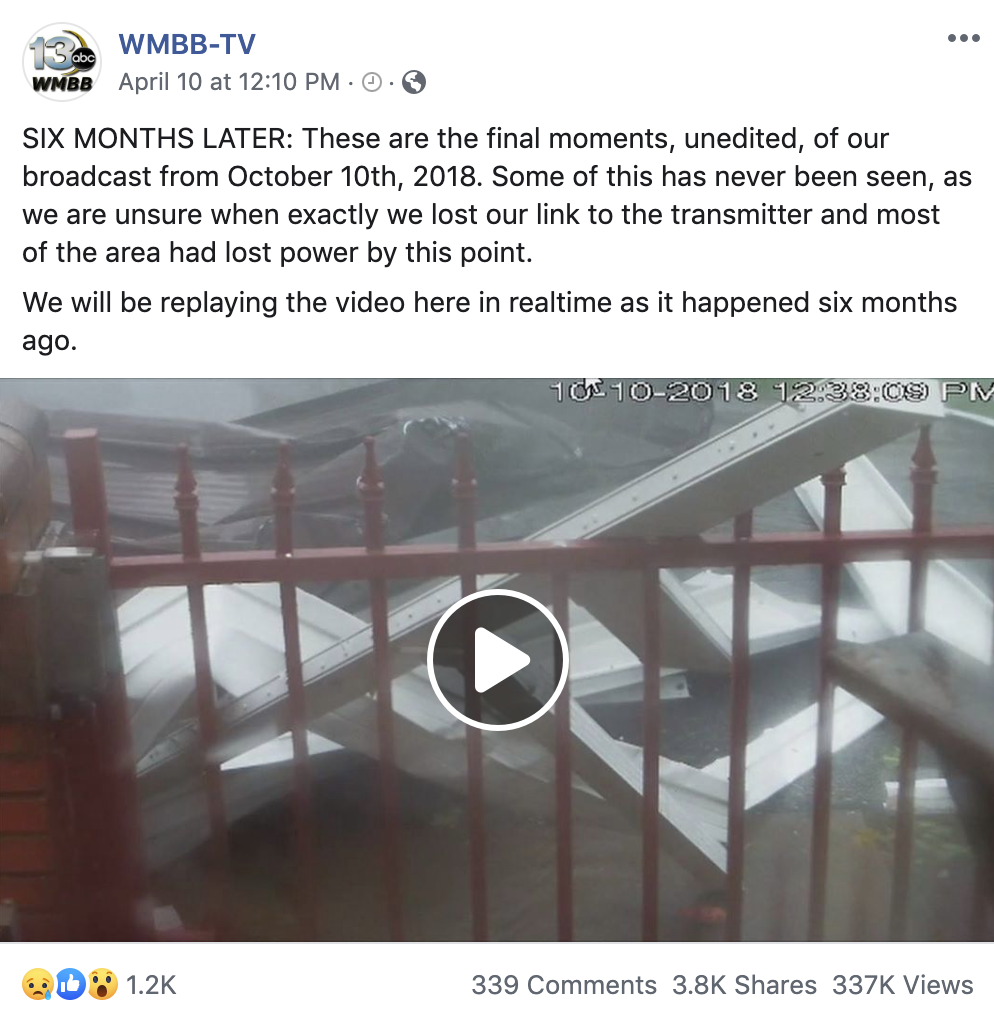 Originality
Facebook has already been limiting distribution of videos that have been repurposed from other sources – so don't just grab a cool clip that every other station in the country has already put up on Facebook, unless you are adding some kind of value to it that makes it yours. If you do, Facebook says they will "more strongly limit distribution and monetization" for the content.
The good news is that local newsrooms already produce a ton of original content. It's okay to rework a great TV package or segment for use on Facebook, as long as it's content your fans won't see anywhere else on Facebook!
KXAN shared a great story about a kayaker who's on a long-distance trip through Texas that had more than 400,000 views. That's content that nobody else can deliver.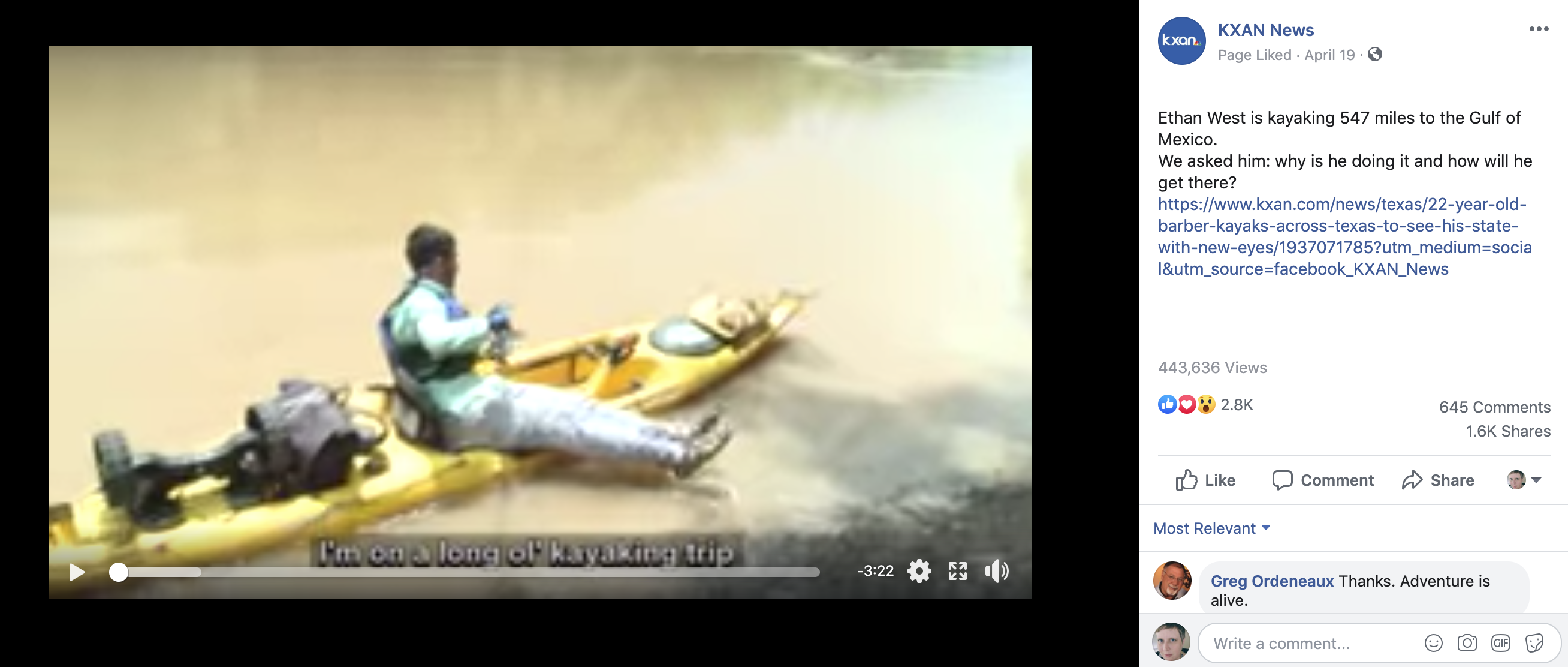 The Takeaway
Get your fans in the habit of coming to your page on a regular basis to check out video content and Facebook will take notice. Franchises, regular segments and even regular weather forecasts can all be unique content opportunities that offer chances for repeat viewing. Facebook says pages that do this successfully will see more reach for their video posts. On the other hand, pages that don't post original content — or worse, re-purpose content that every other station in the country already has — may be penalized in this new algorithm change.
Have questions about improving your video content? Get in touch with your Client Success Manager or email us at support@socialnewsdesk.com.