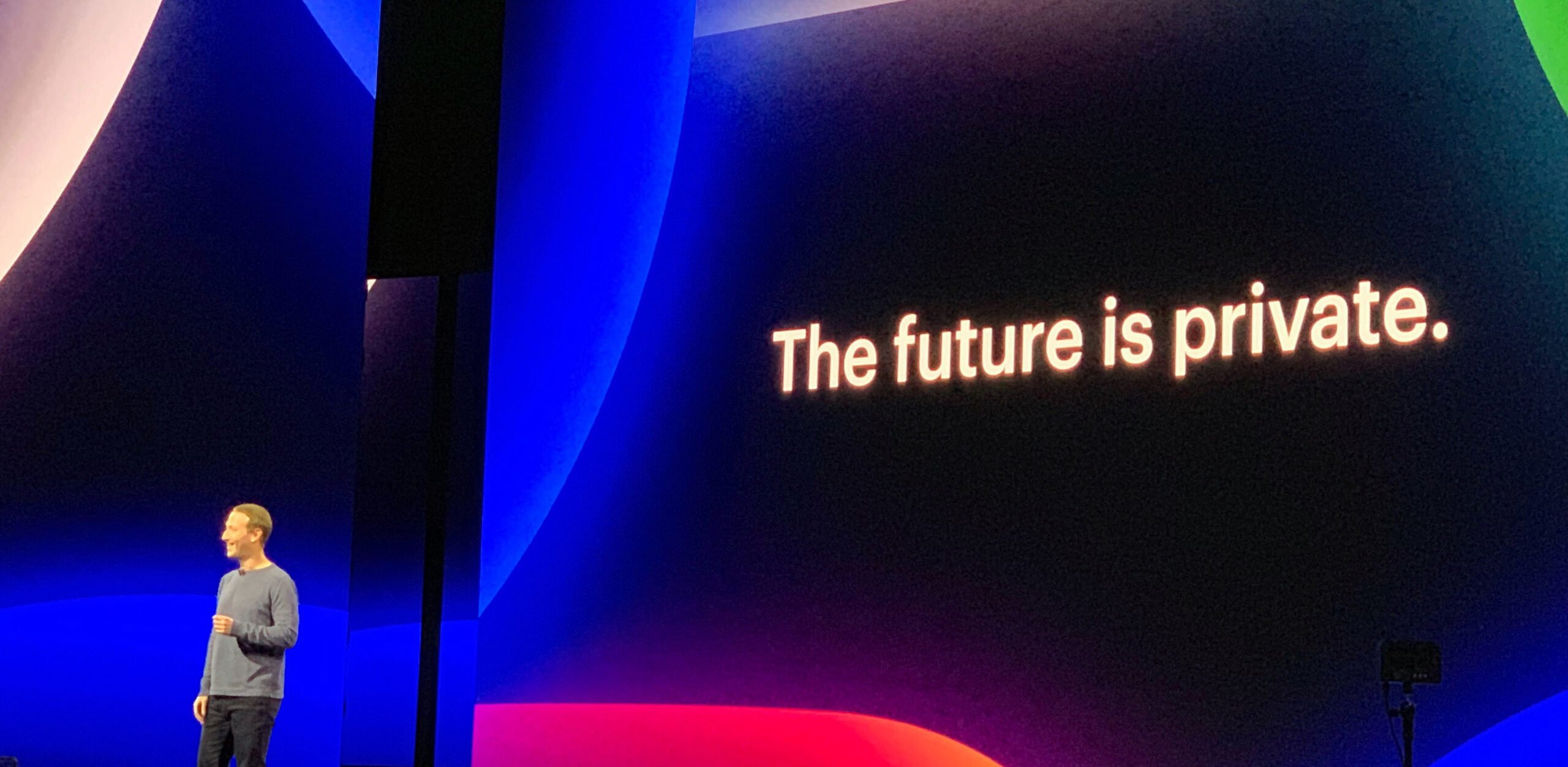 Every year, Facebook holds its annual developer conference, F8, to announce the future of Facebook, Instagram and its other platforms. Typically, the focus is on the exciting, futuristic ways people will communicate. From video live streaming, to bots, to augmented reality, Facebook has historically used this event to tout how its platform will connect people on a global scale.
This year, however, the tone was dramatically different. Nearly every speaker at the F8 keynote, starting with Mark Zuckerberg, repeated a version of the phrase "the future is private." So much so, that you wouldn't be able to walk straight if you had a whiskey-shot every time the word "privacy" was said.
If you didn't have a chance to attend or watch the live stream, here are a few takeaways that will impact people in the media and publishing space.
The Shift from Public to Private
One of the benefits to news organizations over the past decade has been Facebook's ability to act as a "digital town square" for its users. It has allowed media outlets to reach a larger audience of users and keep them up to date on what is happening in their local community.
However, Zuckerberg told the crowd that he believes "a private social platform will be even more important to our lives than our digital town squares. So today, we're going to start talking about what this could look like as a product."
Zuckerberg then showcased how Facebook's new redesigned app and website would start to push people toward smaller group conversations and real-world meetups. In short, over the next several years the News Feed may not be the only game in town. Products like Messenger, Groups and Stories will get more attention than ever before.
For media companies, this means it is going to be more important than ever to develop a diversified Facebook strategy that includes more than just posting links to a Timeline. While platforms like Messenger, Groups and Stories are harder to use at scale for news, Social News Desk is currently developing technology to improve the process. That way newsrooms will have numerous options to connect with their audience.
Updates to the Gram
Facebook isn't the only platform getting an update. F8 also highlighted several changes to Instagram including a camera redesign, a 'donations' sticker and a new way of (not) displaying likes.
The biggest takeaway was that Instagram is moving toward hiding public like counts on videos and photos. The test is starting in Canada right now. IG says its goal is to create "a less pressurized environment where people feel comfortable expressing themselves." And if you're wondering how to judge your newsroom's IG performance without any metrics … not to worry, if this feature does role out broader then Canada, owners of the account will still be able to see how many likes a post receives.
Get into your Group
In an effort to make groups more discoverable, a new tab will show a personalized feed across all your Facebook Groups. There is also a new discovery tool with improved recommendations so you can quickly find Groups you might be interested in.
Side note: I was actually part of the team at last year's Facebook Hackathon that designed the Facebook Groups recommendation enhancement. So, while I was excited to see it implemented, as is typical with Facebook something was broken in the initial release. When I tested it this year, it recommended that I join groups for expats of Shanghai. I have never lived in Shanghai.
More from F8
While those weren't the only updates announced at the conference, they were the main items of impact for news outlets. You can read about other updates like Facebook Secret Crush and its Dating platform in Facebook's blog.
As always, if you have questions about the latest social updates, feel free to email me or our SND Client Success Team.