You're juggling a thousands things – we get it. It's how news people are…the ultimate multi-taskers. But how do you keep up with quality control when you're flying through your to-do list? Especially on busy news days like… ahem…next Tuesday!? Don't despair, here's how you can use the SND Dashboard to ensure social media publishing success.
Quick Posts
It's all about building templates, called "Quick Posts." Quick Posts allow you to write as much or as little of a pre-produced post or tweet as you want and then use that template to publish content later on. Often people use Quick Posts to format breaking news, elections results or sports score templates. It takes some of the work out of publishing urgent and/or frequent updates.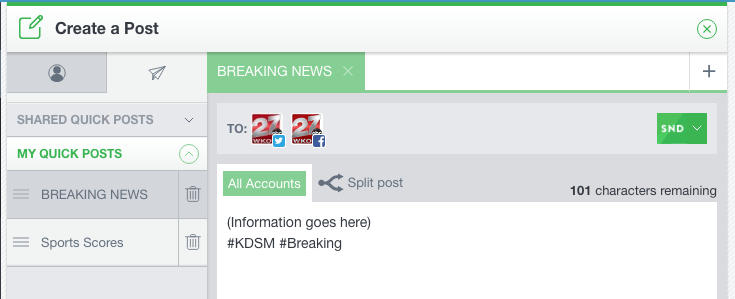 Here's how you do it:
Write as much of the post as you can. Obviously there will be bits of information that you can't fill in until you're ready to post. If any of that missing information is text, you can drop in some dummy text to fill the space.
Attach any links or images that you want to go out with the post.
Add target accounts to the post. (Or don't, depending on what you need the Quick Post to accomplish.)
Click "Save As" at the bottom of the Create a Post input area:

"Save As…"

Now choose "Quick Post" and you're presented with an interface that lets you name the template and choose whether you want to save this quick post for your own use, or make it available to everyone in your newsroom.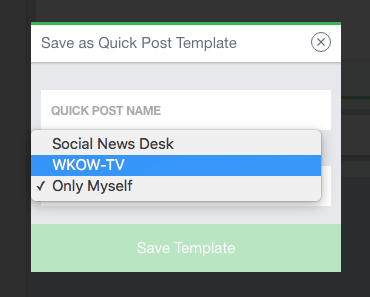 Sharing is the key
Sharing is not only polite, but it's also how you keep publishers from goofing up the format you and your client agreed upon when organizing your sponsored content effort.
As we've seen, you can craft as much or as little of your post as you want before you save it as a Quick Post. That includes splitting the post and adding a branded content sponsor:
Here I've created and saved a Quick Post that includes not only the script I agreed upon with my client, but I've made sure the client is attached as a Branded Content sponsor. When it's time for the morning or noon show producer to fill in the "keyword" for this contest, I've made the process almost foolproof.
SND Campaigns
If you've organized your promotion as part of a larger campaign agreement with a client through SND Campaigns, adding tracking information for this post in that campaign is a snap. Just choose the correct active campaign from the dropdown at the top of the post. (This, too, can be saved as part of your Quick Post template!)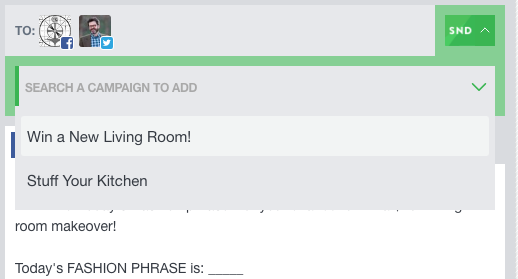 What is SND Campaigns? SND Campaigns lets you monetize your social reach with sponsorable content. You can track metrics on individual sponsored posts throughout a multi-post campaign including Like growth for your client's Facebook page, total impressions and more. This gives you new ways to prove to your client that your efforts are producing results. If you've had any experience at all selling in the digital space, you know that proof of performance is MANDATORY for success. You can learn more about SND Campaigns here.