There's no denying it: Paid verification is on the rise across social platforms.
After Twitter announced Twitter Blue and its new verification process, there's been a lot for newsrooms and others to unpack. While users can get a blue checkmark through a Twitter Blue subscription, organizations of all types can get a gold checkmark through another subscription: Twitter Verified Organizations.
And now, Meta has joined in: they're testing a subscription bundle specifically for creators. Here's what you need to know as paid verification on social continues to evolve.
Twitter Verified Organizations
Any organization that purchases a Verified Organizations subscription will receive a gold checkmark and square avatar if they are a business or non-profit, or a grey checkmark and circle avatar if they are a governmental or multilateral organization.
Organizations can also choose to affiliate any account associated with them. An affiliated account receives verification (denoted by either a blue, gold, or grey checkmark) as well as an affiliate badge. This badge is a small image of their parent company's profile picture and is displayed next to their checkmark.
Affiliates can be any individuals or entities (like other newsroom brands, teams, and more):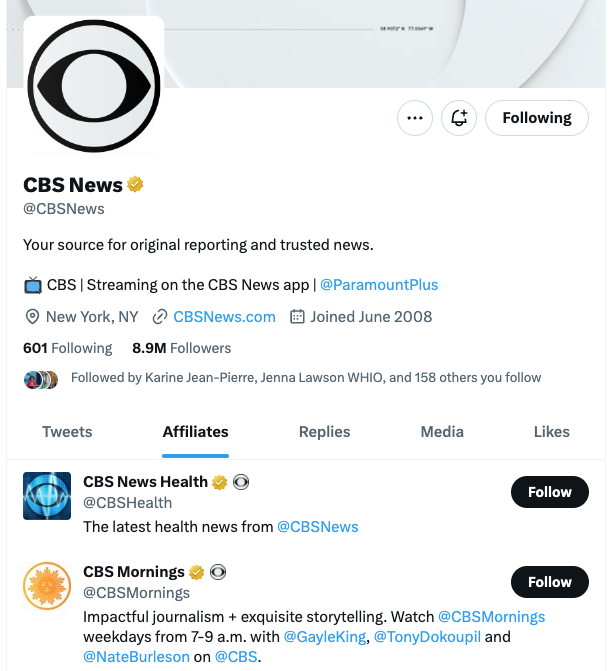 These organizations can also access a tool to manage verification, including adding and removing affiliated accounts. Twitter is touting sign-ups while also offering pricing information here.
Meta Verified
Meta Verified is one of the latest paid verification offerings on social. It's currently in a "test" phase and has expanded to the US. Meta Verified includes account verification with impersonation protections and access to increased visibility support.
Meta Verified for creators does have eligibility requirements, including submitting a form of identification and meeting "minimum activity requirements."
The platform says there will be no changes to accounts on Instagram and Facebook that are already verified based on prior requirements.
While this package is geared towards creators, Meta says they plan to build subscriptions for businesses, as well.
Meta Verified can be purchased on Instagram or Facebook. Creators can purchase a monthly subscription for $11.99 on the web and $14.99 on iOS and Android. Learn more about Meta Verified here.
Have questions or need help? We're always one email away: support@socialnewsdesk.com.