At Social News Desk, our clients guide our development roadmap; your great ideas become our great new features. It's something we're really proud of. And just last week, we unveiled a bunch of things we've been working on for you. If you missed the SND Launch Party Webinar, don't worry…here's a recap:
SND Score
Okay, this feature has been out for a while already, but we haven't really had much of a chance to talk about it. Our relationship with Facebook gives us access to stats from any public page to compare in your SND Dashboard. A powerful to way to measure those metrics is with the SND Score widget.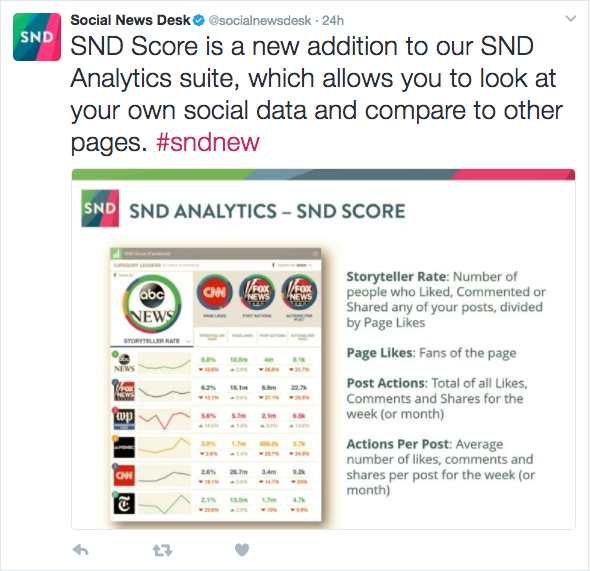 SND Score measures Page Likes, total Post Actions across all posts, and the average number of Actions Per Post. It also includes the Storyteller Rate, which is similar to the old PTAT rate, and measures how well your fans engage with your page. We recommend putting SND Analytics widgets on a big screen in your newsroom to show where you are relative to the competition. The SND Score and SND Leaderboard are striking visual interfaces designed specifically for this use. Learn more about the SND Score here.
If you're not using your SND Analytics tools to the fullest extent, check it out by clicking the button on the left of your dashboard or ask your Client Strategy Specialist to help you get set up.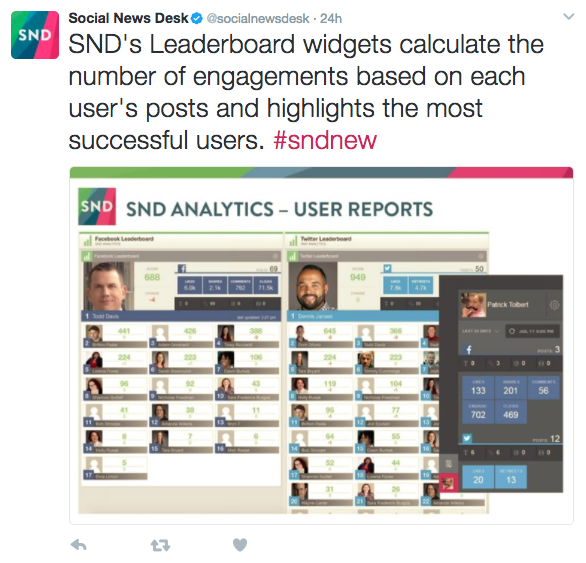 Download User Report
The new Download User Report feature allows managers to get raw data that shows which users are posting the best (and worst) content across the entire newsroom. The report shows SND Dashboard activity for the last 30 days and includes total number of posts, total engagement, and last login date, among other key stats. Learn how to download it here.
Facebook Video Insights
The SND Post Manager allows you to filter posts by type, content, time or creator – then sort based on the metrics that matter to you. Now those metrics include video insights from Facebook. It was one of our most-requested features from our clients, and it's now live in Post Manager. You can see different types of video views, video engagement, and video view durations. See a demonstration here!
Link shorteners
You can now connect your SND Dashboard to your Bit.ly and Po.st link shortener accounts. Does your newsroom use both services? Feel free to connect both and switch between the two (if you want). See how it's done here.
Using Google or Adobe Analytics for link tracking in SND? Your tracking code will be added to the link before it's shortened. Link tracking galore!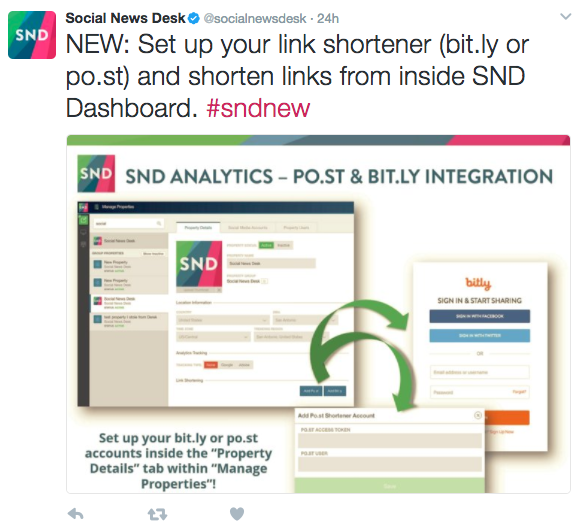 SND On Air
Did you know you can display video with audio during your SND On Air segment? You can! The playback canvas is touch screen compatible. Check it out here.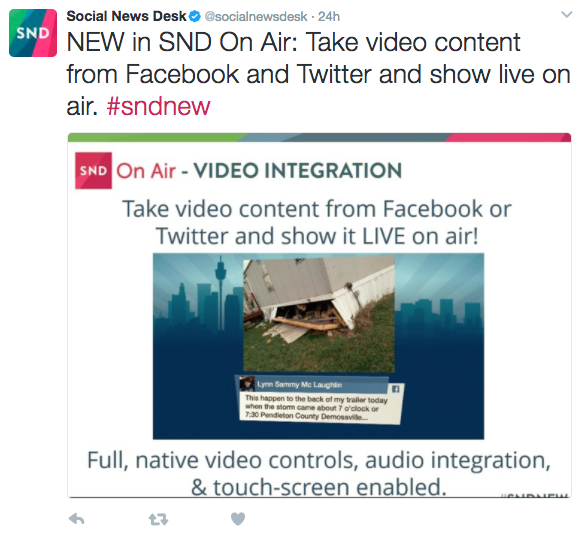 Do you have a vertical monitor on your set? We have new SND On Air layouts that allow you to display content vertically.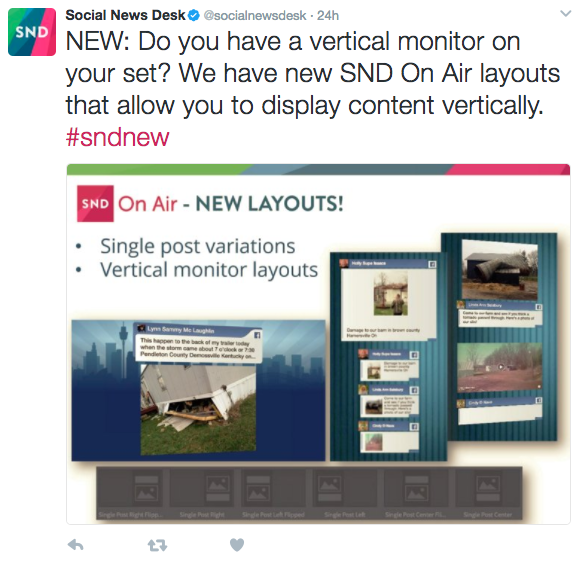 Also new to SND On Air, you can add overlay graphics to your templates. Drag and drop sponsor logos or segment logos in seconds. Or you can add actual ad tags to your display; dynamically generated ad overlays that track your sponsors in your traffic software. It's easy, see how to do it here.
SND Campaigns
New in SND Campaigns, view live reporting on more than 25 metrics, including impressions (which advertisers ask our clients for). Branded content is a huge opportunity for social monetization, and SND Campaigns makes it simple to track & report results.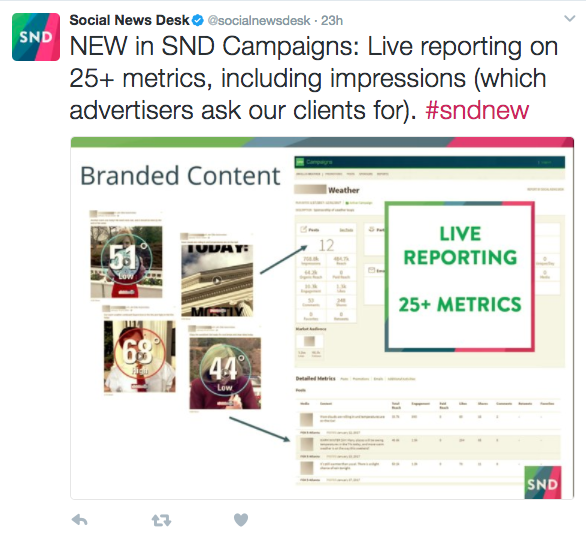 Coming Soon!
We have more great stuff on the way, including Instagram search integration, RSS feed publishing, and SND Campaigns branded content reports. Keep those great ideas coming!