I feel pretty confident saying this most excited we've ever been over at Social News Desk. The whole team is in on SND Planner and in love with it. And now, it's yours to use.
Our goal in developing this comprehensive, new technology was to focus on a hybrid approach to posting on Social Media. We didn't want to completely automate the process of posting – that never ends well. So instead, we have enough automation to make you incredibly efficient while still putting an emphasis on the importance of manual posting and making editorial-decisions on the fly.
"It's been good for us, it's really helped us out and made us efficient. We can plan social on Monday and Tuesday then just check in and work on other things the rest of the week."

Andrea Dennis, WUCF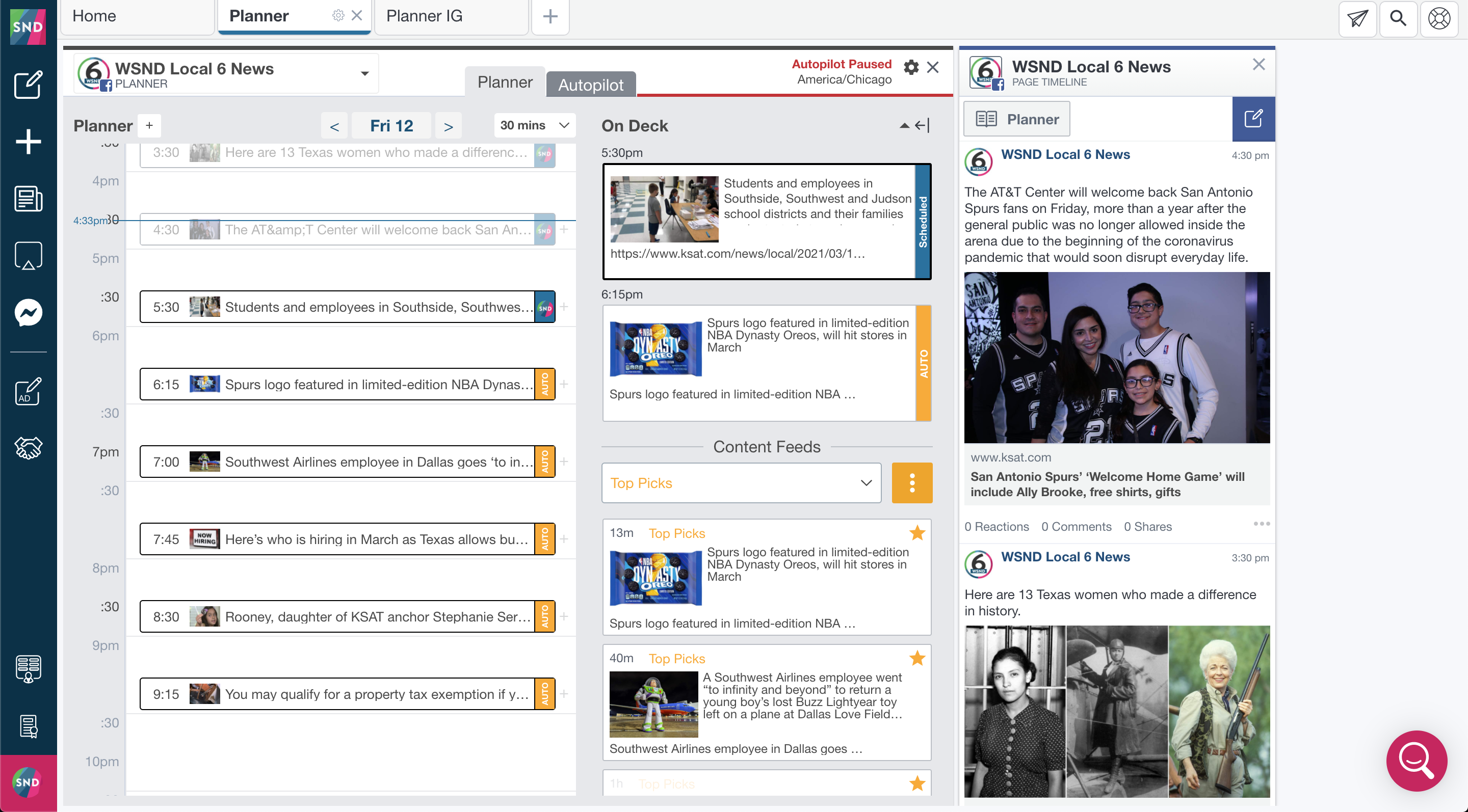 SND Planner Changes Everything
Here are some of the highlights that will change the way you map out your social media strategy.
1. New Layout: Total change to the way you schedule content – similar to the layout of a Google or Outlook Calendar. Clickable slots that make your life a lot easier.
2. Drag and Drop: Who doesn't love to click and slide things around? Easy to move content means you can drag and drop it to the time and day you want.
3. Time Slots: Pre-determine blocks of time and connect that to Feeds which contain the types of content you want to go out during that block. For those of you in. TV, it's like a rundown for social.
4. Curate Custom Feeds: Name the feeds what you want and fill them with relevant content. (Example: Weekend Picks, Top Picks, Evergreen). Drag content from anywhere on your dashboard, grab over-performing stories from your Post Manager or sit down and write a bunch of new posts at once and fill up your feed that way.
5. RSS Feeds – You can still have as many as you need! But now you can also manage the way they send with new features.
6. See & Schedule: See it in your feed? Want to schedule it? Click on the icon and lock in the time.
7. Move Content: Changed your mind about the time? Click and alter it.
8. Copy A Day: Loved the way Tuesday's content was arranged? Copy that day's format and repeat it for Wednesday.
9. Pull Content into a Feed – See content somewhere and know exactly where else you'd like to use it? Pull it into a Custom Feed.
10. Instagram…It's coming soon to Planner. SND Client Success Manager Sarah Loyd promised it on the call. Hold her to it.
You have so much control over future content and the order. And the ability to change your plan as the news changes.
The feature is live. The future is bright. Sign up for a training today: bit.ly/SNDPlannerTraining