WWLP 22 News and Western Mass News compete for control of DMA 114, Springfield-Holyoke, MA. While WWLP is considered the front-runner on air, on Facebook the two are virtually neck-and-neck. They have close to the same number of fans and produce about the same amount of content week-to-week.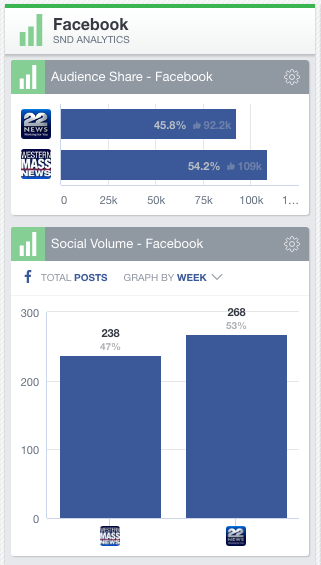 Now take a look at this snapshot from a SND Top Ten widget from the Springfield-Holyoke, MA market, the day after the bombing at Ariana Grande's concert in Manchester…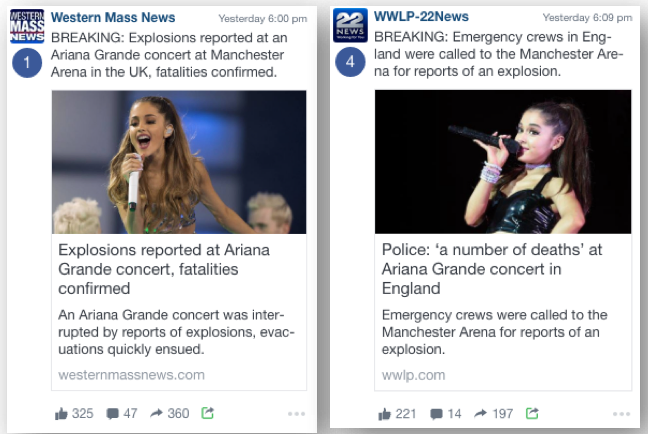 There's a lot going on here. These two posts are not identical, but they're pretty close. Why did the Western Mass News post perform better than the WWLP post? It could be that Western Mass News has more fans. (That certainly doesn't hurt.) It could be that the image of Ariana Grande looks like a more-current Ariana Grande. It could be that the WWLP post buries the word "explosion," which is a trending keyword in this story.
And did you notice the time stamp?
According to Facebook VP of Product for News Feed Adam Mosseri, there are a variety of factors that determine why one post would perform better than another. Consider the source, the post type (Link, in this case), potential vs. real engagement, and yes, we must consider time into the equation. (Read more about that here.) Who posted first? In this case, Western Mass News beat-out WWLP by nine minutes. Just nine. But it's one more factor that most likely skewed in the favor of Western Mass News.
What about Quality?
According to Facebook, content quality always counts first. Two new posts with zero engagement posted right now are on even footing. But as people engage with these posts, the more engaging post will start to show up more often than the other. The result is a snowball effect causing the post of better quality to eventually outpace the other.
What's the takeaway? Writing matters, think of keywords especially those that might be trending, and use great images. But don't sit on it too long trying to be perfect… or you might miss your chance.