As Meta continues to prioritize Reels for content sharing and discovery, the company is expanding the Reels feature more widely across Facebook. Along with Instagram Reels, this video-focused feature can give newsrooms a powerful tool to grow their audience and deliver content to people who aren't yet followers.
Now, SND Dashboard supports Facebook Reels along with Instagram Reels (we've had that for awhile). We've made it easy to integrate Reels for both platforms into your existing workflow!
So, how do you get started? Select your Facebook account(s), add your video, and click the check box next to "Publish as a Reel." Then, schedule it for later or or post right away — just like with any other content within SND.
You can also add an Instagram account to the post after crafting the Facebook portion. That way, your Reel can go out to both platforms at once!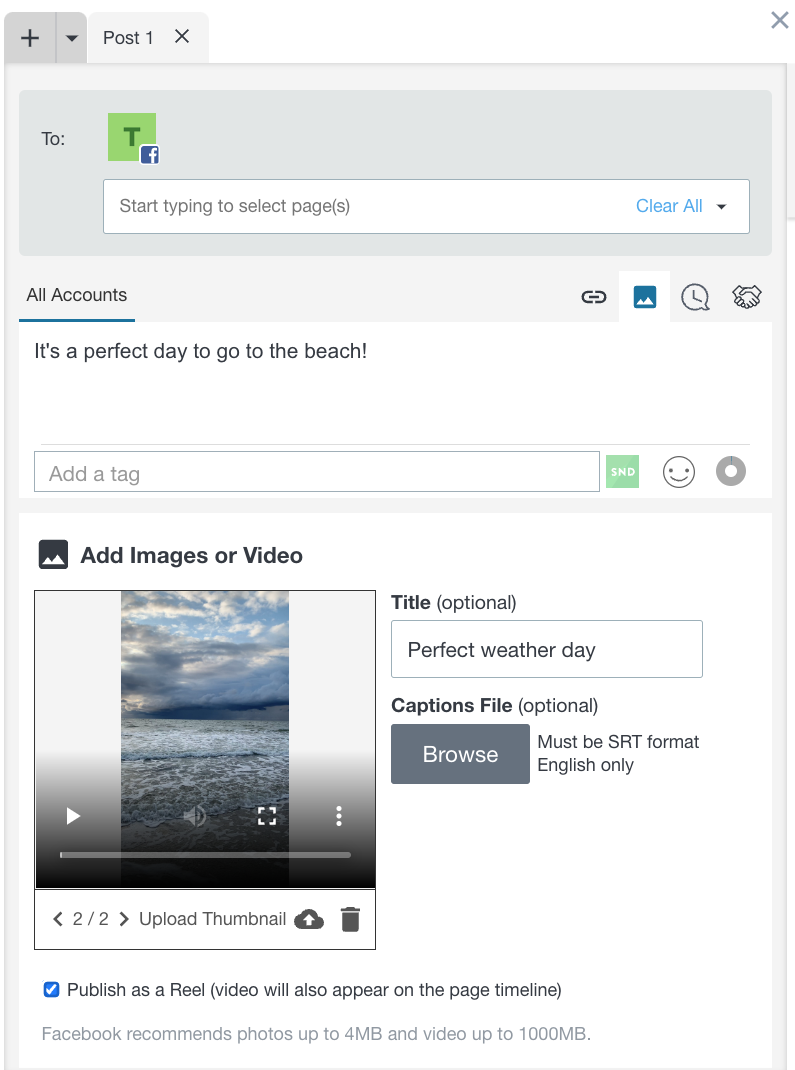 But wait, there's more…we, of course, have to offer some best practices! Keep these in mind as you build a solid Reels strategy across social. It's all about creating, monitoring, and adjusting.
Use Vertical Video – and Keep it Short
While most videos can show up in the Reels surface on Facebook and Instagram, Meta strongly recommends using vertical video for Reels. Videos in a widescreen aspect ratio may see reduced reach, since that video isn't optimized for the Reels viewing experience. For Facebook Reels specifically, its resolution must be at least 540 x 960 pixels and have an aspect ratio of 9:16.
SND's Vertical Video Studio streamlines the process of creating videos optimized for Reels. Upload and crop horizontal video to better fill the space and be sure you're taking advantage of as much of the screen as possible. Add text to make sure your message isn't lost for viewers who have sound turned off. And while there's no magic number for the duration, 15 to 60 second Reels do tend to perform better, according to Meta.
Here's a short and sweet Reel created right inside Vertical Video Studio — and it took all of a few minutes for the newsroom to create!
Build a Schedule
Meta's media experts say that publishing Reels on a predictable cadence is one of the most important ways to help the algorithm distribute your content effectively – they compared it to TV shows airing at the same time every week. (We've really come full circle!) Start with one or two Reels a week, published at the same time of day and same day of the week, from one week to the next.
If your newsroom can sustain that frequency, you can continue to add additional Reels to your regular publishing schedule. Keep an eye on your average reach for Reels to ensure that you're continuing to get good results. If your reach starts to level off or decrease, consider reducing or maintaining the current publishing frequency. When it comes to the Reels algorithm, it's better to add content to the schedule than to remove it.
Create Unique Content
One of the biggest ways that accounts can be penalized in the Reels algorithm is to use video with watermarks – especially TikTok watermarks. Since Meta is trying to separate itself from TikTok and make Reels a unique destination, content that's been reused from another app throws up a big red flag. SND's Vertical Video Studio makes it easy to publish content to both Facebook and Instagram Reels, and allows you to download the video to upload to other platforms if needed.
Publish a Range of Content Types
While Reels can be a great addition to your content mix, it shouldn't be the only thing you publish. Meta tells us that Reels can serve as a preview to the other great content that you're publishing. Using a short snippet of your best sound or video can draw in new fans and make it more likely that existing fans will see your content in a new place. Longer-form horizontal video still has a place on Facebook, as do link posts to drive traffic directly to your website.
Need help or have questions? If you need guidance or have any issues, reach out – support@socialnewsdesk.com. If you're looking for a Vertical Video solution, reach out to info@socialnewsdesk.com.