Go ahead and count to three. Do it…aloud. 1…2…3.
That's how long you have to get a user's attention on Facebook before their thumb takes over and they start scrolling down or even more dismissive, shut down the app. Slow website, boring video, poorly written content all triggers for a scroll happy thumb.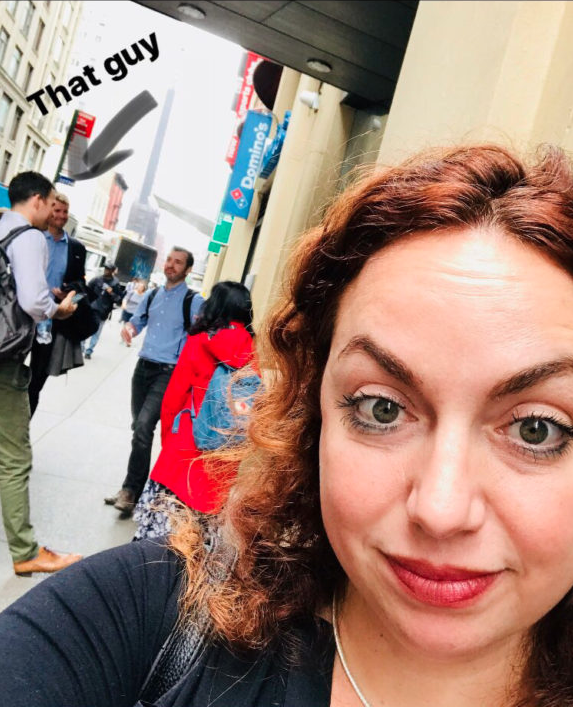 See that guy behind me? That's Adam Mosseri. He's basically in charge of Facebook News Feed. The WHOLE thing. And in an effort to be more transparent about how things work as part of the Facebook Journalism Project, he spoke to a packed out room of Journalists at CUNY Graduate School of Journalism. They all asked a lot of questions…as Journalists do. And I took a lot of notes.
Adam took the crowd back to basics reminding everyone of the simple mission of News Feed – to connect people with the stories they find meaningful.
Coincidentally, the same thing Journalists do day in and day out. We try to connect meaningful stories to people. And just like a good editorial meeting, the conversation was ALL OVER the place. So, hang on because I'm about to summarize everything from tests in Serbia, to the length of a Facebook Live segment, to why comments might soon be as (or more) meaningful than likes and shares.
That little experiment in Serbia:
Drop an information bomb, Facebook and you'll hear about it. Adam wrote this article yesterday and everyone in the room wanted to know what it means for the future. Is this experiment expanding? Are we go to be relegated to some other section of Facebook far from baby pics and birthday wishes?
Want to be clear, no plans to launch this test globally or to ask publishers to pay for all distribution. Read more: https://t.co/yEA4F9O4RA

— Adam Mosseri (@mosseri) October 23, 2017
Adam cleared that up right away saying currently there are no plans to launch this test globally or to ask publishers to pay for distribution.
Facebook Live:
You know how it works, you get the notification…you decide whether to watch and then you essentially attend the event. Adam's advice about Facebook Live is that it takes time for your audience to get there. He's encouraging publishers to make sure their Facebook Lives are at least 10 minutes in length. Give your audience time to get there.
Fake News…read all about it!
In case you haven't heard enough about it, here are Facebook's three goals in cutting back on Fake News that have been the dark cloud of social media in 2017.
Try to remove content that violates Facebook standards
Try to reduce its spread by identifying it and downranking it
Look for ways to give people more context about what they're reading so they can be better informed it.
Adam says Facebook has seen fake news go down mostly by relying on fact checkers in other countries. That, coupled with the U.S. Presidential Election coming to an end, has helped cut down on it. Other countries' elections don't seem to be as venemous. #shocker
And some reassurance, as soon as a story gets flagged, it gets significantly less attention while fact checkers look into it.
Clickbait
Ooooh, this is cool info. Remember when Facebook announced more than a year ago they were going to crack down on Clickbait? The sheer announcement of it caused Publishers to change their ways. The announcement alone led to an immediate reduction in clickbait-y content. That's before Facebook rolled out intelligence to combat it. Adam says that's common. The power of suggestion seems to work well. Good job getting out in front of it!
Comments Mean So Much
Comments like 'FIRST' 'LOVE' 'WOW'…not so meaningful. Facebook is looking at comments as a way to benchmark genuine interest in a post and engagement. Adam noted that there's some science to comments. The longer and more thoughtful they are, likely the more engaging the content. While comments are not weighted in News Feed's algorithm…this could be coming.
Tell us more about that algorithm…
Ha, I've heard countless people ask this question for going on 8 years. Facebook won't say too much because quite frankly, they're testing out hundred of features at any given time, most of which will never get launched. Facebook is trying to make a point of announcing every new major feature that's launched and always invites Publishers to reach out to their partners.
I liked this line from Adam – "We want to be as transparent as possible, but we don't want to distract."
You'll never know all the secrets, but you'll know more moving forward.

Thanks @jeffjarvis & @CUNY for hosting a great talk with pubs & reporters about News Feed. Excited to ship publisher guidelines today.

— Adam Mosseri (@mosseri) October 24, 2017
Random:
The people's taste for video seems to be insatiable. Now to monetize it. Midroll ads seem promising so we can expect that to continue.
The Three Second Rule
Back to that. Adam really encouraged Publishers to make the reading experience a good one. Sites that are slow to load (read more here) and low quality sites (so. many. popups.) are the enemy. Make the reading experience better to perform better on Facebook.
Takeaways:
Facebook doesn't want to reward bad behavior like clickbait and low quality sites.
Facebook is looking for accurate, authentic stories.
Facebook isn't going to tell you everything, but they're trying to be more transparent.
It's always a noteworthy day when you're in the same room as Facebook, NBC News, USA Today, and Hearst to name a few. I scribbled furiously to get as much out of it as I could, but if you want to know more – just ask any of us at Social News Desk. We've either got the answer or we'll get it for you.