Facebook is testing a new Breaking News product to help publishers cover and surface breaking news more effectively. And Social News Desk is among the first Media Partners to integrate!
You may have already seen the Breaking News tag appear on stories from national publishers, as well as publishers in a handful of local markets. The label allows these publishers to identify one story per day as "Breaking News", and the label has a lifespan of up to six hours. Facebook says there are a handful of "extra" tags available for publishers per month, to account for days that may see major breaking news.
Facebook recently rolled out an API for the feature – which is still in a testing phase – and has partnered with Social News Desk to allow select clients to add the Breaking News tag when publishing stories via SND. "We love partnering with Facebook on new technology like the Breaking News product, because it keeps our local-news clients on the leading-edge of social," says Kim Wilson, President and Founder of Social News Desk. "Plus, we can make the execution super easy."
The newsrooms with access to Facebook's new Breaking News product were selected by Facebook. So only those newsrooms have access to the companion features inside SND. But as Facebook expands its test, SND will also expand access. The SND Dashboard interface includes a capability to tag a story, and set the tag to expire after a certain amount of time.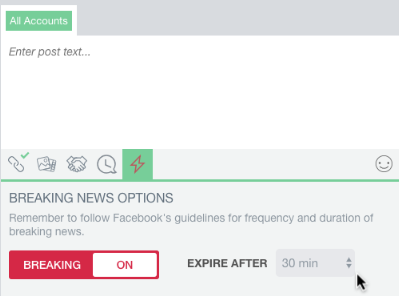 During Facebook's initial testing of the Breaking News feature, publishers saw a:
4% lift in clickthrough rate
7% lift in Likes
4% lift in Comments
11% lift in Shares
Facebook is also expanding their test to identify "developing" stories. Currently, the test is live in 14 markets in the United States, Australia, Canada, Great Britain and India. The developing news surface appears to aggregate stories together on a topic that is changing as coverage unfolds. Brian Kadar, a Facebook engineer who works on news products, says, "We want Facebook to be a place where publishers can help people understand the news, not just deliver them bits and pieces of it."