Picture it … you've built a great organic post for a sponsor that's paying you to post about their business — and there's that tempting little button that you think will take your post to the next level, outsmart the algorithm and bring you all the eyeballs you're after — "Boost Post." Just add a few bucks and your post will be perfect, right? Wrong.
Taking Off the Training Wheels
While spending money on boosting Facebook posts can indeed increase the exposure you get for that one particular post, you'll get a lot less bang for your buck compared to other forms of paid social advertising. In fact, we often tell newsrooms to think of "Boost Post" as the training wheels of paid social. It's simple and easy for beginners. But can't keep up once you're ready for real results.
Here are just a few ways Boosted Posts fall short:
You're limited to only the post types that exist for organic posts
You can't effectively target a particular audience based on an action you want to take
You can't add square photos, change customize the headline or description
You can't A/B test the post creative
You can't run the ad on both Facebook and Instagram
Ok, so what SHOULD you be doing? Instead of using your marketing dollars to boost a story here and there, redirect that same budget to News Feed ads (aka Dark Posts).
Building an effective News Feed Ad can give you more flexibility with your creative, more granular targeting that reaches the people you really want to see your content, and can get better results for the same amount of money than you would have spent boosting a post.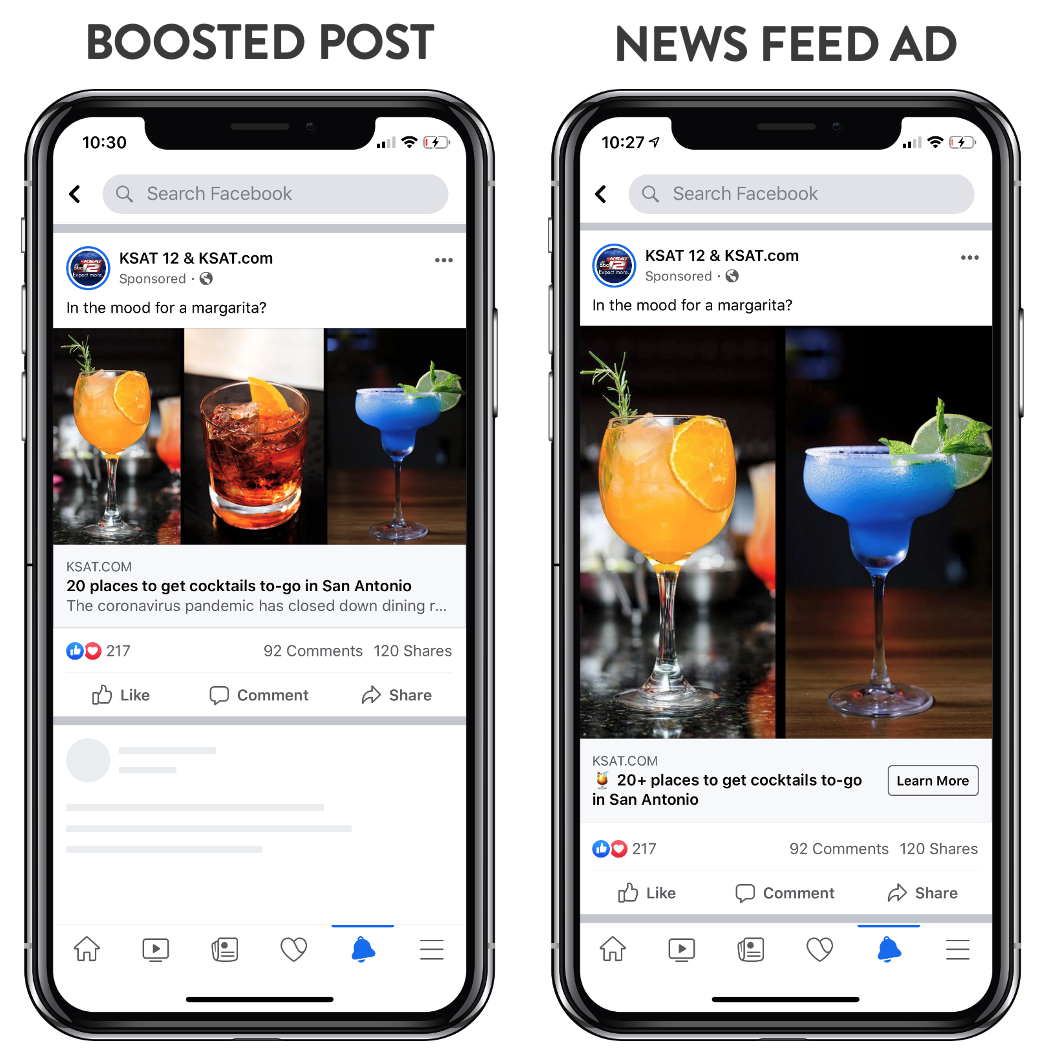 Step 1: Define your objective
First, decide what you want people to do when they see your post. Are you looking to get clicks to the client's site? Collect email addresses/leads? Or are you trying to get a purchase?
Boosting posts only gives a limited set of objectives: website traffic, engagement, and connecting on Messenger. And only one of these is really going to benefit you anywhere beyond Facebook.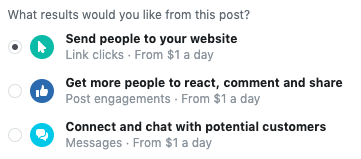 On the other hand, placing a News Feed Ad can give you a much wider array of options for your objective.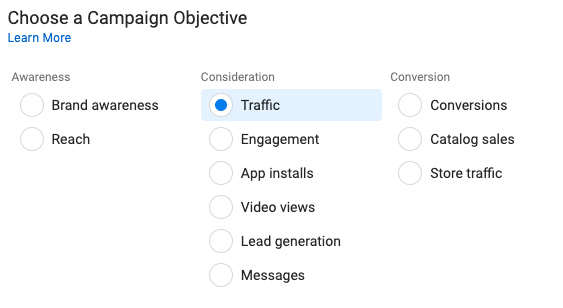 You'll notice Traffic, Engagement and Messages are still options here — but you can be much more particular with what you want your ad to accomplish. Want people to download your weather app? There's an ad for that.
Step 2: Drive results for your sponsors
If you're working with an advertiser, you want them to keep buying ads from you over and over again — and that means you want to deliver the highest-quality results possible. The first thing to decide is whether you want to re-sell ads to your clients, or partner with them on paid Branded Content posts.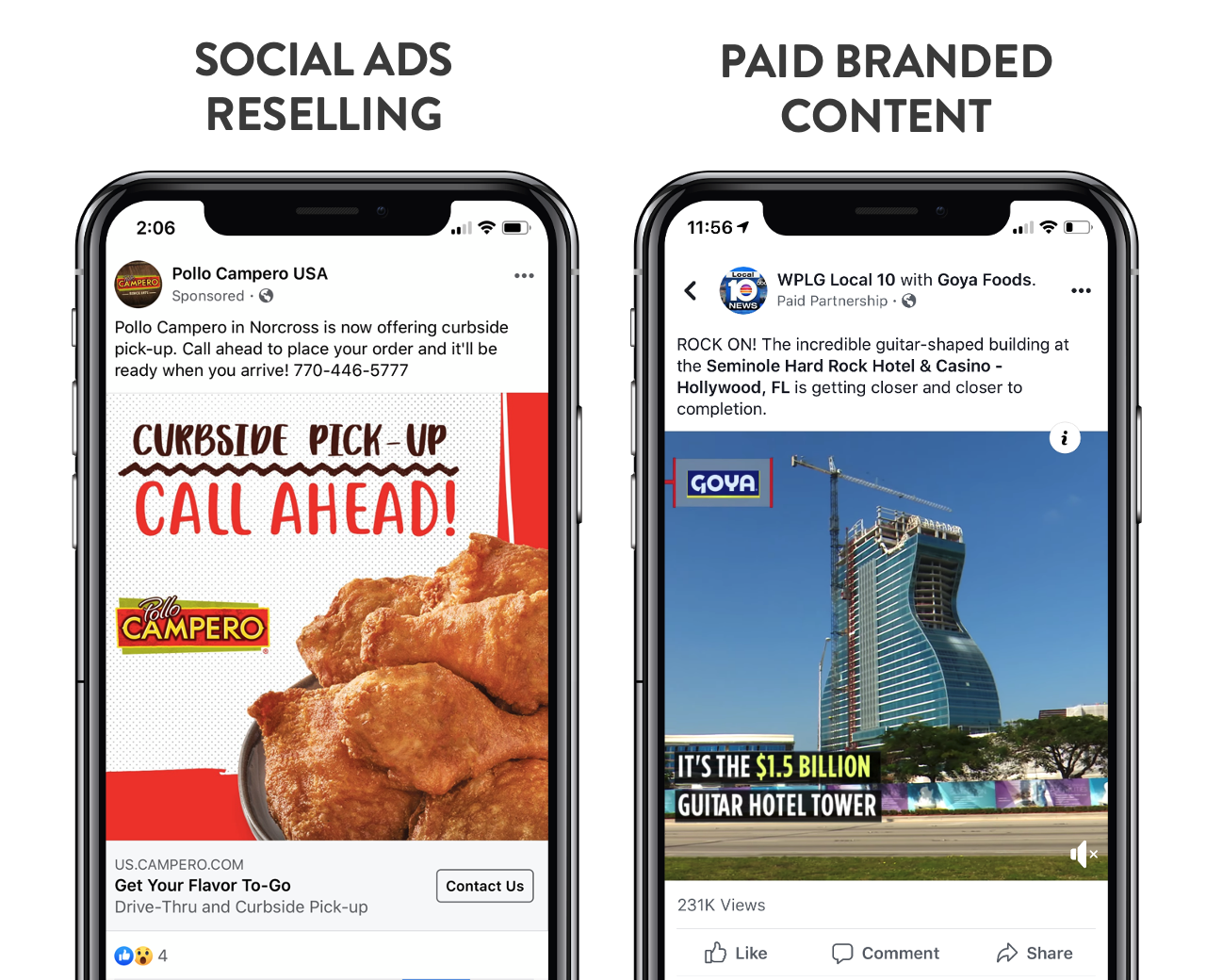 With a traditional social ad (left, above), the focus is completely on your sponsor. This means you can be more direct in your call to action and your objective will likely focus on driving store visits, app downloads or traffic to their website. You may even work with your advertiser to craft a campaign that focuses on getting the word out about their brand or a new product they're offering.
For a Branded Content post (right, above), the sponsor pays for the benefit of being affiliated with your newsroom. In fact, there's a 25-55% increase in post-performance when a brand is promoted WITH a publisher on social media, according to Nielsen. And when you publish Branded Content as a News Feed Ad (instead of a Boosted Post) your advertiser knows exactly what they're going to get, and exactly who will see the post — you can even target down to only those customers living within a few miles of the advertiser's store.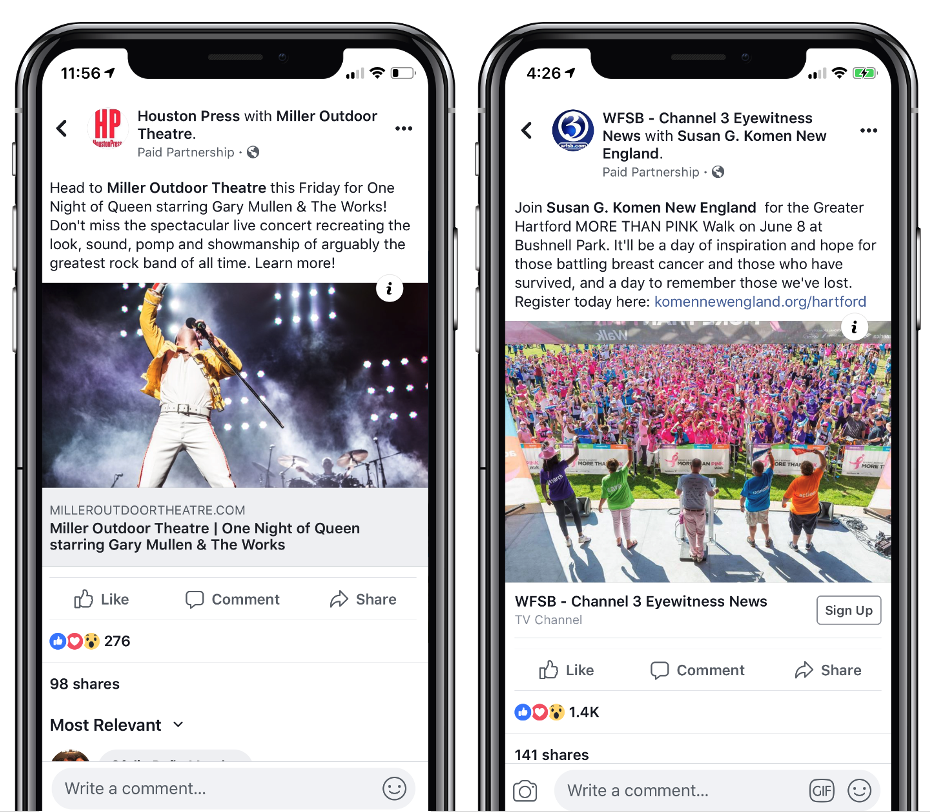 Step 3: Keep it easy
That's where we come in. At Social News Desk, we know the main benefit of Boosting a post is that it's super easy — just a couple of clicks. Whereas placing a "Dark Post" or News Feed Ad via Facebook's Ads Manager can be time-consuming and clunky. That's why we created SND Campaigns. This leading-edge technology allows you to create a powerful social ad that runs across multiple platforms – and it's just as easy as boosting a post. Maybe even easier!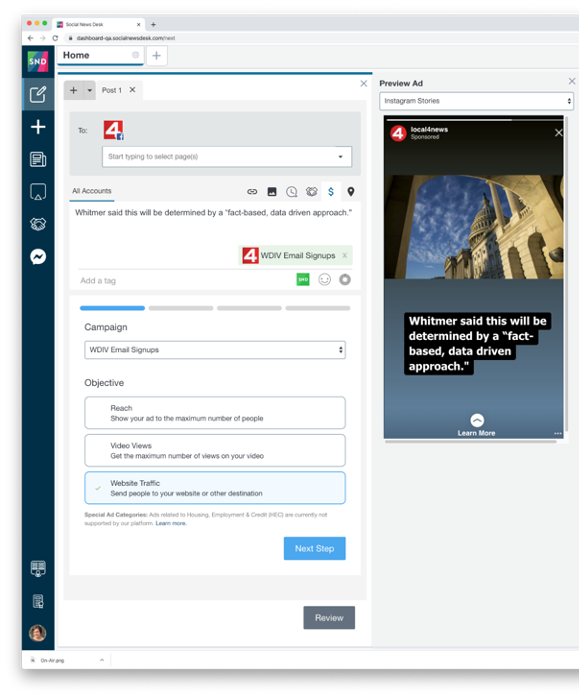 Step 5: Check out the results
With SND Campaigns, reporting is just a couple of clicks away. Most sales and promotions teams will tell you: pulling together the results of a paid ads campaign can be the most time-consuming task of all. That's why SND Campaigns offers customized, automated reports that literally build themselves. Use the Campaign Report to send to your client and the Paid Result to analyze internal results. These real-time reports ensure you're always aware of how well your money is working for you.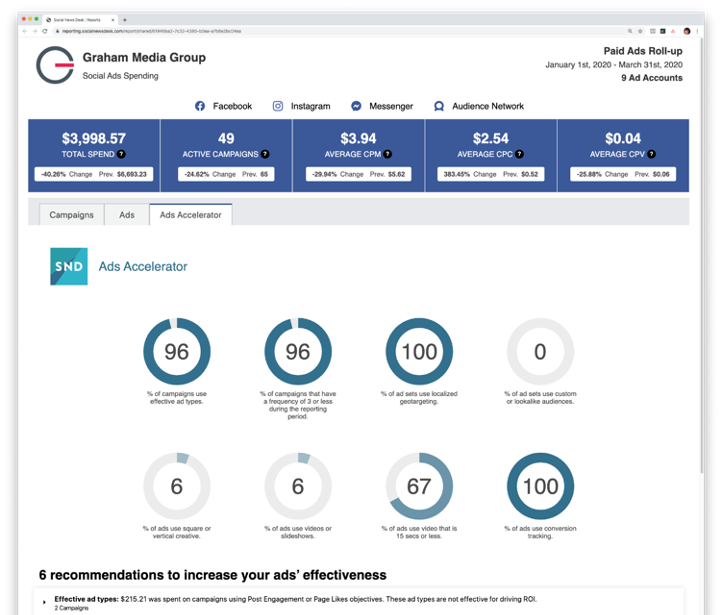 How can I get started?
Ready to stop wasting those boost dollars and start spending effectively? Get in touch with us at info@socialnewsdesk.com — we'll show you how it works, and get you on the road to selling smarter.