Lead generation ads for newsletter signups is among the most powerful ways of capturing an audience who at first might be passersby, but eventually can become loyalists because of what you offer in your email-newsletter. It's a strategy that newsrooms all over the world are counting on to help them reach significant goals for increasing revenue from digital subscribers.
But how do you measure success? And how can you be sure you're getting the most signups at the lowest possible price?
Social News Desk's proprietary Dynamic News Ads technology not only showcases your best performing content to a ready audience, it also brings down ad-costs because you're able to automatically offer up the most interesting content you have as a publisher.
Below are three case studies showing what SND has been able to accomplish for three publishers in the past 12 months:
Village Media
Canadian publisher Village Media's 30-plus brands and partner brands have seen incredible growth utilizing SND's Dynamic News Ads technology.
The Village Media brands all came to the SND Ads team with a specific goal in mind for their campaigns: keep leads at less than $2 CAD a lead. Like many publishers, Village is able to track the "value" of an email newsletter subscriber over time, so the brands know for sure what they can afford to pay per new sign-up. By keeping the Cost Per Lead (CPL) under that cost-cap, SND is able to ensure the ads deliver long-term value to the publishers in the form of return on investment per email sign-up.
Notably, SND's technology is delivering some of the lowest CPL rates in the industry. In fact, Facebook average is $6.64 per lead. But SND has been able to capture 172,000 leads for the Village Media brands at an $0.88 CPL, far below the company's $2 cost per lead goal.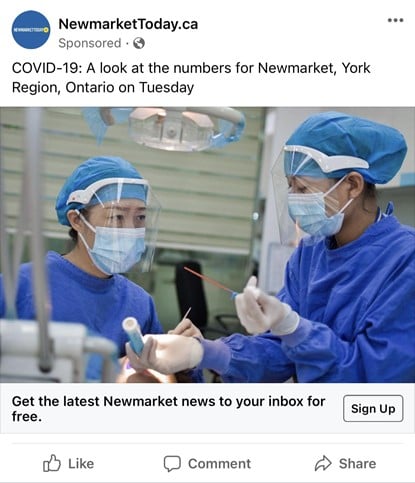 NOLA.com/Advocate
Louisana's NOLA.com and Advocate brands had the goal of acquiring leads at less than a $1 USD for their various newsletters, which included general news, New Orleans Saints, sports betting, and LSU sports newsletters, to name a few.
So far, NOLA.com and The Advocate have captured almost 48,000 newsletter sign-ups at 72 cents per sign-up. What's equally as impressive is that SND's approach has significantly cut down on the time required by NOLA's staff to manage the campaigns. Content for the ads updates dynamically and is automatically chosen using SND's proprietary Dynamic News Ads technology. The SND Ads team then optimizes the budget, targeting and delivery for the best possible results. Meantime, the team at NOLA can just sit back and watch the leads roll in.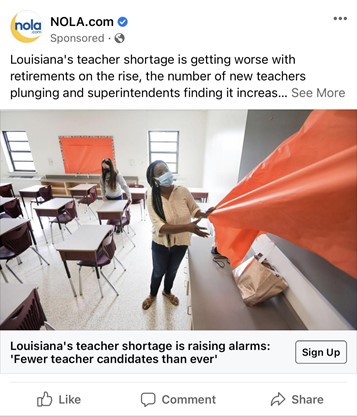 Bridge Michigan
Bridge Michigan is a nonprofit news publisher covering government, education, business, and more in the Great Lakes State.
The goal identified by Bridge Michigan was to keep their CPL under $1.50 USD. Since the SND Ads team began managing Bridge Michigan's acquisition ads, we've been able to capture more than 6,000 newsletter sign-ups at just $1.11 per sign-up. This CPL is a tad higher than we would expect with some more traditional news publishers – but is incredibly impressive given the niche audience.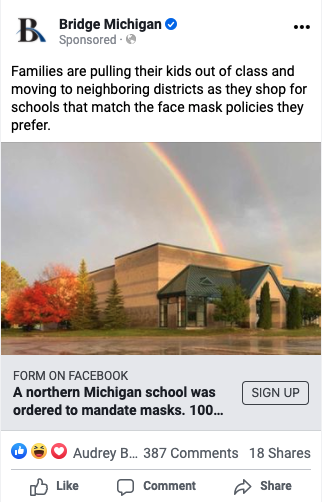 Want to learn more about how SND's Dynamic News Ad tech can help you achieve your email acquisition goals – saving you time and money? Reach out – we'd love to talk with you.