It's like an early Christmas for users of Social News Desk. Or a late Christmas, depending on how you read a calendar.
Whatever.
Point is, Instagram publishing is here and we're stoked! Have you turned it on yet? Do you know how to publish through SND Dashboard? What are you waiting for?! Get up to speed right here.
Now that you know how to do it technically, let's talk about some best practices, yes? Social News Desk recently held a best practices webinar in cooperation with Instagram's News & Publishing partnerships rockstar Lila King (@lilacina).
Why Instagram?
Lila points out that Instagram has roughly 800 million monthly active users worldwide and 500 million daily active users. The United States has the largest share of users world-wide with 160 million monthly active users, 100 million daily. That's a huge audience! What's more, a large chunk of those people are young. Users under 25 are spending more than 32 minutes per day on Instagram (compared to 24+ minutes for people over 25). That's an audience on decline both in legacy print and local broadcast media, not to mention Generation Z's apparent disinterest in Facebook.
For all those reasons, Lila calls Instagram "your future audience."
Focus
How do you sell your story to an Instagram audience? Lila's advice is to focus. What is your Insta brand about? Pick one thing and do it really well. "That's easy," you might say, "our focus is local news." But alas, that isn't specific enough. Are you the consumer watchdog brand? The investigative journalism brand? Maybe you're the "good news" brand. Get out of your catch-all "local news" bubble and get down to it. Instagram will not work for you with a legacy strategy.
Having trouble picking one brand and sticking to it? That's fine, you can create and manage multiple Instagram accounts (brands). Maybe the main brand is the place where you show off feel-good stories and behind-the-scenes fun in your newsroom. You can create a side-account dedicated to consumer protection, another for politics, another for cooking segments, et cetera.
One way to run multiple brands is to assign franchises to talent. What's so different about Jane Reporter's Instagram? Maybe she's your summer safety reporter. Make a choice, stick to it, and your laser focus will be rewarded with a dedicated following. As Lila put it, "Find your thing."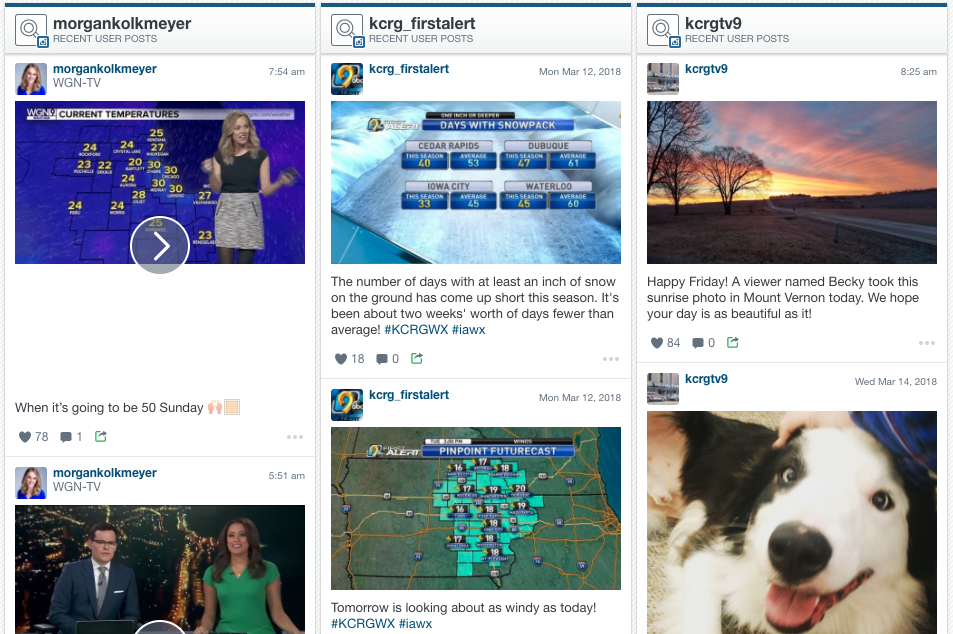 Show, don't tell
Something else Lila told us: "Show, don't tell." Instagram is a visual medium. Don't go writing an entire article inside your post text, let the photo do the talking. If the story is more complex than what a single photo can tell, invite people to come read the full story on your website. It isn't easy to get direct referrals from Instagram to your website, but Lila tells us you can trust your audience to follow suggestions like that without force feeding them a URL.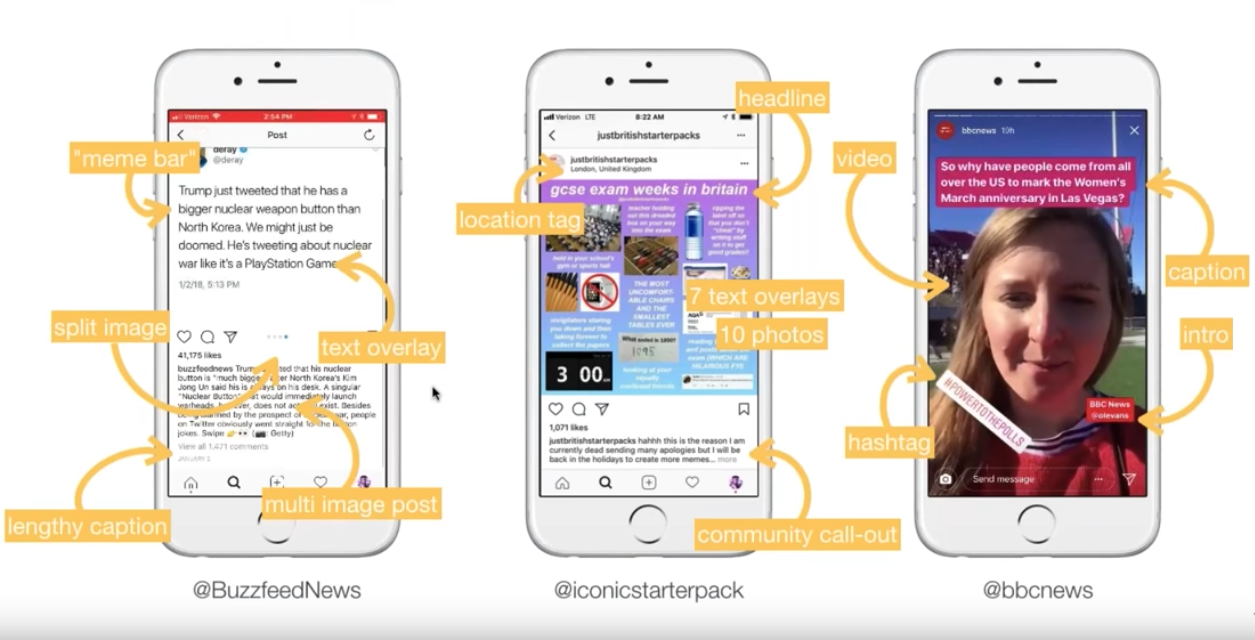 That said, there is still a way to give your Instagram audience a URL. Inside your Instagram Story you can include a "swipe up" call-to-action that can link people to an external website or other such link. To activate that feature, you need to either have over ten-thousand followers or be a "verified" account (the little blue checkbox). SND clients – we can help you get in touch with the Instagram Media team to find out if you're eligible for verification, just contact us at support@socialnewsdesk.com.
Be authentic, relax, be you
Lila tells us "Real is better than perfect." What does that mean? Leave the lower thirds, the rehearsed bits and the posed photos on the cutting room floor. Let Followers see what you're seeing. Show the story you're covering through your eyes. Instagram audiences connect with people and personalities, so use your real voice and real face. Talk to your followers as you would talk to your friends and coworkers about what's happening in the world. Be you. But be careful not to insert yourself too much into what you're covering; the story isn't about you, but it should feature you – the author. Think of your selfies and writing quirks as your byline.
Tagging
Here's something you might not realize about hashtags: less is more! Lila asks us to think of hashtags as search terms. Remember how publishers would load their webpage metatags with terms that weren't technically relevant to their websites to try and get better results on Google News searches? Ah memories… Anyway, we all know how that turned out; abusing the system wound-up breaking the system. Same thing applies here. Choose your hashtags carefully. Don't plug stuff in willy-nilly. #news isn't good enough. #localnews is just as bad. #orlandonews is better (so long as you're in Orlando), but drill down even further. What is the story about? Tag that. #orlandoelection, #orlandovotes, #orlandosalestax all say something specific about your story.
Speaking of being in a place, geographic hashtags are fine, but when it comes to tagging a physical location – again – specificity is key. So you're at a polling place in @orlando? Fine. Which polling place? Are you at @fredarmisenmiddleschool? (Not a real place.) Then go ahead and say so. One more time with feeling: specificity is important!
Post often. Or don't.
During our presentation the question "how often should I be posting" came up. The answer to that isn't universal, it isn't a number, but thankfully it is simple. You're going to have to learn how much is too much and how much is too little. Start with a post a day and see where that takes you. Or post five times a day, so long as you can commit to it. The important note here is consistency. Once you commit to publishing x times/day, you have to keep that up to see if that schedule works for you. A lot of what Instagram is about is commitment: stick to a posting schedule, stick to a brand, stay on topic and stay on schedule. Luckily you can use the SND Dashboard to schedule your Instagram posts just like you would any other post type, so you can plan your publishing day after the morning meeting and not have to worry about it the rest of the day.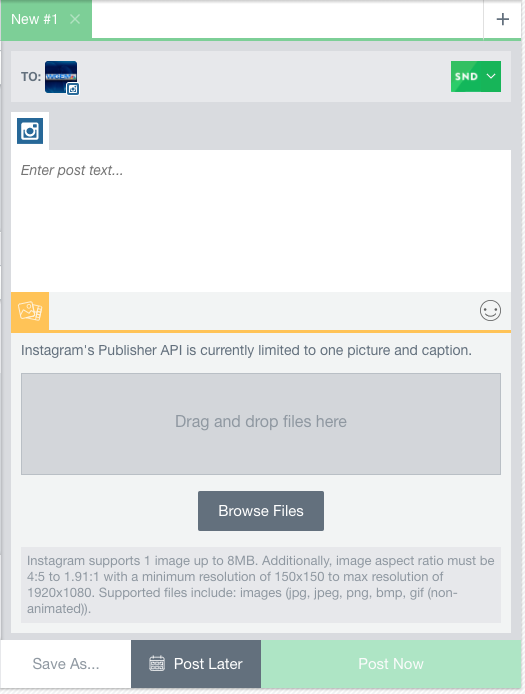 Welcome to Instagram
Your audience awaits. Now go find them. But first:
– Find focus. What is your Insta about?
– Post consistently. Commit.
– Prioritize "real" content over "perfect" content
And if you have any questions along the way, we're always here to help. Just contact support@socialnewsdesk.com.