Instagram recently announced and launched a new app: Instagram TV, aka IGTV. This vertical video (yes… you read that right) platform is available for anyone who wants to create content for it. You don't have to be verified, and you don't even have to be a business page. This is a nice benefit for any talent who want to contribute something to this new platform. Let me quickly delve into what this new platform is, how it works, who's using it now and what you could potentially do with it, if you find value in it.
What is it?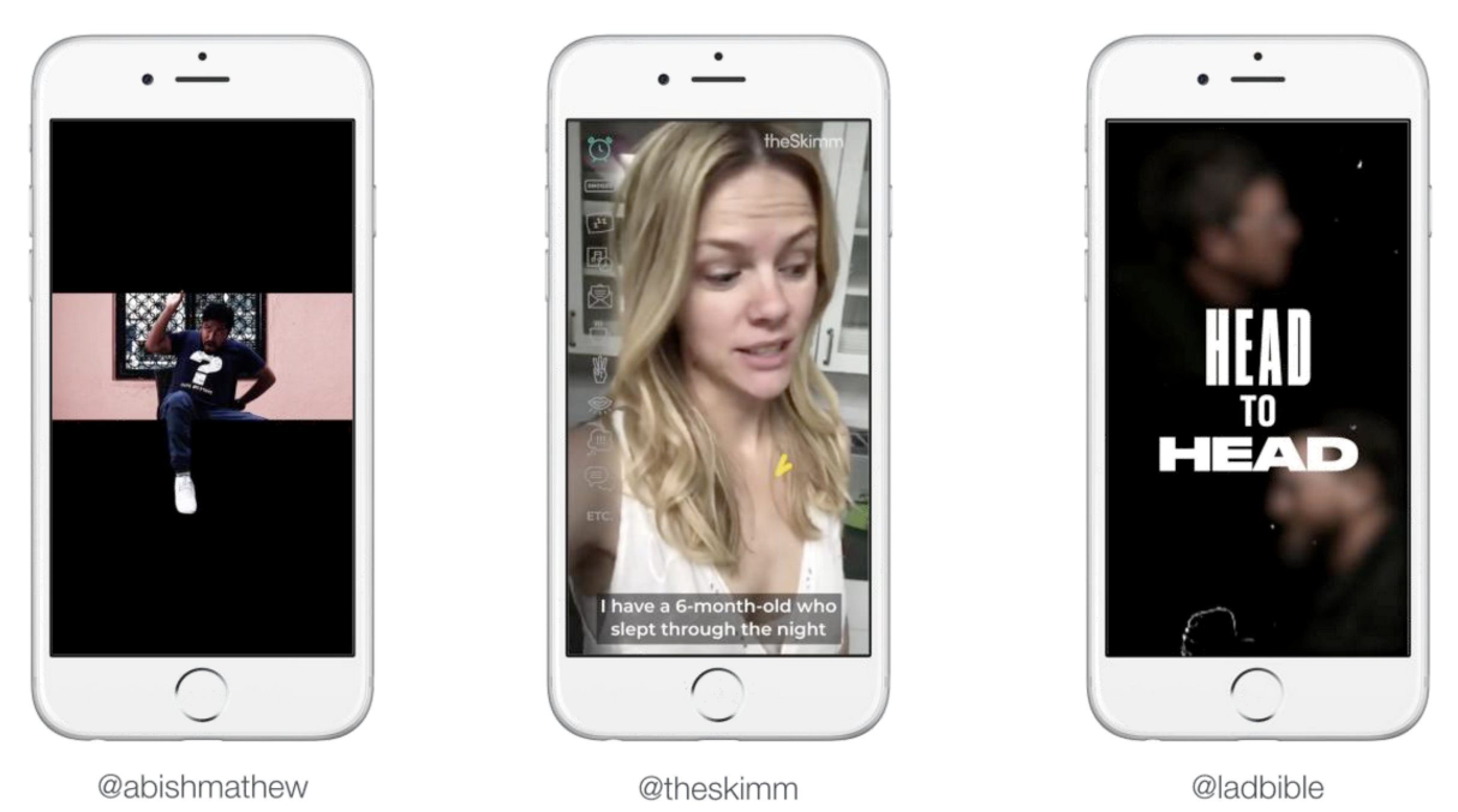 Instagram announced the new app (you can also access IGTV from within the main Instagram mobile app) at an event in June with a number of creators already quite influential on Instagram. They label the application as a new app "for watching long-form, vertical video from your favorite Instagram creators." Think of it as longer versions of Instagram's Stories. From the initial launch event to a recent webinar, there doesn't seem to be much focus or roadmap for a local news use case right now. It almost feels like a taller, longer version of Vine with more potential because of the video length.
How it works
As mentioned already, it is vertical video only. In fact, no horizontal video will be accepted by the app. Here's Instagram's rundown of the specs: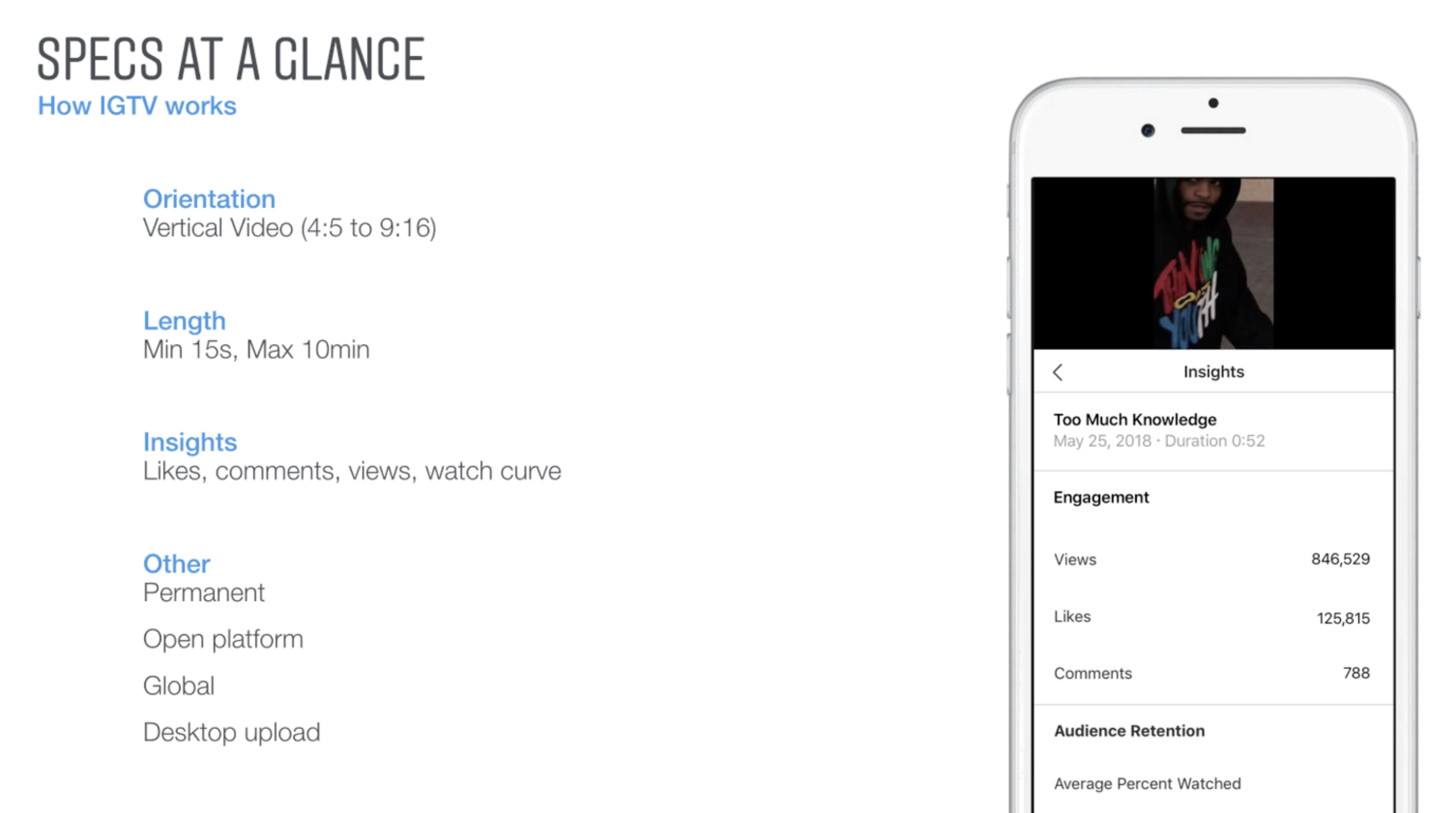 You may have seen longer videos on IGTV, but the longer format (60min) is only available to certain creators with large audiences. The other positive note not mentioned above is that links are clickable in the IGTV episode descriptions.
Before your brain starts winding about how to shoot and edit vertical video with your station cameras, let me stop you. Instagram says insights show users prefer more hand-held, "selfie" style video, shot with a phone, rather than overly-produced content.
Who's using it now?
Mainly, niche brands like Martha Stewart, Tasty, BuzzFeed, etc. Along with YouTube content creators utilizing a different platform to do what they do… Create. As for local media, Instagram wasn't able to provide much of an idea or use case in recent updates and webinars.
Does that mean it's not for news? Maybe, maybe not. It's really too early to say. As with most things on Instagram, it's all about finding a niche that works with your audience and sticking to it. For many newsrooms, it's also about the staffing you have, and whether or not it's worth the time investment to try new things to see if they work. That's a decision for you! ?
What can we do?
As a creator myself, I can think of a lot of use cases for this tool, but whether they'll work or not is dependent on time and audience. Below is a short list of some ideas you could run with and use on IGTV.
Daily forecasts: What's the outlook for the day? Big event going on that people want to know how the weather is going to be… Let people know in a short IGTV episode.
Headlines: What's happening today? A short "news brief" that covers the latest headlines. Put links to the stories mentioned in the episode description to direct traffic to your site!
Weekly Hangout: Bad title, but you can come up with something more creative. Here's the focus: Have a reporter, anchor, or even your social media manager sit down weekly and talk about what's been going on. This sounds more like a live video, right? RIGHT! Do it as an Instagram Live, then repurpose it by saving it and uploading it to IGTV.
Sports Update: If your market is a big sports market, whether HS, College or Professional… That's a great niche that could work well on IGTV.
Lifestyle: Morning shows or lifestyle shows typically have perfect content that would work well within IGTV's audience right now. Recipes, local artists, restaurants, etc. There could even be a sales opportunity there.
Those are some ideas, hopefully you can brainstorm and come up with something that could work! If you find something that's working, send your #TeamSND Customer Success Manager an email and we'll take a look, and maybe even send it over to Instagram so they can see what local media is doing!
Here's another handy (mobile-friendly) resource provided by Instagram if you're wanting to look further into this new app: Instagram Creator Handbook