Our Early Adopters are getting their hands on the newest version of Social News Desk starting NOW! This small group of beta testers are jumping into the new SND Dashboard to help us put on the finishing touches so we can roll it out to everyone!
This morning we held our first training session with KRIS 6 News out of Corpus Christi! The KRIS team was more than a little excited to get their hands on it!
Overachieving. @socialnewsdesk pic.twitter.com/T4HvJFcFTe

— Benjamin Lloyd (@Ben_L_Lloyd) June 21, 2016
The @KRIS6News team is loving the new way to split posts between Facebook and Twitter, and the new search filters on the SND Dashboard. These are just a couple of the hundreds of new features!
Ben Lloyd, Online Content Supervisor for @KRIS6News is especially excited about testing the BRAND NEW Mobile App. He tells us, "That's what I need to get my team members in the field to use social efficiently and regularly."
This new version of the SND Dashboard Mobile App has been built from the ground up with a ton of enhancements including the ability to schedule posts on the go!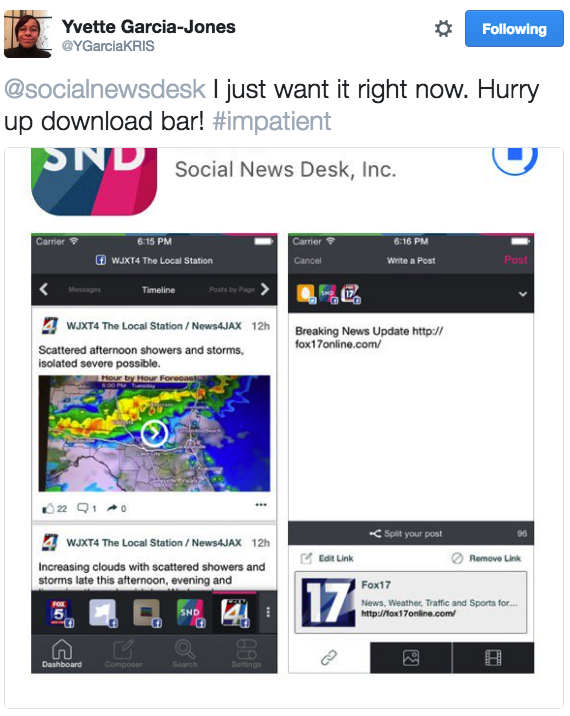 @socialnewsdesk I just want it right now. Hurry up download bar! #impatient pic.twitter.com/8Xurlyuctb
— Yvette Garcia-Jones (@YGarciaKRIS) June 21, 2016
The team @CBSDenver is loving their early access to the new SND Dashboard. "This drag and drop is awesome," said Jason Hussong. "It seems really user-friendly and intuitive. I like it."
Among the many powerful new features on the SND Dashboard is the ability to compare the size and scope of different Twitter and Facebook streams to one another. At a glance you'll be able to see how you're stacking up against the competition.
The #SNDLaunchParty continues all week! Tweet us @socialnewsdesk or tag your questions with #SNDnew to learn more about the next generation of SND!