If you haven't tried the new SND + Nextdoor integration in Search and Listen, what are you waiting for? Nextdoor is a great source for compelling and timely content that social media managers, public communicators and publishers can share with audiences.
Municipalities & Public Safety
By listening to what neighbors and public safety agencies are talking about, you can uncover crime prevention tips and alerts. From there, you can quickly share with your audiences on social media, or showcase tips in a livestream or broadcast using our live social display tools.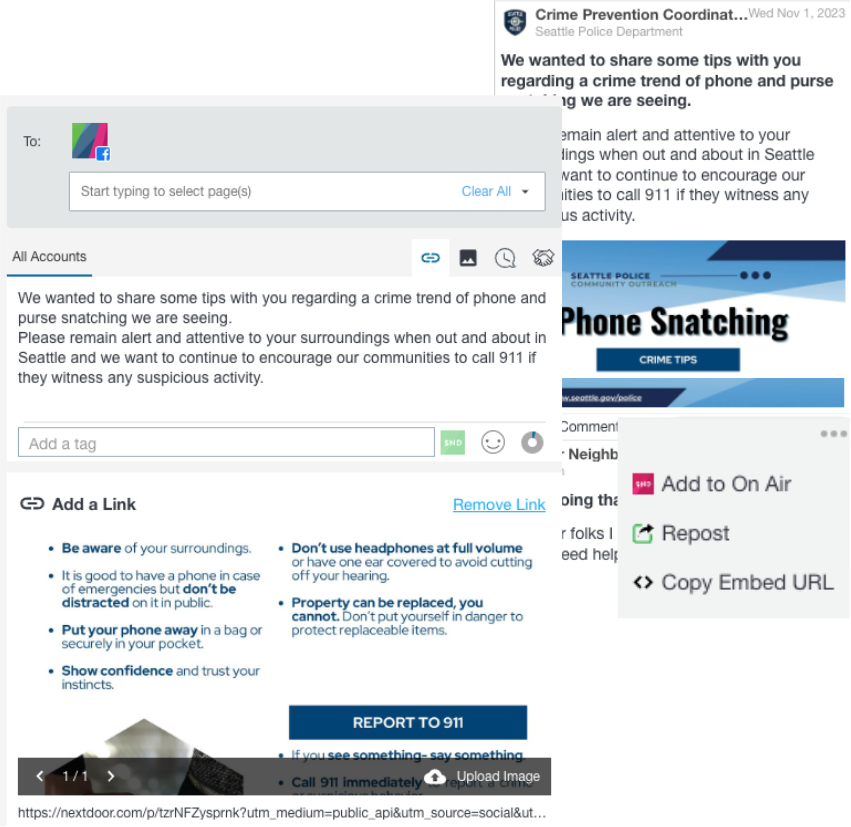 You can also easily find content from local government officials such as city council representatives, as well as municipal departments like public works, water utilities, and electric utilities. Share in a livestream before city council or other municipal meetings, or display in your lobby so citizens can see what your municipality is doing in the community.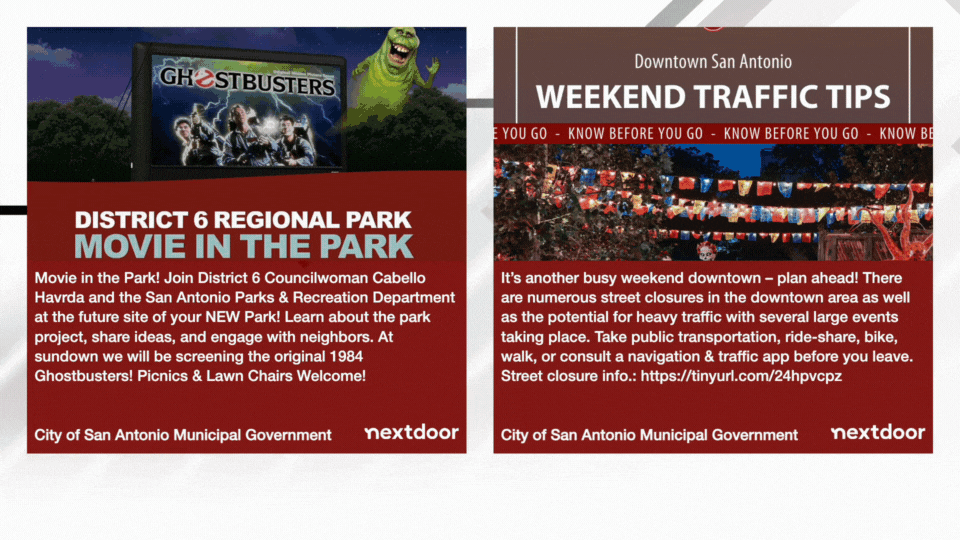 News & Weather
Journalists often notice patterns when they get to know an area – and Nextdoor Search and Listen provides another powerful tool for keeping ahead of news stories before they break. Track keywords for an area to be the first to know when there's a story worth telling.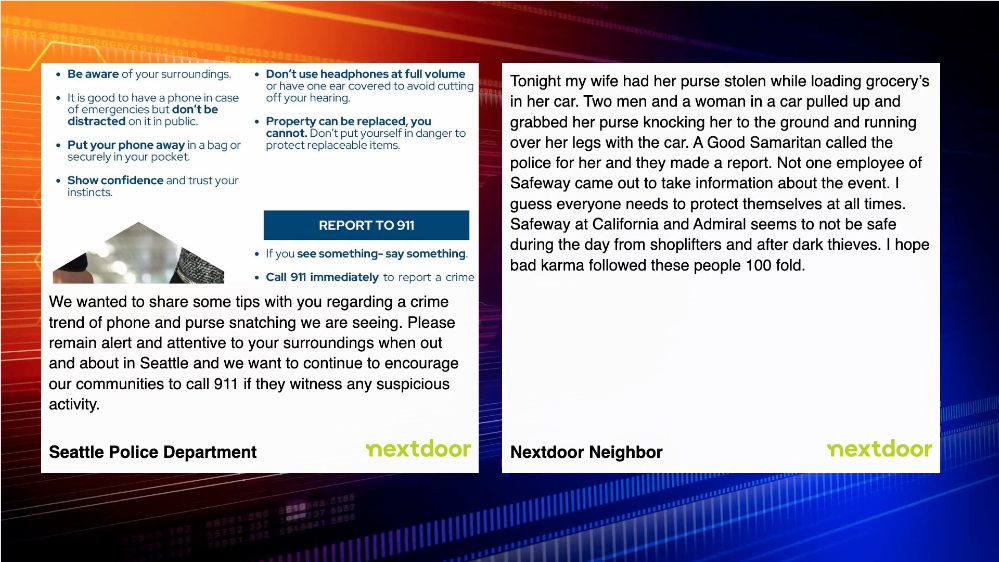 Nextdoor is also a great source of photos from neighbors. Showcase user-generated content with just a few clicks, and create a beautiful, interactive social display to share in a social video with consitituents or supplement your weathercast.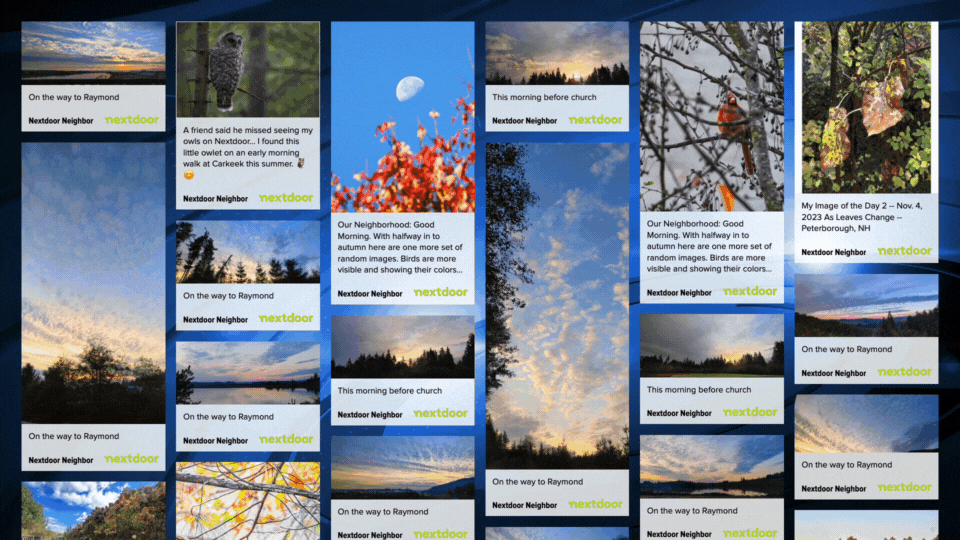 Good News & Human Interest
Nextdoor is also a great source of feel-good stories! What starts as a Nextdoor post can turn into an amazing story that showcases the best of our neighborhoods.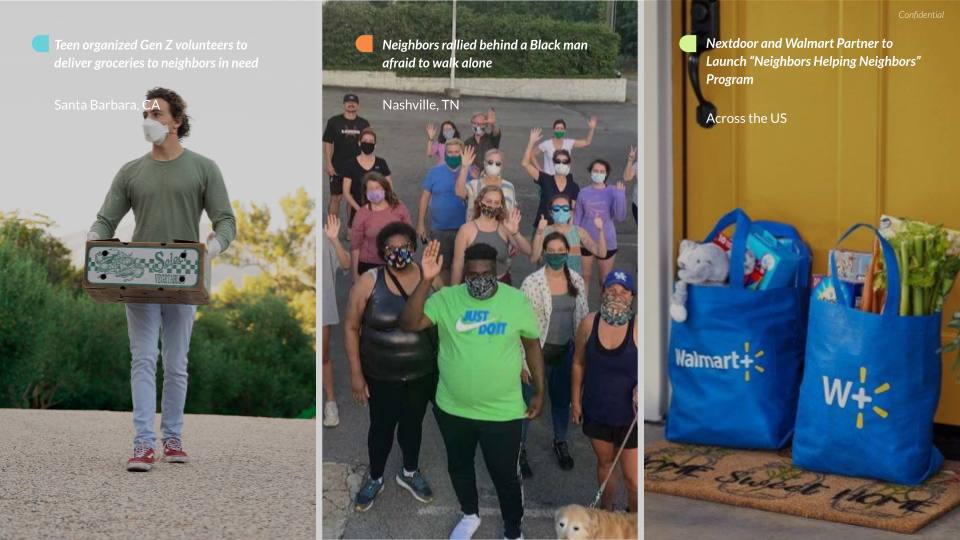 Zoomer to Boomer: Anxious to help elderly and immunocompromised neighbors get access to groceries, 17-year-old Danny Goldberg started Zoomers to Boomers, a website where neighbors can fill out a list and have groceries delivered the next day by a local teen volunteer. Quickly gaining attention from his initial Nextdoor post to his neighbors, and then local and national media coverage, ZTB is now in 36 cities and has over 1,000 volunteers.
Neighbors rallied behind a Black man afraid to walk alone: Shawn Dromgoole posted on Nextdoor that, as a Black man, he didn't feel comfortable walking in his neighborhood due to all of the recent racial tension. In solidarity, 75 neighbors came out to walk with him. Seeing this outpouring of support, Shawn said, "I was scared to walk alone and now look who is behind me. Look who has my back."
Nextdoor x Walmart Neighbors Helping Neighbors: The "Neighbors Helping Neighbors" program builds on the Nextdoor Groups feature that enables members to organize around a shared interest or project. With "Neighbors Helping Neighbors," Nextdoor members can now ask a neighbor for help with shopping at their local Walmart. This support network makes it easier for neighbors to connect and coordinate the pickup and delivery of groceries, medications and other essentials, completely contact-free.
Daytime Talkers & Kickers
Nextdoor content can even drive a fun segment on a morning or daytime talk show, or close out a newscast or livestream as a kicker. We found some interesting things neighbors were giving away for free – you'll be surprised at what you find when you least expect it!
Ready to get started with SND + Nextdoor and discover the best of your neighborhoods? Get in touch with our team at support@socialnewsdesk.com, or sign up for a free demo!