Apple's new iOS 14 operating system comes with new privacy settings which make it much more difficult for Facebook to pull data on users. If you're worried about your data privacy – you may be celebrating this change. But if you're trying to track the results of ads on Facebook… you probably won't be too happy to learn that Apple just eliminated about 75% of the data it makes automatically available to advertisers.
The changes are far-reaching given that iOS14 is already running on about 72% of all iPhones (as of December 2020). But while these changes will have a significant impact on Conversion Campaigns, campaigns based on events that happen on Facebook – such as Reach and Traffic campaigns – won't see much of a change.
This certainly isn't great news for agencies and advertisers looking to measure results of Facebook ads. But there is some light at the end of the tunnel. Let me walk you through exactly what's changed and offer a few solutions…
What Exactly is Happening?
Marketers have often relied on "28-day click-through" and "28-day view-through" to see exactly how well their Facebook Ads perform. These two attribution metrics tell you how many people took a certain action (click/buy or view) within 28 days of seeing and clicking the ad.
It works (or worked) because of Facebook's pixel technology – which most advertisers have installed on their website. The pixel essentially matches up people who have seen the ad with people who took a certain action (click/buy or view).
BUT…with Apple's new changes… the pixel will no longer be able to tell if the owner of the device saw an ad 28 days ago. The trail – if you will – will be hidden by iOs14 after 7 days.
This effectively eliminates Facebook's ability to provide a "28-day click-through" or "28-day view-through" metric. So the company has eliminated both. Facebook is also eliminating the "7-day view-through" metric (even though Apple has not imposed any 7 day changes). Regardless, Facebook says, the new default will be "7-day click-through" and "1-day view-through" only.
What About My Facebook Pixel?
While the Facebook Pixel continues to be an important source of data for advertisers, the power of the pixel is certainly diminished in these changes. In addition to the eliminated attribution metrics, Facebook is now also limiting the Facebook Pixel to tracking just 8 events, and will only transmit one event per user. This means you won't be able to follow users through the entire funnel – noting every single time they take any step toward a purchase. Instead, Facebook suggests you to prioritize events based on how important they are. You can adjust these settings in the "Edit Web Event Configurations" dashboard on Facebook. Set it up so that the most important event (such as a purchase or sign-up) will be the one transmitted to Facebook for measurement and optimization.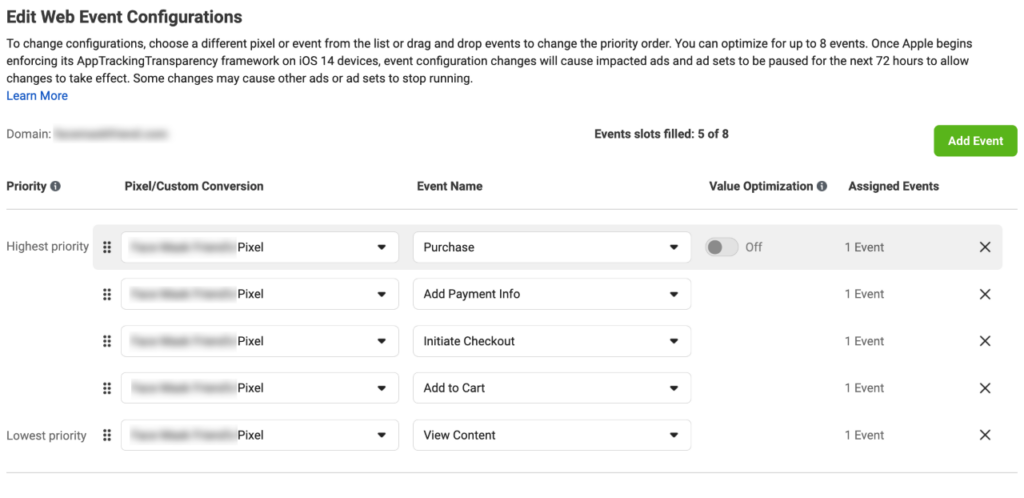 Example: If a user lands on your website, clicks a few pages, and then decides to add a subscription to their cart and purchase it, they would trigger several "events" during their visit. If you're prioritizing your events from the top down from highest value to lowest, you might list them as Purchase, Add to Cart, and Landing Page View. A new paid subscriber would trigger all of these events. However, Facebook will only be able to report the event with the highest priority – in this case, the purchase.
TIP: Ad sets optimizing for an event beyond the 8 that are prioritized will be paused – so, be sure to review any current campaigns for event optimizations to ensure your ads continue to run as expected.
Will My Custom Audiences Still Work?
Yes and no. Because Facebook won't allow you to track as many "events"… the size of your Custom Audience will naturally decrease. And if your Custom Audience is smaller, it may mean increased ad costs and reduced performance compared to historical campaigns.
However, there are still many other tools marketers can use in order to create Custom Audiences, such as existing customer email lists. If you need help crafting effective audiences, reach out to us for tips!
Now What?!
Stay calm. Realize that Facebook ads can still be incredibly effective. You'll just have to start doing things a little differently.
Be sure your domains are verified in Facebook Business Manager. Many NEWSROOM sites already have this step completed to get the most out of their organic social posting. In order to configure pixel events (such as digital subscription purchase or email sign-up), this step is crucial.
Review your Facebook Pixel "events" and decide which are the highest priority. And beware – if you don't review these in Events Manager yourself, Facebook will automatically prioritize what they see as the most important 8 events for you.
Set realistic expectations and be ready to adjust your benchmarks. Logic tells us you will get fewer conversions in 7 days than you were getting in 28 days. This doesn't mean conversions aren't still happening in days 8-28. It just means your data won't include these results and thus -perceived cost per conversion will be higher.
TIP: You can export historical "28-day click-through" or "28-day view-through" data from Facebook. Use it to figure out what percentage of events were happening in days 8-28 and adjust reporting and expectations accordingly.
Social News Desk Can Help!
Don't worry – we've got your back. And as Facebook Marketing Partners, we've got all the resources and information you need to make a smooth transition. We're even looking at alternative ways to get the most audience data possible so that we can continue to deliver advertising solutions that get the best results. In fact, if you want a way to continue to track attribution beyond the "7-day click-through" metric … email us!
Need help with new best practices? Want to know how campaign performance is changing industry wide? Or how to set realistic expectations going forward? Ask us!