News consumption is at an all time high and yet paywalls are at an all time low. Dozens of newspapers dropping them so that people can read MORE about COVID-19 and worry LESS about the cost. It's a noble decision, but as newspapers nationwide furlough employees and struggle to make ends meet … this could quite possibly be the worst-ever time to give away news. Or is it?
For the Atlanta Journal-Constitution (AJC), providing complimentary or "open access" to news has not only been the right thing to do … it's also been the best possible financial decision the newspaper could make. They've figured out how to make traditionally "PAID" news open to their entire audience while ALSO attracting more paying subscribers (both print and digital). Here's how:
Providing news when it is needed
First off, it's important to know that the AJC doesn't have a typical paywall for stories on its website. Instead, the newspaper's paid subscribers get access to the AJCePaper which is a digital replica of the print paper. Early last month, the AJC decided to offer everyone open access to the AJCePaper.
In a message to readers, the paper said:
"As a public service to our community, we are providing complimentary access to the AJCePaper to everyone. We understand how important it is for you to stay informed. Please invite your family, friends, and neighbors to read today's complete newspaper online at AJC.com/epaper."
AJC reports significant uptick in readership of the epaper as a result of the free offer.
Knowing your audience
The problem that Drue Miller, Senior Manager of Marketing at the AJC, wanted to solve was how to promote the free ePaper, but still collect data about people reading it. Ultimately, her plan would be to use this information to re-target readers and ask them to sign up for the paid version when the time was right.
For the solution, Miller turned to Social News Desk (SND) to help the AJC leverage paid social ads to promote complimentary access to the ePaper and also capture the contact info of those who read it.
"I began to connect the dots, using best practices I've learned from SND: What if we used the same automation from our Facebook newsletter subscription campaigns?" explained Miller.
Social News Desk worked with Miller to set up a Facebook lead ad campaign across Facebook and Instagram that promoted the complimentary access and captured the reader's email address before directing them to the free ePaper. That way, the AJC could follow up with people to subscribe later.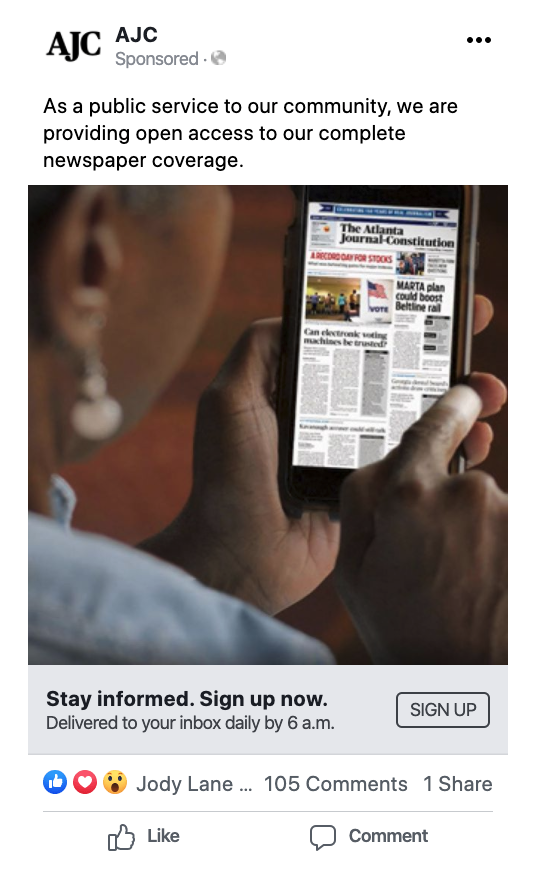 "Our eCommerce team is pleased with the success of the campaign. While it's early still … the results have beaten expectations," said Daniel Long, AJC's eCommerce Manager.
Getting them to pay for news again
The results have been incredibly strong. The AJC been able to capture email signups for the ePaper at an amazingly LOW rate of $0.17 per sign-up using Social News Desk's Facebook-ads technology. The paper has also used SND's platform to generate subscription acquisitions through social ads at their lowest cost to date.
And, better still, feedback from readers of the AJC has been extremely positive:


Overall, the AJC has been able to reduce its newsletter, app downloads and content marketing acquisition costs by up to 70% using Social News Desk's Campaign Manager platform and Dynamic News Ads technology.
To learn more about SND's Dynamic News Ads solution or to set up a test for your newsroom, reach out to us here!